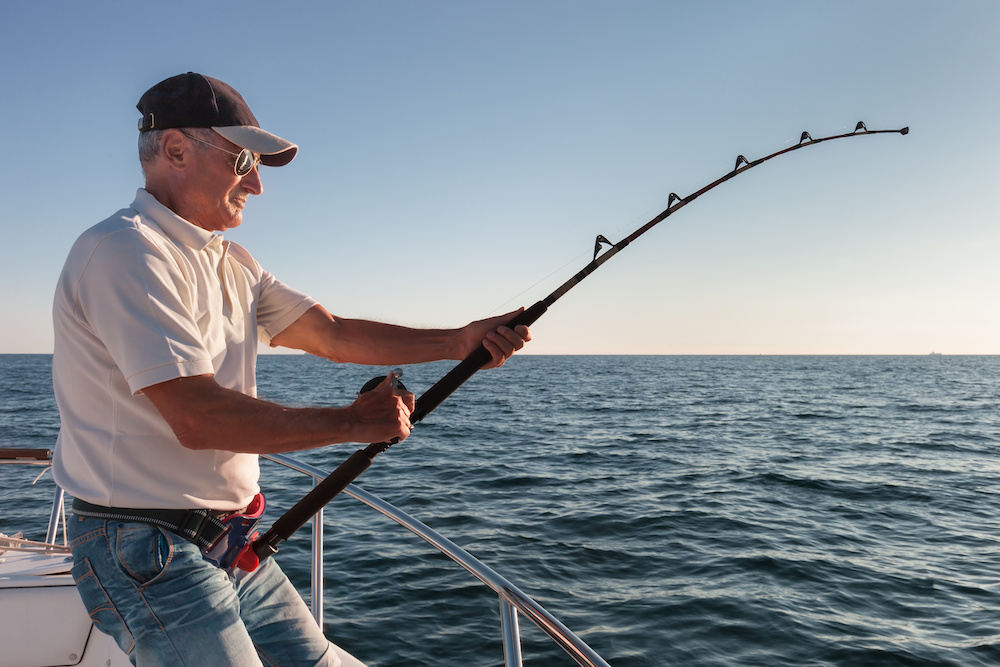 Best Castable Fish Finders of 2021: Complete Reviews With Comparisons
---
<!–googleoff: index–>We may earn a commission for purchases using our links. As an Amazon Associate, we earn from qualifying purchases.<!–googleon: index–>
---
For a very long time, fish finders and sonar devices have been confined to anglers who had boats.
The only options available then were the best kayak or small boat fish finders that you need to mount on a boat's transom.
Today, fish-finding technology has come a very long way to let shore anglers and ice fishers benefit from the same innovation.
The best fish finders that are castable are here to stay, and they are only getting better due to recent advancements in wireless and portable sonar technologies.
Comparison Chart
Deeper PRO+ Castable and Portable Fish Finder
ReelSonar iBobber Wireless Smart Fish Finder
Deeper Chirp Smart Sonar Castable and Portable WiFi Fish Finder
Garmin Striker Cast Castable Sonar
LUCKY Castable Wireless Fish Finder
Best Castable Fish Finder Reviews
1. Deeper Smart Sonar PRO+ Wireless Portable Fish Finder
Deeper castable sonars first hit the shelves in 2013, and they have been dominating the castable fish finder market since then.
Unlike its predecessor, the Deeper PRO, the PRO+ integrates GPS into the system so that you can map out locations and never miss them the second time around.
Product Highlights
One of the best features of the Deeper PRO+ is that you can cast it out in several directions and reel it in to create detailed maps from the shore.
The Deeper PRO+ pioneered bathymetric map creation from a fixed spot on a shoreline.
You can cast it out up to a distance of 100 meters or 330 feet, which is farther than any other castable fish finder.
The Deeper PRO+ uses two frequencies with different scanning angles.
A frequency of 90 kHz that scans at 55 degrees covers broad areas, while the high frequency of 290 kHz scans at 15 degrees for more detailed scans.
Additionally, the Deeper PRO+ scans down to a depth of 80 meters, usually 30 meters deeper than other fish finders.
The Deeper PRO+ comes with mounting bolts, a USB charging wire, and a neoprene pouch.
What We Like
We like that the Deeper PRO+ uses Wi-Fi for connectivity instead of Bluetooth. Using Wi-Fi does not mean it requires the internet to function.
Wi-Fi is just like Bluetooth, only ten times faster, even at the far range of 100 meters.
With Wi-Fi connectivity, you get real-time data and smooth scanning, even at trolling speeds.
What We Don't Like
The Deeper PRO+ comes with a boat mounting arm, which is excellent for switching from shoreline fishing to boat fishing.
However, the included mounting arm is too short, and we do not recommend it for use in larger boats.
2. ReelSonar iBobber Bluetooth Smart Castable Fish Finder
Another remarkable piece of castable sonar technology is the ReelSonar iBobber Fish Finder.
It is very similar to the Deeper PRO+, but it uses Bluetooth wireless connectivity instead of transmitting through Wi-Fi.
Product Highlights
The ReelSonar iBobber Bluetooth Smart Castable Fish Finder can find fish up to a depth of 135 feet.
It uses a rechargeable battery with a continuous operating duration of ten hours, sometimes more, depending on how extensive the scans need to be.
The patented sonar technology provides raw underwater views to help you tag fish by size and depth.
These images allow GPS spot-tagging with the help of interactive maps.
The built-in GPS can also create contour maps of the waterbed and formed structures.
With the scans from the ReelSonar iBobber, you can log trips based on date, time, location, water temperature, fish species, and many other factors.
Additional features include an LED beacon, a charging status light indicator, and fish and strike alarms.
The ReelSonar iBobber Bluetooth Smart Castable Fish Finder comes with a mini-tripod that doubles as a USB wire organizer for its charging cable.
It also comes with a protective pouch to store it anytime the device when not in use.
What We Like
Although Bluetooth has a shorter range than Wi-Fi, it uses less battery power, making the ReelSonar iBobber operational for a more extended period than the Deeper PRO+.
Another wonderful feature of the iBobber is you can pair it with the Apple or Google watch.
Access underwater views right on the display of your smartwatch, same as when looking through any paired smartphone or tablet.
What We Don't Like
Although it offers longer hours of use with the battery-saving Bluetooth, its effective range is less than exceptional.
Additionally, water splashes on the device can cause signal interruptions leading to communication and connectivity problems with a paired device.
3. Deeper Smart Sonar CHIRP Wireless Portable Fish Finder
There is no better way to scan for fish and bathymetry than the CHIRP technology.
CHIRP stands for Compressed High-Intensity Radiated Pulse, and it is an acronym so witty that it can stand alone with the meaning of the word "chirp."
While most CHIRP devices are large, bulky, and require mounting paraphernalia, the Deeper Smart Sonar CHIRP is the world's first castable fish finder that uses CHIRP technology.
Product Highlights
Unlike single-frequency traditional sonar, the Deeper CHIRP sends out a continuous flow of frequencies that range from low to high.
This continuous flow of frequencies results in a return of clearer, crisper images of underwater scans.
The Deeper CHIRP uses three sonar beams to isolate targets from underwater formations and predator species.
It has a casting range of 330 feet, the same as the Deeper PRO+, but it can scan depths up to 330 feet.
Like the Deeper PRO+.
It also uses Wi-Fi for connectivity, which means it can provide better communication with a paired device than any other sonar that uses Bluetooth.
What We Like
We like that the device uses the CHIRP technology, which we thought is only available for larger boat-mounted sonar devices.
Deeper takes portability to the next level by equipping its castable sonar with the CHIRP technology.
With its maximum portability feature, the Deeper CHIRP can easily belong to a list of the best fish finders under 500 bucks.
What We Don't Like
We don't like that we have to spend so much more just for the added CHIRP feature.
We get that Deeper fish finder sonars are pioneers in the castable CHIRP devices, but you can spend almost the same and get a bigger display, more mapping features, and usability in larger boats.
4. Garmin STRIKER Cast Castable Sonar Device
While Deeper is the most popular brand for castable fish finders, Garmin is a giant encompassing all things sonar.
Garmin manufactures large-format sonar displays that offer exceptional functionality even for large boats and yachts.
However, since fishing is also for anglers on small boats and shorelines, they have also developed a portable sonar device.
Product Highlights
The Garmin STRIKER Cast is a castable fish finder that uses Bluetooth to transfer underwater scans to an Android or iOS device.
You won't have to guess where the fish are because the sonar scans from the Garmin STRIKER Cast are very easy to read, and they show exactly the fish's location.
Garmin provides a free mobile application where you can stream live sonar scans from the STRIKER Cast device.
Its casting range is up to 200 feet, and it can scan depths up to 150 feet.
The sonar display uses fish icons to help you identify fish underwater, and the preloaded Garmin auto-gain technology minimizes clutter.
The device comes with a built-in temperature sensor and an ice flasher.
What We Like
With the Garmin STRIKER Cast fish finder, you can choose between a traditional two-dimensional flasher and an ice fishing flasher.
Its initial setup is straightforward that you'll surely be ready to fish in a matter of minutes.
Since the unit uses Bluetooth connectivity, battery life extends up to ten hours or more.
What We Don't Like
Again, Bluetooth connectivity is not as effective as connections over Wi-Fi.
While Garmin ensures that the STRIKER Cast has an effective working distance of 200 feet, it is still more than a hundred feet less than the range of the Deeper fish finders.
5. Lucky Sonar Wireless Castable Fish Finder
Last but not least, the Lucky Sonar Wireless Castable Fish Finder deserves a spot on this shortlist.
Lucky Sonar has also been an expert in wireless sonar technology since 2003.
The primary difference between the Lucky Sonar and everything else on this list is that it comes with a portable handheld display.
Product Highlights
The Lucky Sonar portable fish finder can show useful fishing information with the accompanying handheld display.
With its factory-paired transducer and portable display, it has an effective casting range of 120 meters.
The wireless fish finder uses a frequency of 125 kHz and a wide beam angle of 90 degrees.
You can use the Lucky Sonar for boat fishing, kayak fishing, ice fishing, and shore fishing.
What We Like
Having an accompanying handheld display comes as a perk for the Lucky Sonar castable fish finder.
With it, you wouldn't have to pair it with any other smartphone or tablet.
What We Don't Like
We don't like the display output of the Lucky Sonar handheld display. It does not reflect realistic images, unlike other castable sonars do.
The handheld display shows fish icons relative to their depth from the water surface, which means real-time scanning may not be as accurate as those on other devices.
Buyer's Guide
There are so many castable fish finders in the market. Each of them offers varying features, and some will always be better than others.
The following is a list of critical features to look for in a reliable castable fish finder.
Wireless Performance
Imagine casting your fishing line with wires attached to it and then reeling it back again.
The attached wires not only add casting weight but also untangling inconveniences between the fishing line and cables.
A castable fish finder had better be completely wireless. When it comes to a fish finder's wireless performance, you have to check its workable range.
Modern castable fish finders use either Bluetooth or Wi-Fi for wireless connectivity.
Devices that use Bluetooth are reliable up to 130 feet, while Wi-Fi devices have a better range of 300 feet.
Reachable Depths and Attainable Precision
The frequencies available to a sonar device determine how deep and how precise the scans go down.
Variable frequencies provide the balance between depth and precision, and it offers you the versatility to scan accurately in shallow waters or reach deeper bathymetry.
While higher frequencies provide precise underwater images, they cannot penetrate deep waters.
On the other hand, lower frequencies allow you to scan deeper waters, but they do not provide accurate scans as higher frequencies do.
Versatility
Versatility in a castable fish finder does not end in the availability of variable frequencies.
You can use a versatile fish finder for fishing in different settings and situations.
Unlike boat-mounted sonars, a castable fish finder lets you fish from the shore, on the ice, or while you are in a boat.
Choose a fish finder that can offer you all of these applications while using just one device.
To take advantage of this versatility, check for maximum portability and wireless connectivity.
Ease of Use
Any technological fish-finding device is only as good as its manner of operation. You cannot utterly say that a fish finder is exceptional if its controls and operational techniques are very complicated.
A castable fish finder should be easy to use, and its scans should be effortlessly understandable.
Some devices give out graphical representations that would confuse an angler and direct them to the wrong spot.
Easy-to-understand underwater scans are always at the epitome of any reliable sonar device.
Charging Time and Battery Life
How long a device takes time to charge fully and how frequently you have to replace the built-in batteries should also help you narrow down your choices.
When choosing a castable fish finder, go over the specifications diligently and look for recommended charging times, operation duration, and battery life.
Also, check how you are supposed to charge or recharge a device.
Keep in mind that wireless sonar devices use batteries, and they will run out of charge faster if used with higher scanning frequencies.
It is always important to consider whether you will need some power banks or extra replacement batteries every time you go out on a fishing trip.
Platform Compatibility
When choosing a castable fish finder, you will almost always need to pair it with a display device. Consider the wireless mobile devices available to you.
Checking platform compatibility at the moment of purchase ensures that you will purchase the right fish finder for whatever smartphone or tablet you will use as a display.
Although some castable fish finders offer compatibility with Android and iOS, it is always a good thing to be sure about before any purchase.
Included Accessories
While the only other thing you need with a castable fish finder is a smartphone or a tablet, it is always nice to have accessories that go with it.
These accessories ensure that you have a complete set of tools for finding fish, maintaining the device, and storing everything in one place.
Some models come with replacement parts, charging cables, adapters, replacement batteries, mounting attachments, and storage containers.
Replacement parts ensure that wear and tear are under constant surveillance and that you can replace old, unusable parts with functioning ones.
Charging cables and adapters allow you to recharge your batteries in several ways, albeit through a wall outlet or a portable power bank.
Different mounting attachments increase versatility by letting you find fish in a variety of fishing situations.
Finally, an included storage container keeps your fish finder from dirt and scratches, and it can provide an extra layer of protection against shocks from accidental drops.
Castable Fish Finder FAQs
1. What Is a Castable Fish Finder?
As the name implies, a castable fish finder is a device that will help you find fish by casting it with a fishing line out in the water.
It uses sonar to produce underwater graphical representations that direct an angler to where the fish are.
Most castable fish finders are not standalone devices. They typically utilize a technology you probably already have with you at all times.
Castable fish finders connect wirelessly with smartphones, transmit underwater scans, and display them on your mobile display as underwater maps.
2. How Do Castable Fish Finders Work?
A castable fish finder works as a small floating transducer that communicates with a compatible mobile application, which you can download off the manufacturer's website.
Install the application on your smartphone, tablet, or any compatible mobile device, and you'll be seeing where the fish are in no time.
As the castable fish finder scans the waters for underwater formations and moving life forms, it wirelessly sends the scans to the application.
The application then reads it as a graphical representation of what is underwater.
Your smartphone or tablet will display streaks of fish as soon as the transducer sends the signals.
3. How to Use a Castable Fish Finder
Depending on the castable fish finder, there may be several ways of putting it in action.
First, since it is castable, you can attach it to the end of a fishing line or what you would probably call a bottom rig, preferably somewhere the hook snood and sinker snood meets.
As you cast your fishing line, the fish finder scans what is under it. With this attachment, the hook snood is always nearby, ready to catch fish while you blind cast with the fish finder.
This method makes a castable fish finder workable even when fishing from the shore.
Another way to use a castable fish finder is by hanging it off the edge of your boat at trolling speeds.
With this method, you can make drift fishing more efficient. The same method is applicable to ice fishing.
Suspend the castable fish finder down a hole in the ice to check if you are fishing in the right spot.
4. Why Use a Castable Fish Finder?
For every new angler, the way you fish is a personal choice. Not all anglers are the same, and many beginners could use all the help they can get.
Even seasoned anglers use all the available technology and equipment for finding fish.
If you haven't noticed, a castable fish finder is another innovation for fishing.
Humans started catching fish with spears until the first hook and line emerged at least 40,000 years ago.
In the 1800s, the first jointed rod with a reel took over rods with stationary fixed-length and hooked lines.
While artificial spoons, spinners, and baits helped anglers attract fish starting the mid-19th century, castable sonar devices made the task easier when they emerged in 2013.
Today, instead of attracting fish with bait, you can now easily find where the fish are.
5. Are Castable Fish Finders Worth It?
While castable fish finders are not as accurate or sensitive as larger boat-mounted sonar units, they offer more versatility.
You can use a castable fish finder for shoreline fishing, ice fishing, and drift fishing.
Its versatility more than makes up for its slightly lesser accuracy and sensitivity.
Moreover, castable fish finders only cost a fraction of the price of many fixed or mounted sonar and transducer units.
What's the Best Castable Fish Finder?
Among the five models presented here, we recommend the Deeper PRO+ as the best castable fish finder.
The Deeper PRO+ fish finder sets the bar high by having an effective range of 330 feet and an effective scanning depth of 260 feet.
Rather than displaying black-dot icons on a screen like some lesser models, the output images are astounding as they are clear and crisp.

It is better than the other products on this list because it offers the best overall features while still sitting at a median price range.