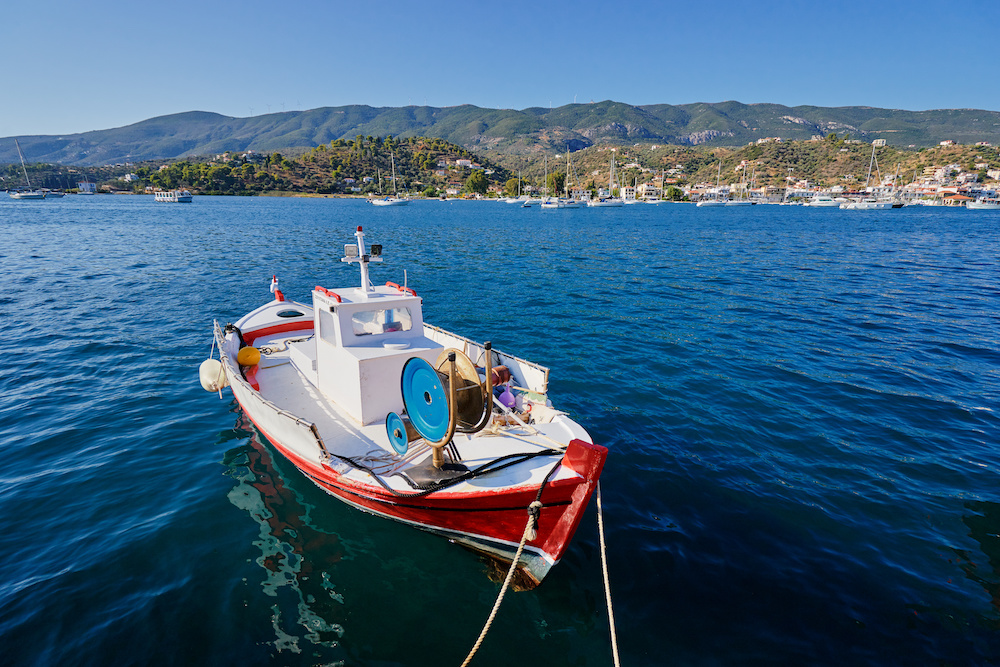 Best Fish Finder for Small Boats of 2021: Complete Reviews With Comparisons
---
<!–googleoff: index–>We may earn a commission for purchases using our links. As an Amazon Associate, we earn from qualifying purchases.<!–googleon: index–>
---
Anglers get a different thrill and excitement when they are out in the water in their small boat and trying to bring home a catch.
One of the most challenging tests you would have to face is where and how you can find your targets from the vast body of water.
Fish-finding devices have become popular in the fishing world and come in different styles and sizes depending on where and how you plan to use them.
Today, we will focus on the best fish finder for small boats and tell you what essential elements to look for when buying this equipment.
Comparison Chart
LUCKY Waterproof Water Depth Fish Finder
Lowrance HOOK2 4X – 4-inch Fish Finder with Bullet Skimmer Transducer
Lowrance HOOK Reveal 5x SplitShot
LUCKY Handheld Kayak Fish Finder
JOYWEE FF688C 3.5″ Phiradar Color LCD Boat Fish Finder
Best Fish Finder for Small Boat Reviews
1. LUCKY YYT-US-Y2020-CT Waterproof Fish Finder
This waterproof fish finder from LUCKY has plenty of features suitable for different types of fishing adventures.
Product Highlights
The number one selling point of this LUCKY fish finder is the waterproof capabilities of the display. Rain sputters and water splashes will not damage the device.
You can attach the sonar transducer to your boat hull. As your boat moves and the transducer touches the water, readouts will appear on the screen.
One of the readings you will see is the water's depth, allowing you to choose the perfect fishing spot.
The transducer also provides a rough estimate of the fish's size and location, as displayed on the portable handheld receiver.
You can feel confident in the sonar transducer's reliability and stability, whether used in freshwater or saltwater.
As one of the best portable fish finders, it operates at 200kHz to detect water activities as deep as 100 meters with a 45-degree beam angle width.
It also comes with a built-in USB-rechargeable lithium battery, a plastic anti-fish bite float, and a 25-foot extension cable.
The rechargeable battery can last up to six hours with continuous use. You can also extend the battery life for ten hours by turning on the battery save mode.
The portable handheld shows multiple information. The W-sensor battery indicator, wireless signal, and sensitivity appear on the uppermost part on the left-hand corner.
Adjusting the sensitivity level lets you choose what fish size you want to display on the screen. You will find the water depth and temperature information showing in bold fonts below these top left icons.
You can even change the measurement unit from meters to feet and Fahrenheit to Celsius. Small and large fish icons with depth will also appear on specific locations in the middle of the screen.
On the other hand, the bottom contour underwater appears on the lowermost part of the screen.
Displayed on the uppermost right-hand of the screen is the battery indicator for the handheld receiver, and just beneath it is the water surface indicator.
Lastly, on the right side of the screen are the upper and lower zoom range details. You have all the essential information on your screen.
The fish finder also comes with a fish alarm to alert you when a target is within your detection range.
You will also receive another alert from the shallow alarm when the sonar transducer detects a not-so-deep area.
This LUCKY waterproof fish finder model is ideal for different fishing environments like ice, lake, sea, and shore.
You can also use it in various fishing ways on a boat, canoe, kayak, or pontoon and help you catch different targets.
Besides the main items mentioned above, you will receive other parts, including a transducer side-scan adapter and a stainless bolt or wing nut.
A neck strap and the USB charger, and the other items are all included inside the fishing tackle box.
The Good
The best thing about this portable fish finder is its parameter setting memory since you don't have to reset the device every time you use it.
The anti-corrosion material used in creating this device is also great as it lets you use it in both fresh and saltwater conditions.
You just need to let it air dry after every fishing expedition to prolong its lifespan.
The floating sonar transducer made of polymer plastic material has a smooth surface, making it resistant to fish bites.
You can also choose the screen brightness from nine-level settings if you can't see the display due to sunlight.
The Bad
Some users found it a challenge to attach the sonar transducer to their pontoon boat. One can easily mistake a moving bait for the target fish.
2. Lowrance HOOK2 4X Fish Finder
The Lowrance HOOK2 4X is an interesting fish finder with plenty of impressive features that allows you to catch more fish.
Product Highlights
This specific model is on the lowest end of the HOOK2 series from Lowrance, but it doesn't mean that it will not work.
It will still provide you with your basic fishing needs, though it might be limited to specific types of fishing.
This fish finder offers reliable performance in low-lying freshwater and deeper lakes with its impressive fish-finding ability.
The single sonar beam for the HOOK2 4X offers a wide detection angle. It means that it can detect fish within the beam's range but not when it's directly above the transducer.
Lowrance, like Garmin, also uses the CHIRP sonar technology for their fish finders. Hence, the brand's excellence when it comes to utilizing frequencies.
The CHIRP sonar system transmits frequencies in ascending order and allows the fish finder's software to find the most accurate image.
The HOOK2 4X does not have a frequency alteration setting, but it serves its purpose and provides the collated data's final image.
It also uses 200 RMS watts to power up this fish finder. It also comes with a four-inch display that utilizes SolarMAX technology for you to see the images even during extreme brightness.
It also offers different screen viewing angles at 70 degrees on various sides while 50 degrees from the bottom.
Night anglers will also benefit from the device's backlight with sufficient brightness that's not disturbing to the fish but enough to illuminate the display.
The Lowrance HOOK2 4X fish finder boasts its ease of use compared to other brands. It has simplified functions, allowing you to focus on your fishing instead of fiddling with the controls.
Another notable quality of the HOOK2 4X is its excellent user interface with a simple menu layout. Its large and distinct options make it easy to make adjustments.
Most primary functions that you'll need during your fishing adventures are available and handy from a single button.
The keypad or labeled control buttons are all placed on the right side of the screen so that you can make adjustments with one hand.
When it comes to installation, the HOOK2 4X offers different mounting options. You can use quick-release bracket mounts or the front dash gimbal.
The Good
The Lowrance HOOK2 4X has auto-tuning sonar settings. All you have to do is plug it in and let it do its job.
It's an excellent entry-level fish finder, especially for new anglers looking for a reasonably-priced fishing accessory.
The SolarMax technology adjusts the screen's brightness level automatically depending on the amount of natural light around.
The Bad
According to some anglers, the HOOK2 4X is a bit underpowered with only 200 RMS watts, affecting its performance and image resolution.
3. Lowrance HOOK Reveal 5X SplitShot Fish Finder
The HOOK Reveal 5X SplitShot is part of the brand's basic models that offer powerful performance, allowing you to find fish easier and quicker.
Product Highlights
This SplitShot model of the HOOK Reveal 5X from Lowrance has two sonar types: DownScan and the standard CHIRP sonar.
It can support multiple frequencies: 455 and 800kHz for DownScan, 50, 83, and 200kHz for the standard CHIRP.
The transducer for the fish finder's standard CHIRP sonar only uses the 200kHz conical beam with at least 40 degrees coverage for as deep as 500 feet.
On the other hand, DownScan supports two frequencies. Transducers operating at 800kHz have oval beams covering 35/1.6 degrees at 150 feet deep.
The one at 455kHz also offers an oval beam covering 55/3 degrees area at 300 feet deep.
You will get the wide-angle fish-finding capabilities of the CHIRP sonar and the high-resolution images offered by DownScan Imaging.
It also includes the SplitShot plastic transducer, a 20-foot cable, and a transom mount fitted with an eight-pin connector.
The fish finder also has combined functionalities of the temperature sensor and water temperature readings.
The HOOK Reveal 5X also comes with the FishReveal technology. It's the combined effects of the DownScan imaging and the CHIRP sonar where the fish image lights up on the screen.
Other sonar features found in the device are A-Scope, Bottom Lock, Circular Flasher, Depth Alarm, Fish ID, Fish Alarm, Noise Rejection, and Surface Clarity.
When it comes to navigation, the HOOK Reveal 5X has the Genesis Live feature, allowing you to make your bathymetric map.
It uses the GPS plotter and the 2D sonar to draw and record the revealed depth contours of a fishing spot.
However, this particular model only lets you use the map you created but not save or download it unless you have an SD card inserted into it.
With the basic GPS plotter on the HOOK Reveal 5X, you can create routes, mark waypoints, record tracks, and view coordinates.
You can use the fish finder's memory to save 100 routes, 100 tracks, and up to 3,000 waypoints.
The control unit of this HOOK Reveal 5X SplitShot comes with a five-inch SolarMax colored display with an 800H x 480V pixel matrix.
It offers adequate angle visibility of 80 degrees from top to bottom and 85 degrees from left to right.
This device has an IPX7 waterproof rating. It is the second to the highest rating, implying that it can take rain and water splashes without getting damaged.
It only uses keypad technology for navigating through its menus and functions. You will find several keys on its user-friendly interface, which includes:
Eight-way directional key
Enter and exit key
Menu access key
On and off key
Waypoint on cursor key
Zoom key
You can customize your unit's homepage by combining various applications according to your preferences. It's also possible for you to use four different applications on the split-screen simultaneously.
The Good
One good thing about this HOOK Reveal 5X SplitShot device is the Gimbal mount inclusion, ensuring that it's ready for installation.
It also comes with an adjustable backlight for better readability and a flasher mode for ice fishing adventures.
With the auto-tuning sonar feature, the device will automatically adjust its settings depending on your actual fishing condition.
The Bad
The HOOK Reveal 5X SplitShot does not support touchscreen technology and networking. The device's internal memory also does not save your created map.
4. LUCKY 1108-CT Portable Fish Finder
If you are looking for an excellent fishing assistant, you will never go wrong with the LUCKY 1108-CT portable fish finder.
Product Highlights
The updated TFT-color LCD of the LUCKY portable fish finder measures 2.4 inches. It displays fish size and depth, underwater contour, water temperature, and water depth.
It can also show two user modes: the simulation setting to test its functions and the transducer mode during real-time fishing.
You can adjust the screen brightness for greater data readability, whether in extreme sunlight or while night fishing.
It has three updated color schemes for underwater contour displays: blue, gray, and red. Besides adjusting the screen brightness, you can also set up the following options:
Depth range
Depth and fish alarms
Fish icon
Language
Measurement units
Sensitivity
Zoom
The included 26 feet cable provides the same wired operating distance length at a maximum of 328 feet detection depth. It offers a width of 45 degrees beam angle at a 200kHz detection frequency.
This rechargeable fish finder comes with a USB charging cable and can function for up to five hours when fully charged.
The LUCKY fish finder is the perfect fishing accessory to bring along various fishing environments like ice, river, sea, or shore.
In addition to the handheld fish finder and transducer, you will receive a bracket for attaching the transducer to your boat.
Other items included in the box are the micro auto-charger, USB cable, USB AC adapter, and a neck strap.
The Good
The sensitivity settings allow you to choose the number of details you want to appear on the screen with one to ten options.
The fish alarm is an excellent help in alerting you when there's a fish within range of your transducer, which will also appear on the handheld display.
There are two ways to use this portable fish finder: you can attach the adapter to the boat hull or cast the sonar transducer into the water.
The Bad
Although the fish finder provides accurate water depth reading, some units don't detect any fish while on a fishing expedition.
5. JOYWEE FF688C Fish Finder
The last device on our list is the JOYWEE FF688C from the Phiradar brand that promises to provide everything you need in a fish finder.
Product Highlights
Perfectly designed for amateur and professional anglers, this JOYWEE fish finder helps you see the bottom contour, find the fish location, and detect water depth.
It works well in the lake, river, sea, and any other fishing spot.
The 18bit TFT-color LCD measures 3.5 inches and is readable even in extreme sunlight. It also shows water temperature and bottom contour.
It can detect accurate water depth ranges up to 300 meters and offers multiple levels of sensitivity settings.
This feature-packed unit offers auto or manual zoom bottom tracking, stop chart, fish depth and identification indicators, and multi-language settings.
You can choose what unit of measurement you are more comfortable with and the type of sonar chart you want to use.
The audible depth and fish alarms are not so loud to disturb the fish but loud enough to alert you of its presence.
Its sonar beam offers two frequencies: 200kHz and 83kHz. Its anti-interference mode proved to be a great help to anglers in weedy areas and grassy lakes.
The fish finder has a maximum output power of 800kHz and 100 watts for the RMS.
The Good
It's a compact fish finder that offers accurate readings.
The Bad
This JOYWEE FF688C fish finder does not have a GPS feature and built-in battery. You need to connect it to an external one.
Buyer's Guide
With the increase in the production of different brands and models for fishing accessories, it has become challenging to look for the best fish finder for small boats.
Hence, we want to help you by listing what you need to look for in a fish finder.
Material
The housing material used for the fish finder is essential for the unit's performance, compatibility, and durability.
Most anglers choose affordable fish finders made of sturdy plastic material for small boats since they are typically compatible with all types of hulls.
Fish finders made of bronze are compatible with wood hulls, whereas stainless steel housings are best with aluminum or steel hulls.
Power and Wattage
Fish finders are electronic devices, so you should also consider the wattage level and the power source.
You will get more accurate readings with a higher wattage since it provides more power to your device.
Check what power source requirement the unit needs and reconcile it with how you could provide it while you are in the water.
Frequency
Typically, there are three frequency categories for fish finders: single, dual, and multi. Standard fish finders belong to the dual-frequency group.
There are four standard frequency levels used for fish finders, measured in kHz: 50, 83, 192, and 200.
Fish finders with high-frequency levels offer better, clearer, and accurate imaging results.
Screen Resolution
The fish finder's screen resolution is another important factor when looking for the best fish locator. Those with higher resolutions offer better and clearer images.
Portability
You should also consider the fish finder's portability, so you can bring it along wherever you plan to fish.
Best Small Boat Fish Finder FAQs
1. Which Is Better Garmin or Lowrance?
Lowrance started in 1957 producing items related to marine technology like sonar units and fish finders.
Garmin specialized in GPS technology when they began in 1989 and later expanded, integrating it with fish finders.
It's hard to choose between these two competitive brands since they both have impressive products to offer.
Lowrance has excellent fish finders at affordable prices if you are concerned about money or just looking for a standard device.
On the other hand, if you need excellent GPS performance, go for the pricier Garmin fish finders.
2. What's Better Lowrance or Humminbird?
These two manufacturers seem to have the most number of fish finders in the market today, but which one is better?
Lowrance has plenty of budget-friendly selections, but Humminbird products have more features and innovations.
Determining which one is better depends on what you are looking for in a fish finder.
3. Is Simrad Better Than Garmin?
These two brands are leaders in marine technologies, and both are constantly finding ways to develop their products.
Presently, Simrad offers the best radar line up as observed by many anglers, although Garmin's also provide excellent performance.
Other excellent brands to consider include Raymarine fish finders and Moocor fish finders.

4. Is Side Imaging Worth the Money?
Anglers attest that paying extra for side-scan imaging is worth every penny. It may require a bit of a learning curve, but it's worth the effort.
Once you know how to use it, it will be hard to go on a fishing adventure without one.
5. Are Portable Fish Finders Any Good?
Portable fish finders work similarly to mounted varieties but more budget-friendly and offer more versatility because users can locate fish even without riding a boat.
What Is the Best Small Boat Fish Finder?
Finding a suitable fish finder for your small boat is quite demanding in this crowded and competitive market.
Nevertheless, we have provided some options to help you lower the selection. After checking the features of these five brands, we recommend Lowrance HOOK Reveal 5X SplitShot Fish Finder.
It's the only unit that has a split-screen and uses two sonar applications simultaneously.