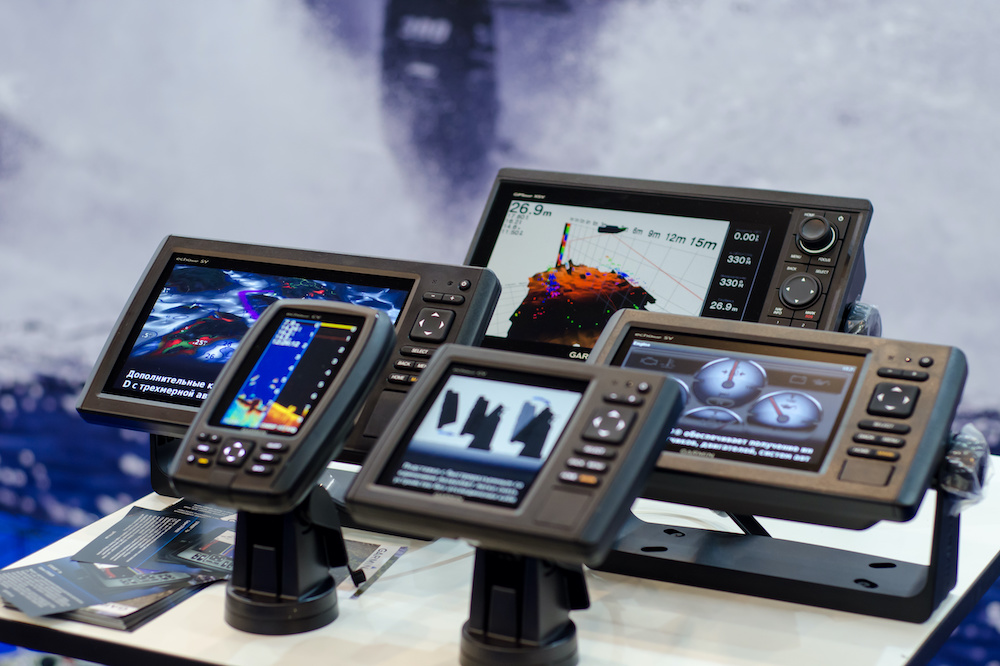 Best Fish Finder GPS Combo for 2021: Complete Reviews With Comparisons
---
<!–googleoff: index–>We may earn a commission for purchases using our links. As an Amazon Associate, we earn from qualifying purchases.<!–googleon: index–>
---
The best fish finder GPS combo is an innovative device that combines two types of effortless technology.
It can offer a clear visualization of underwater conditions while charting landmarks and tracking your location.
With the devices we explore below, you'll notice a significant improvement in your angling abilities.
Comparison Chart
Humminbird 410940-1 HELIX 7 CHIRP MDI GPS G3 Fish Finder
Lowrance HOOK Reveal 5 SplitShot Fish Finder with SplitShot Transducer
Garmin ECHOMAP UHD 74Cv Chartplotter with Transducer
Raymarine Axiom 7 Fish Finder
Humminbird HELIX 10 G3N Fish Finder
Best Fish Finder GPS Combo Reviews
1. Hummingbird 410940-1 Fish Finder
The Hummingbird 410940-1 Fish Finder is packed with powerful features like a color TFT display and proprietary technology.
With a Low Q CHIRP transducer, you'll be able to take advantage of maximum coverage for impressive fish detail.
Also, there are two display modes to toggle between depending on water depth, temperature, turbulence, and more.
Product Highlights
This fish finder has a seven-inch, colored screen. It has MEGA Down Imaging, so you can get stunning underwater clarity up to 125ft below your boat.
Down imaging takes your fishing experience to the next level, offering you images with incredible clarity that are unmatched by normal imaging.
Mounting hardware is included, which takes away the hassle of finding something compatible with your boat and fish finder.
The Good
Using the Low Q CHIRP transducer, there are two search options.
There's a wide mode to maximize coverage and a narrow mode to zoom in on one thing in detail.
In wide mode, you can see more of your surroundings, giving you a clearer picture of what is coming up or where you should head next.
The narrow mode allows you to see one smaller area just beneath the boat more clearly and accurately.
Being able to choose which modality works best at any given moment is a definite advantage.
It allows you to see what works best for you in different fishing environments and keeps your fish finding experience interesting.
The Bad
The transducer loses the ability to find the bottom if you go over 15 mph, making it difficult to move quickly across a body of water.
Sometimes you want to move from one side of a lake to another and you want to track the entire time, but with this device, you'll have to slow it down a bit.
The transducer cable is also a little short for what you may need. Having a longer cable gives you more options when it comes to casting it out, as well as gives you a few extra feet of depth.
2. Lowrance Hook Reveal 5 Fish Finder
CHIRP sonar, DownScan Imaging, and Fish Reveal are just a few examples of the Lowrance Hook Reveal 5 Fish Finder's top-tier features.
You'll have an assortment of high-detail features, such as inland maps combined with auto-tuning sonar for accurate automatic readings.
If you're looking for one of the more user-friendly fish finders to help you get to fishing faster, this is a fantastic option.
Product Highlights
This product uses FishReveal to make fish easier to find and identify.
The fish then light up on the display, giving you optimum accuracy and visibility.
This device also includes high-quality, detailed maps of over 4,000 lakes in the inland USA.
Using these included maps allows you to traverse these areas with ease, tucking into corners and channels you may not have seen otherwise.
You can then create your contour maps using waypoints and imaging along the way.
This will allow you to save maps for your favorite locations so you can revisit later and not have to check depth and obstacles along the way.
The Good
This fish finder uses the latest technology to offer wide-angle CHIRP sonar and high-resolution images of the fish.
It also has autotuning sonar, so you know you're going to get the best picture every single time.
The five-inch display is easily visible even on the sunniest days on the water.
Plus, the images are clear and accurate even at high speeds.
The Bad
You may need to pair the unit with a larger battery to get enough time for a longer fishing trip.
This will be an additional cost but will ultimately let you get optimum use of the equipment.
It also does not come with a memory card or a lot of storage, so you will want to pick up a larger SD card to store the maps you create.
The maps can take up a lot of storage, and you want to make sure you don't miss out on saving any of your new favorite fishing locations.
3. Hummingbird Helix 10 Fish Finder
As another Hummingbird model included in our best fish finders with GPS technology, the Helix 10 is an innovative device with more modernized features than the Helix 7.
Anglers will love the side and down imaging, as well as the fantastic clear viewing opportunities.
The Spectrum CHIRP sonar makes it substantially easier to identify fish, fish-related structures, and even the bottom of lakes with ease.
Product Highlights
This fish finder offers both MEGA side imaging and MEGA down imaging, providing a stunning view up to 200 feet below your boat.
The CHIRP sonar allows for well-defined fish arches and provides clear views.
This model includes mounting hardware and a power cable. Again, the mounting hardware is key so you don't have to worry about finding hardware that specifically fits your boat and fish finder GPS combo.
The Good
This fish finder lets you choose one of two search methods, wide mode or narrow mode.
Wide mode allows you to have more coverage, while narrow mode zooms in on a single area with precision and clarity.
In wide mode, you get a better idea of what the entire terrain looks like underwater.
The narrow mode lets you zero in on a specific spot, giving you better imaging and a clearer picture of what is going on below the surface.
The display screen is large, at a whopping 10.1 inches and in full color, making sure you never miss a single fish.
The Bad
The unit itself is not very user friendly, so you will want to make sure you have the manual on hand when you use it for the first time.
You'll want to spend some time studying it to make sure you get the hang of it before you get out on the water.
This model can also be a little bulky. The additional size accounts for the larger screen size.
4. Garmin ECHOMAP Transducer
Garmin is an exceptional manufacturer of GPS equipment, and the ECHOMAP is no exception.
You'll find an assortment of luxurious features, ranging from a touchscreen chart plotter to its GT24 transducer.
We guarantee this is one of the best options, as it offers broader and clearer scanning than ever before.
Product Highlights
This transducer provides high-definition scanning for clear imaging. It's been pre-loaded with coastal charts and data from Navionics.
It also comes with a power cable, swivel mount with a quick-release cradle, a protective cover, and a flush mount.
The multiple mounting options ensure that you can place your fish finder in the most convenient spot in your boat.
It is also great for when you're traveling and maybe using a different boat.
The Good
This Garmin Fish Finder supports Panoptix all-seeing sonar, for optimal fish finding and imaging.
This is a state of the art imaging that gives you a crystal clear picture of what is beneath and surrounding the boat.
The Bad
This device does not come with Auto Guidance, so you have to download an app and pay the cost of a subscription to use those services.
You will also want another SD card for this model to make sure you have appropriate storage for all your maps.
You definitely want to be able to keep the maps that you chart with your waypoints and imaging.
The size of the data displayed cannot be changed to a larger size which is unfortunate, but ultimately not a deal-breaker for all of the awesome benefits and features of this fish finder.
5. Raymarine Axiom 7 Fish Finder
There's plenty to love about the sleek design of the Raymarine Axiom 7 Fish Finder.
It boasts WiFi connectivity, GPS, Navionics+ technology, and more.
Anglers will experience its faster performance with the quad-core processors, making this fish finder more akin to a tablet.
Product Highlights
The Raymarine Axiom 7 Fish Finder has built-in CHIRP sonar and down vision.
It also has a quad-core processor that delivers extremely fast performance with no worry of slowdowns.
There is a multi-touch interface with three operating systems for a smarter fishing experience.
Some other functions it includes are a multifunction display, two different mounting kit options, a power cable, and a detailed user manual.
With so many possibilities, the detailed user manual is key. Be sure to spend some time with it at home before you head out to go fishing so you don't waste precious time on the water trying to figure out your fishfinder.
The Good
This fish finder model includes Navionics+ charts, which includes coverage of over 20,000 ponds, rivers, and lakes in the USA and Canada.
You can also create your maps with this fish finder, allowing you to chart your favorite fishing locations with ease.
You can also mark spots you want to avoid or come back to in the future.
The Bad
There are problems with the Navionics card not being included. You'll want to make sure yours is included upon delivery and contact the manufacturer if it's not.
This is an important component of purchasing this specific fish finder and you want it to be included.
The automatic software updates are also often related to things that are not exactly fishing related, and there could be more improvements to the fishing software.
Buyer's Guide
Choosing the best fish finders with GPS technology can be challenging, especially since there's a lot of technology to consider.
You'll want to ensure you find a device packed with powerful performance while offering uncompromised underwater viewing.
From built-in WiFi to multifunctional displays, there are several key features to keep an eye out for.
GPS Technology
GPS is an imperative feature for fish finders, especially if your boat doesn't have a built-in GPS.
This technology allows you to continually track your progress on fishing expeditions as well as charting unique courses.
You'll be able to mark specific landmarks to help you return to profitable fishing locations in the future for faster angling experiences.
It's essential to find devices that offer an assortment of charting opportunities through built-in or downloadable maps.
Some of the most remarkable GPS-enabled fish finders have over 20,000 lakes, rivers, and inland ponds built into their systems.
WiFi or Bluetooth Connectivity
With WiFi connectivity, you'll find that using your fish finder's features will be exceptionally simple.
You'll be able to connect to the device from anywhere on your boat using a smart device, such as a phone or tablet.
With remote access, you can ensure you're monitoring the correct location and getting valuable real-time data.
Typically, devices will require you to download free apps upon purchase to control the fish finder remotely.
Also, there could be extra features built into the apps, such as photo storage and trip logging.
Alternatively, Bluetooth connectivity can be beneficial since you can directly connect with the fish finder without the internet.
With Bluetooth, both devices need to be paired, which can be done without a network.
Anglers can often prefer this option because not every boat has internet or can access the internet while on the water.
Transducer
One of the most important things to consider when shopping for a fish finder is its transducer.
This component is responsible for sending signals underwater, bouncing back, and alerting you of fish and vegetation in the area.
You'll want to ensure you choose a transducer that reaches an appropriate distance away, so you're aware of all catchable fish.
Higher-end models let you view underwater life up to 200 feet away from either side of your boat.
It's also important to consider how the device is mounted if you're opting for a mountable fish finder instead of a portable one.
Where the transducer is mounted will determine how much of the surrounding area you'll be able to view on the screen.
Traditional vs. CHIRP Sonar
Traditional sonar, also known as fixed-frequency sonar, is common with standard fish finders.
This technology sends energy pulses into the water at specific frequencies and then echoes return.
These echoes then translate to images of fish, underwater structures, and more.
It's a high-powered option, but it only offers short-term viewing as images are bounced back at the energy pulse's rate.
You'll also need a more hands-on approach since you'll need to adjust the frequencies to see items at different levels of detail.
On the other hand, CHIRP sonar is a far more modern and often preferred option for anglers.
With CHIRP (Compressed High-Intensity Radiated Pulse) sonar, you'll have more detailed information.
Each transmitted pulse is longer than with FF sonar, and more energy is outputted into the water.
There's a wide range of frequencies that modulate low and high to offer the most accurate underwater information possible.
On average, CHIRP sonar can transmit information up to 50x more accurately than traditional fish finders.
Chart Loading
Another critical feature in-line with your essential GPS function is chart loading.
Some GPS devices have pre-loaded charts, while others allow you to download them independently.
You must opt for a device that has a vast number of charts for you to choose from.
Not only will you want access to hundreds of coastal charts, but inland charts as well, for river and pond fishing.
Without near-unlimited charts, you won't be able to effortlessly explore new bodies of water with the convenience of GPS.
Our recommendation is to consider fish finders that have a minimum of 100,000 charts.
Fish Finder Combo FAQs
1. Which is better side imaging or down imaging?
Side imaging vs. down imaging is really up to personal preference.
Side imaging is where fish finders direct their beams to the sides of your boat, while down imaging is where the transducer directs beams under the boat.
Both produce excellent imaging, allowing you to locate more fish accurately.
Some models allow you to choose between the two imaging systems, and some circumstances favor the use of side imaging units over down imaging units and vice versa.
Again, being able to choose between side imaging and down imaging in any given situation is a great benefit, and worth the money if you can spring for it.
2. Is side imaging worth the extra money?
An advantage of side imaging is that it allows you to scan the water more quickly because the technology technically looks two directions at once, covering twice as much water as down imaging does.
Side imaging offers a better point of view, allowing you to better see the entire environment.
It can help find fish hiding in shallow bays and creeks and provides better imaging than down image scanners do in that situation.
A disadvantage to side imaging is that it's typically more expensive, but that doesn't mean it isn't worth it.
It must be operated while your boat is traveling at a low speed, but that is balanced by the fact that they can cover more water than down imaging.
3. Do I need a transducer for my fish finder?
Yes! Transducers are an essential component of every fish finder.
You'll be hard-pressed to find a fish finder that does not have a transducer, but they all range in quality.
The transducer sends signals or beams into the water where you're fishing.
These beams send an echo back when they hit an object, letting you know what is in the water ahead, or below you.
The higher quality of the transducer, the better image you will get back on your display. The bigger your transducer, the better.
You really don't need to buy a transducer separately from your GPS fish finder, unless you are looking to upgrade your current transducer that came with your original fish finder.
If you do choose to go with a new transducer, just be sure your new transducer will be compatible with your fish finder.
4. Can I mount a transducer inside the hull?
In short, yes you can mount a transducer inside the hull of your boat, but there is a process to do it correctly.
You'll want to be sure that you find some instructions online for your specific boat.
Follow them carefully so you don't end up with unneeded holes in your boat.
An in-hull transducer mounts to the hull and sends out the sonar signals through the fiberglass, so you wouldn't need to put any holes in your boat.
Sometimes though, you have to make special modifications to your boat if it isn't already properly set up for the in-hull transducer.
You'll want to check on the details and make sure you're good to go before installing.
5. Where is the best place to mount a transducer?
Each transducer can be a little different when it comes to installation.
As a general rule of thumb, you want your transducer to be mounted as close to the center of the boat as possible, but near the side with the downward swing of the propeller.
On most boats, this should be on the starboard side.
Again, these are just guidelines and you must follow the installation instructions that come with your fish finder GPS and transducer.
What Is the Best GPS Fishfinder for the Money?
The Raymarine Axiom 7 Fish Finder is the best fish finder GPS combo for the money with its impressive high-tech features.
You have the option to connect to the CHIRP sonar-enabled device with WiFi connectivity for seamless remote control.
Also, the multi-touch interface makes it simpler to navigate using the Navionics+ charts for unlimited exploration opportunities.