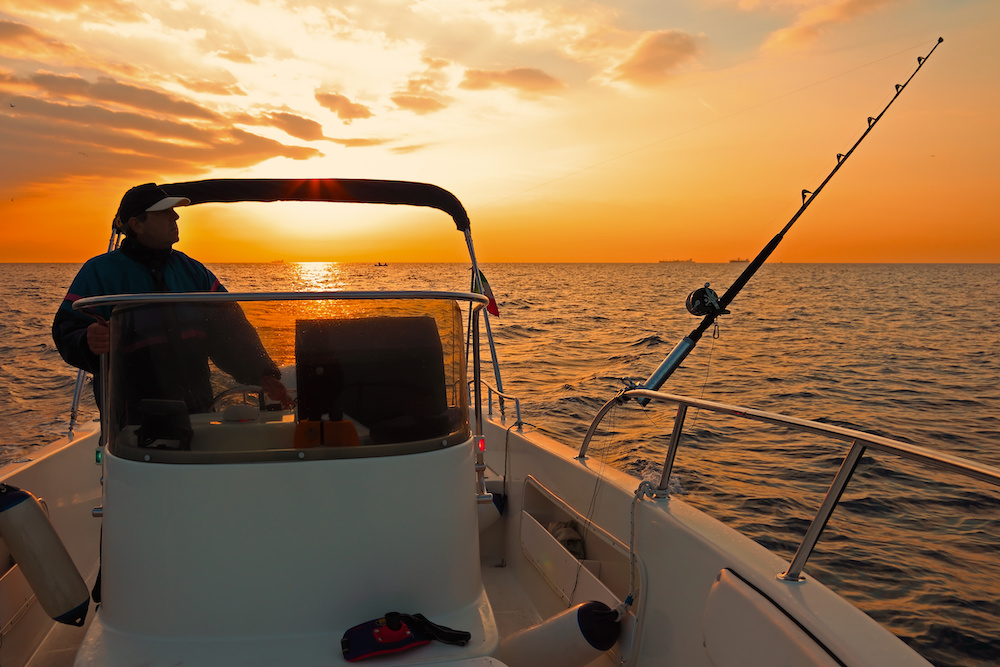 Best Fish Finder Under $1,000 in 2021: Complete Reviews With Comparisons
---
<!–googleoff: index–>We may earn a commission for purchases using our links. As an Amazon Associate, we earn from qualifying purchases.<!–googleon: index–>
---
Fish finders have an impressive number of high-quality features specifically designed for professional anglers and hobbyists.
The best fish finder under 1000 bucks ensures you get a feature-packed unit with all the latest innovations.
If you have been searching for a way to improve your catch percentage, this reliable device guarantees your success.
Comparison Chart
Elite-7 Ti2-7-inch Fish Finder Active Imaging 3-in-1Transducer
Humminbird 411070-1 HELIX 7 CHIRP MEGA DI GPS G3N Fishfinder
Lowrance Elite FS 9 Fish Finder
Furuno FCV628 Color LCD Fish Finder without Transducer
Humminbird ICE H5 HELIX 5 CHIRP GPS G2 FB Fish Finder
Best Fish Finder Under 1000 Reviews
1. Lowrance Elite-7 Ti2 Fish Finder
Coming from one of the most reputable brands in the industry, the Lowrance Elite-7 Ti2 answers all your needs.
It has a three-in-one design that boasts active imaging as well as preloaded maps.
Overall, it is one of the most well-rounded and cost-effective options on the market.
Review
Whether you need real-time updated mapping or active imaging, this device has it all. Here are some of the unique features of the Elite-7 Ti2:
With the built-in enhanced display, viewing information from your fish finder has never been simpler.
You will have a seven-inch screen at your disposal, designed with SolarMAX technology for clear viewability in direct sunlight.
Identifying fish and structures is effortless, thanks to the upgraded screen clarity and target separation.
One of the best high-quality features of this unit is active imaging technology.
With this, you will be able to access higher-quality images of structures underneath as well as experience unmatched side-scanning.
This three-in-one tech also has integrated down-scan imaging so that you can see all areas surrounding your boat.
Instead of relying on standard 2D sonar imaging, this device boasts CHIRP.
This sonar system ensures you get more efficient catches because you can see more of the area under and around your boat.
Real-time mapping is a benefit you never knew you needed until you experience Genesis Live.
It provides updated maps on your favorite fishing spots, as well as details of unmarked territories for a new experience.
Anglers will have access to half-foot contours, updated in real-time, to navigate new fishing spots easily.
If you want a fish finder with wireless networking, the Elite-7 Ti2 is a great option.
When connected to the internet, you can add individual waypoints and access customizable mapping.
You can also share your sonar with other community members fishing in the same spot.
As with most high-quality fish finders, you can guarantee they have many useful maps loaded on the device.
This fish finder has 4,000 lakes with one-foot contours for you to have reliable data on fishing spots around the United States.
You can also browse through the different lake offerings by several filters, including fish-holding structures, ledges and drop-offs, and productive waters.
2. Humminbird 411070-1 HELIX 7 Fish Finder
The Humminbird 411070-1 HELIX 7 is an advanced yet affordable fish finder for everyday anglers.
It's a sleek and stylish unit that is easily installed and equally easy to remove when needed.
With a ton of intuitive features, it is one of the more impressively-designed, budget-friendly fish finders you will find.
Review
Using the Humminbird 411070-1 HELIX 7 guarantees several benefits, such as more efficient catches.
It boasts down imaging sonar combined with dual spectrum CHIRP technology, providing important information at a glance.
Let's get into some of the other unique features this device offers.
If you're in the market for a fish finder with an easy-to-read display, this is one of our top recommendations.
The screen measures seven inches and has a wide-view design, allowing you to see more data instantly and easily.
Also, you can access several split-screen viewing options, giving you the information you are most interested in.
One of this device's unique features is the MEGA Down Imaging technology that offers improved underwater clarity.
You will have up to 125 feet of viewability underneath your boat, allowing you to unlock never-before-seen details.
Also, you will find that MEGA Down Imaging is three times more effective than standard sonar.
Double-Spectrum CHIRP Sonar
Another impressive feature for getting vital information is the built-in double-spectrum CHIRP sonar.
It lets you know where the best catches are located so that you'll know exactly where to cast.
Anglers will experience higher-quality fish arches as well as optimal clarity of structures holding fish.
This technology is powered by the patented Low Q CHIRP transducer unique to Humminbird units.
With this, you can alternate between Wide and Narrow mode to get maximum detail and the best coverage.
If you want to connect your device to the internet, you can easily do so with this unit's built-in ethernet connectivity.
3. Lowrance Elite FS 9 Fish Finder
The Lowrance Elite FS 9 boasts many features, especially if you already have a transducer on hand.
To make this unit more affordable, it doesn't have a transducer but has built-in support for active imaging.
Review
The Elite FS 9 has many unique features designed for exceptional fishing opportunities.
Several key features make this device ideal for beginners and experienced anglers, such as:
One of the most iconic features of Lowrance fish finders is that they have active imaging.
With this particular model, you will find integrated support for when you connect your transducer.
The device allows you to access a three-in-one sonar using CHIRP technology for optimal viewability.
You will be able to quickly toggle between down-scan imaging and side-scan imaging with FishReveal technology.
Another technology you'll unlock with a transducer is Active Target.
This component offers the highest-quality images possible, especially when it comes to moving targets.
You will find that capturing fish swimming around structures will be easier to spot with updated live sonar.
Fully Integrated Networking
All of your networking dreams are answered with this device, as it is fully integrated with wireless and ethernet connectivity.
You will also be able to pair your device with NMEA 2000 for other vital points of information.
With NMEA 2000, you will have access to Halo Dome Radar, Outboard Pilot, charting, waypoints, and sharing user data.
If you prefer versatility when it comes to your fish finder's display, this unit is one of the most impressive to consider.
It allows for touchscreen use, and there are small buttons on the side of the screen for navigation.
The screen measures nine inches, giving you more than enough room for viewing vital information.
C-Map Contour+ Integration
Another unique component of Lowrance fish finders is their C-Map Contour+ integration.
This feature lets you find the most thriving fishing spots, such as ledges, drop-offs, and ditches.
You'll also find that you can navigate new territories using precise navigation data for over 8,900 lakes across the United States.
4. Furuno FCV628 Fish Finder
The Furuno FCV628 is a fantastic starter fish finder for hobbyists and first-time users.
It has plenty of basic features to get a better idea of the in-water movement surrounding your boat.
This model might not have as many high-end features as other units, but it is quite affordable.
Review
This model is ideal if you are in the market for a straightforward fish finder with minimal options and user-friendly components.
Let's explore some of the intelligently-designed features this starter-friendly device offers:
Just the Right Screen Size
The full-color LCD screen on this fish finder is bound to make your angling experience more profitable.
Full-color displays are often preferred because they allow you to differentiate targets with ease.
The screen measures just below six inches, optimal for small vessels with not much dash space.
Dual-Frequency Transducer With RezBoost
With the use of dual frequencies, the transducer on this unit helps provide impressive details.
Compared to standard sonar, the resolution and clarity are far more impressive.
Also, RezBoost technology helps boost the clarity of structures and fish in your environment.
Another welcome addition is Accu-Fish, which allows you to analyze fish size in your fishing spot.
This tech is ideal for identifying specific species to make the most effective catches.
It can also assist with identifying different types of structures, as well as bottom composition.
Having up-to-date information is essential for the most successful fishing trip.
The Furuno FCV826 provides key information faster than other units, offering 3,000 PRR.
The higher your pulse repetition rate, the more accurate your information will be. At five meters, you will receive 3,000 PRR per minute.
If you want to see even more detail beneath your boat, be sure to access the zoom function.
With this, you can easily zoom in on specific structures and narrow areas for impressive detail.
As an added benefit, you can lock the transducer in place to focus on a single area for as long as you need to.
5. Humminbird ICE HELIX 5 Fish Finder
The Humminbird ICE HELIX 5 is a perfectly sized fish finder for anglers constantly on the go.
It has plenty of compact benefits and an assortment of high-end features you'll only get from a trusted brand like Humminbird.
Review
From its high-quality imagery to intuitive components, this model offers several key features worth looking into.
Let's get into some of its most impressive features:
Double-Spectrum CHIRP Sonar
This model is a great choice if you've been looking for a significant upgrade from your existing fish finder.
It boasts the remarkable double-spectrum CHIRP sonar, which is key to most Humminbird units.
With this, you'll be able to see different types of fish more clearly, as well as view natural and engineered fish-holding structures.
Anglers will find that it's much simpler to differentiate bait at longer depths and larger ranges.
Your catch percentage is sure to increase in a matter of minutes with the higher-resolution information you'll get from this device.
CHIRP Interference Rejection
If you're using multiple transducers or fishing in busy water, you'll want this technology on hand.
With CHIRP interference rejection, a single signal will be passed through to your display.
There are six individual settings you can choose from depending on how isolated you want your signal to be.
Another unique component of this fish finder is its ability to allow you to zoom in on specific targets.
You can easily adjust your sonar's zoom depending on where the fish are, allowing you to hone in on fish.
When using the flasher screen, you can zoom up to two times, while the 2D sonar view allows for up to eight times zoom.
If you're using glow-painted spoons and jigs, you'll find this feature to be of the utmost importance.
Using your fish finder, you can quickly charge your devices so that you can get bites more quickly.
The charging capabilities make it one of the more impressive all-in-one units for all purposes.
The technology and components in this device are perfectly sealed for all-weather, year-round use.
All you have to do is install it into your boat, and you'll be ready to hit the water, even after the ice has just melted.
Alternatively, you can use the device for ice fishing with its improved depth rating. Its impressive insulation makes it one of the most recommended models for ice fishing.
Also, the device is easy to manage in cold and wet conditions thanks to a clear, easy-to-read screen.
It's important to ensure you have backup batteries, as they can lose their charge quickly in cold temperatures.
Which Is the Best Fish Finder Below 1000?
After careful comparison, the Humminbird 411070-1 HELIX 7 is our choice for the best fish finder under 1000.
For a cost-effective device, it has impressive features, including MEGA down imaging and CHIRP sonar.
You'll also find that it can last an impressive number of years without showing signs of wear and tear.