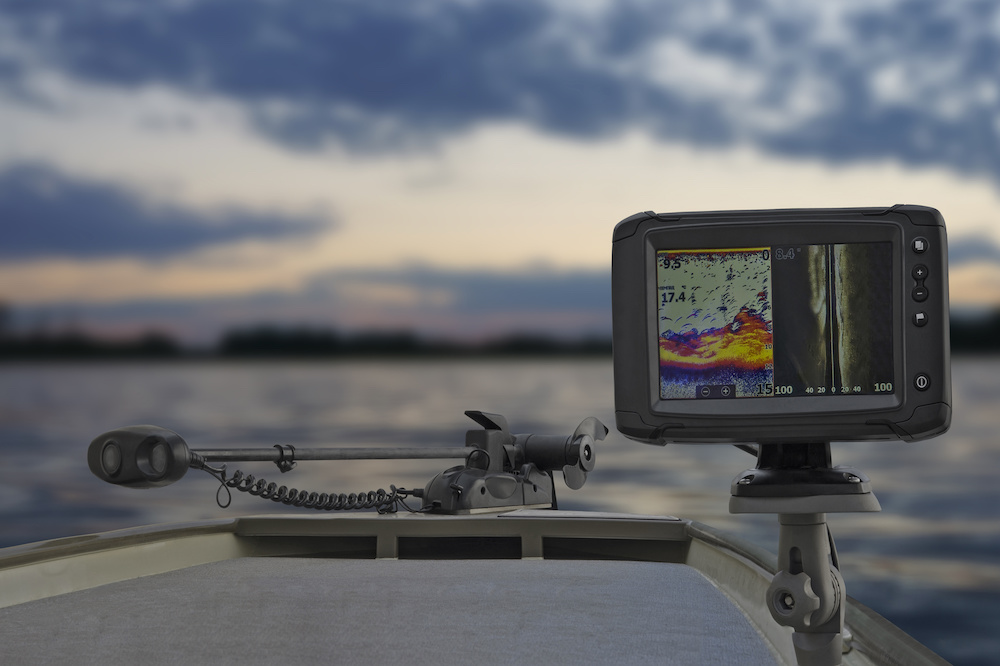 Best Fish Finder Under $500 for 2021: Complete Reviews With Comparisons
---
<!–googleoff: index–>We may earn a commission for purchases using our links. As an Amazon Associate, we earn from qualifying purchases.<!–googleon: index–>
---
Whether you're a recreational fisher or heading out onto the water more often than not, a fish finder is an essential piece of fishing gear that you need to outfit your boat.
Money can be tight these days, and you want the best that a fish finder can offer without totally breaking the bank.
Fortunately, you can find the best fish finder under 500 dollars. There are several options, though, so we've scoured the market to narrow down your choices.
Comparison Chart
Lowrance HOOK2 7 – 7-inch Fish Finder
Humminbird 410230-1 HELIX 5 CHIRP SI GPS G2 Fish Finder
Deeper Start Smart Fish Finder 
MOOCOR Underwater Fishing Camera & Finder
LUCKY Wired & Wireless Portable Fishing Sonar
Best Fish Finder Under $500 Reviews
1. Lowrance HOOK2 Fish Finder
Lowrance is a company that has been offering marine equipment since 1957.
They're committed to refining their products and applications, ensuring they meet the changing demands as years pass by.
The HOOK2 Fish Finder is among their beginner-friendly products and available in different screen sizes, including five, seven, and nine inches.
Review
The Lowrance HOOK2 Fish Finder has tons of awesome features to help you take your fishing game to the next level.
It comes with a SplitShot transducer that has multiple mounting options for your boat.
It also has pre-installed inland USA lake maps, which is a huge benefit since it will allow you to navigate some of the most popular lakes with ease.
The maps are also detailed enough to show you changes in water depth, so you never have to second-guess.
As one of the best inexpensive fish finders, it has auto-tuning sonar software, so you don't have to spend a lot of time messing with the settings every time you go out on the water.
It also has multiple sonar views, including DownScan sonar, which gives you a clear view straight beneath the boat, and CHIRP sonar, which provides you with fish arch views.
A downside to the Lowrance HOOK2 Fish Finder is that it does not include a cover, so you have to purchase one separately.
This is a bit of a bummer considering the price of the fish finder itself.
Another potential problem is that you can't upload your own maps to the device. You can mark waypoints, though, to help you chart your own course.
2. LUCKY FF718LiC Fish Finder
LUCKY is another company known for offering some of the most innovative and best affordable fish finders.
Being in the industry for quite some time, they have a team of trained workers, researchers, and developers who follow strict QC measures.
The LUCKY FF718LiC Fish Finder is one of their top-selling portable units that have lots to offer.
Review
You can use the LUCKY FF718LiC Fish Finder, either wired or wireless. With a cable, its depth capability is 328 feet, while as a wireless device, it has a max depth of 147 feet.
The sonar covers a 45-degree depth angle with the cable and a 90-degree beam angle with the wireless capabilities.
The LUCKY FF718LiC Fish Finder's display has a three-color tone range of blue, red, and gray. It's also well lit and easy to see even on sunny days.
You can locate fish, check the water depth and water temperature, and see the contour of the body of water's bottom.
You can also use the LUCKY FF718LiC Fish Finder for trolling and ice fishing.
Some models will not allow you to troll, which means you'll have to keep stopping to check on the display and let it reset each time.
This fish finder doesn't come set up and ready to use, so you have to spend some time with the manual before taking it out on the water to make sure you set it up how you like it.
Also, the battery in the transducer doesn't really have an extended life. Still, it's a good option when you're looking for the best budget fish finder.
3. Humminbird 410230-1 HELIX 5 Fish Finder
If you've been fishing or researching good fishing products for a while, you would know that Humminbird is among the most famous brands.
They have been specializing in offering fish finders, mapping units, and fishing accessories for decades.
Their 410230-1 HELIX 5 Fish Finder is a unit with multiple beneficial features.
Review
The Humminbird 410230-1 HELIX 5 Fish Finder has a five-inch backlit display, so you can see the screen even during the sunniest days out on the water.
It also comes with CHIRP side imaging, giving you a crystal-clear look at what's going on under the surface.
It also includes CHIRP digital sonar, giving you an edge by providing more depth and range.
The unit's Dual Beam PLUS sonar combines two beams to give you even more sonar coverage, which allows you to see more of what is going on below the surface.
It also comes with Humminbird base maps, including charts or 10,000 lakes, and provides information on the USA coasts.
This is a great feature since it will allow you to check out and fish in some of the country's most popular lakes.
Something slightly problematic about the Humminbird 410230-1 HELIX 5 Fish Finder is its plastic mount.
It does not absorb the boat's vibrations, which makes the display very difficult to read sometimes because it makes it a bit blurry.
Also, the depth reading stops when you reach a speed of 10MPH and above, which means you'll need to slow it down and let the transducer reset.
4. Deeper Smart Fishfinder START
Deeper is a newer company as compared to the other fishing product companies we included in our best affordable fish finder list.
Established in 2012 by two experienced anglers, their products received multiple recognitions in different countries.
They have three available fish finders, and the Deeper Smart Fishfinder START is a great option for anglers looking for the best inexpensive fish finder for their casual fishing activities.
The company updated the unit's firmware, ensuring a quicker, wider-range, and more reliable WiFi connection.
Review
The Deeper Start Smart Fish Finder is a castable WiFi-enabled model perfect for dock, bank, or shore usage.
It's not only great for casual anglers but also kids, making it a fun addition to your family fishing trip.
What makes it better is that you don't need a cell signal or WiFi network since the START technology creates its own WiFi signal wherever you are.
It uses the Deeper App to display fish location, depth, and size. It also shows you the bottom contour and vegetation in the area.
The transducer casts out up to 165 feet and scans down to 165 feet with a 40-degree sonar beam for great coverage.
Every scan automatically saves the time and location. Thus, you can go back to the most active times of the day and plan accordingly for your next trip.
The Deeper Start Smart Fish Finder also has an automatic night fishing mode and is compatible with Android and iOS devices.
It has a six-hour battery life, which is pretty good considering you can recharge it in just a little over two hours.
It will keep you moving and out in the boat more than some of the competitors.
Keep in mind, though, that you cannot use the baseline model in boats or for trolling.
Also, if you rely solely on the WiFi generated from the device, there might be times when you may have problems getting the app to work properly.
5. MOOCOR Underwater Fishing Camera
Aptly named, the MOOCOR Underwater Fishing Camera isn't your typical fish finder.
Still, it ensures you will have a great fishing experience since it will help you know when to pull up the fishing line.
Equipped with a camera, it promises to provide you with a clear view of what you're looking for under the water.
Review
The MOOCOR Underwater Fishing Camera is just that, a video camera with a five-inch LED screen and high-resolution picture to bring you the best view of what's swimming around under your boat.
It also has another display option to show you the water temperature and water depth, and the direction you are moving in.
The display is also very user friendly, so you don't have to worry about messing with multiple settings.
The MOOCOR Underwater Fishing Camera also has an integrated infrared white light system with three levels of light adjustment so that you can take videos even at night.
It also works well in the deepest, darkest parts of a body of water that other cameras can not operate in.
The MOOCOR Underwater Fishing Camera has a large rechargeable battery that can last from six to eight hours with continuous use.
With your purchase, you will receive a USB charger, allowing you to run it from a power bank if needed.
Bringing a power bank along will keep you out on the boat, so you don't have to worry about constantly recharging.
Since this is a camera and not a sonar fish finder, you must remember that you won't get any mapping or bottom contour features.
No alarm will also alert you when a fish is in your area, so you'll have to keep an eye on the camera.
What To Look for When Choosing the Best Budget Fish Finder
We've taken a look at five great options, but you need to keep in mind a few key features when choosing which one to go for.
Information Provided
First, you want something that will give you all the information you're looking for in terms of depth readings, water temperature, and most importantly, where the schools of fish are hiding.
You'll need to decide if you're looking for something with CHIRP sonar or something with down imaging or side imaging.
Side imaging will allow you to get a more comprehensive picture of what is going on beneath the surface since the transducer sends out beams to the side.
Down imaging does just the opposite, sending beams straight down to give you a better look at what is directly beneath the boat.
Battery
Another thing you want to keep in mind when looking for the best fish finder under 500 dollars is battery capability and life.
You want something that will hang in there on your long fishing trips, so you don't have to worry about packing extra batteries or recharging your device.
Navigation vs. Maps
A final key feature you need to decide on when purchasing the best value fish finder is choosing between navigation and mapping capabilities.
The most common navigation feature of a fish finder is GPS, and most of the most expensive models would come with it. Still, you can find affordable models with limited GPS capabilities.
Maps are among the things worth considering when purchasing fish finders since you would have an idea of where to go or visit.
Some units will have pre-loaded maps, while others would have pre-loaded maps together with a feature that lets you load your own maps. Of course, the latter would cost more than the former.
Which Is the Best Value Fish Finder?
Taking all the variables and features into consideration, we recommend the Humminbird 410230-1 HELIX 5 Fish Finder.
It combines state-of-the-art features such as CHIRP side imaging and CHIRP sonar to bring you a fish finder that can do everything you need it to do at a price that won't put a hole in your pocket.
Whether you end up with the Humminbird 410230-1 HELIX 5 Fish Finder out on your next fishing trip or with one of the other stand-out fish finders on our list, we know you'll be happy with your purchase and look forward to getting back out on the water with your new gear!