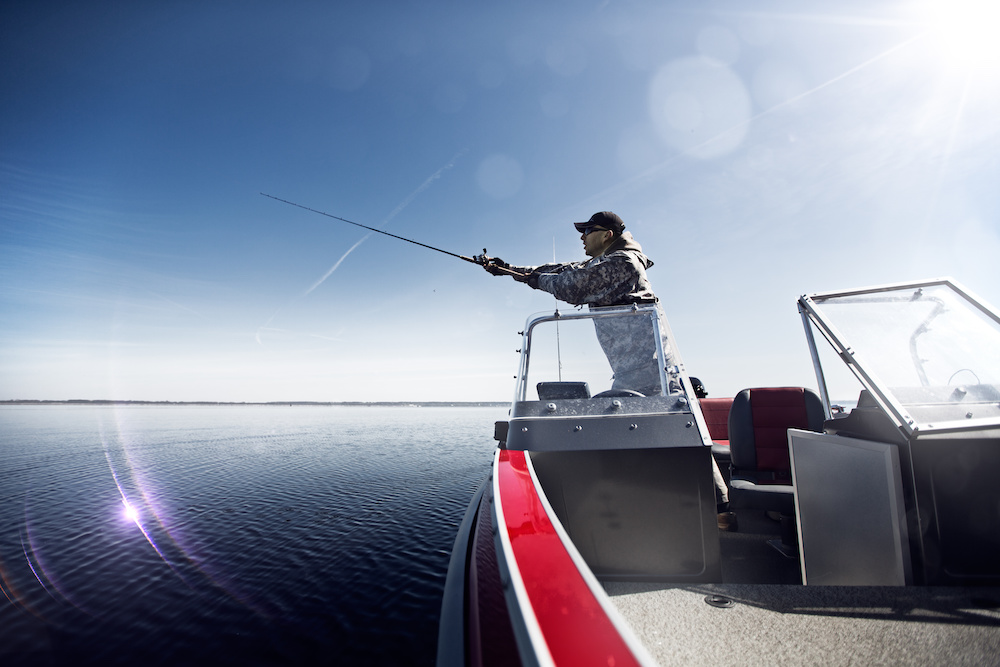 Deeper PRO Smart Review
---
<!–googleoff: index–>We may earn a commission for purchases using our links. As an Amazon Associate, we earn from qualifying purchases.<!–googleon: index–>
---
Fishing is a fun activity that you can enjoy at almost any time of year, but it becomes even more fun when you're actually catching fish.
So why not stack the odds in your favor by investing in a fish finder to help you locate your prey?
It's not just boat owners who can enjoy the many benefits of a fish finder since you can find portable devices too.
In this Deeper PRO Smart review, we've highlighted some of this portable model's best features.
We also weighed up its pros and cons to help you decide whether it could be the right fish finder for you.
Deeper Smart Sonar PRO Portable Fish Finder
The first Deeper sonar device was launched in 2013 by two keen anglers who wanted to create a portable and castable fish finder.
You can use their Smart Sonar PRO model to locate fish, structures, and underwater features from a boat, kayak, or shore.
Who Is This Product For?
This fish finder is ideal for advanced and recreational fishing and can be used by anyone with access to a smartphone.
The dual-frequency sonar makes it suitable for those who want to fish in shallow and deeper bodies of water.
The fact that you don't need to hardwire the device means you don't even need to be a boat owner to make use of it.
Its portability makes it particularly useful to anglers that fish from various locations, including from shore.
It's also ideal for people who love ice fishing because you can just drop it into one of the holes to scan the water below you.
However, if you prefer to leave your phone at home when you're out on fishing trips, then this device won't be suitable for you.
This fish finder does rely on the user having access to the Deeper smartphone app to read the sonar results.
What's included?
When you unbox your Deeper Smart Sonar PRO Fish Finder, you'll find the sonar device itself.
There are also attachment bolts, a USB cable, and a neoprene pouch to store the device safely when not in use.
Overview of Features
When we conducted this Deeper PRO Smart review, we noticed several stand-out features that we wanted to highlight. They are:
Portability and Versatility
The first thing you'll notice is that the Deeper Smart Sonar PRO is incredibly portable. It is a small spherical device that can sit comfortably in the palm of your hand.
You just drop it into the water and switch it on in the app to start receiving information about the water below.
Often, you may want to explore fishing in a different location but don't have a boat or kayak to get you over there.
That isn't a problem with this fish finder because you can quickly and easily connect the device to your fishing line and then cast it out.
It makes it compatible with many different types of fishing, including ice, shore, boat, or kayak fishing.
Let the device sit out in the water to monitor baited areas, or cast it out into new locations to scope out new drop-offs and honey holes.
The device has a great range of 330 feet, so you can map out quite a large area, even from shore.
This portable fish finder from Deeper also features dual-frequency sonar, which adds to its versatility even further.
It allows you to scan underwater domains from two feet deep up to 260 feet.
The dual-frequency sonar also means that you can choose between two different cone-scanning angles.
If you have it set to the narrow angle of 15 degrees, then you'll receive more detailed information about a smaller area.
It is great for fishing in shallow water, and the display is highly accurate, separating targets down to 0.5 inches.
If you're fishing in deeper bodies of water, then set the device to wide-angle scanning or 55 degrees to receive information about a larger area of water.
Although this setting won't offer quite as much detail and accuracy, it will still work well in finding larger fish and underwater structures.
Then you can always switch it back to the narrow beam to zone in on what you find.
We love that this device is easy to set up and use since it doesn't require any pre-installation or hardwiring, like many other fish finders.
You can connect it to your phone within seconds using a wireless internet connection that the device transmits for your phone to pick up.
Then, once you've downloaded the Deeper Fish Finder app, you're ready to go!
You can access the sonar readings from a user-friendly app directly from your smartphone, as well as many other devices in your home.
It displays the current water temperature and depth as soon as it hits the water.
Then the advanced display will show you the fish's location using traditional sonar arches or fish icons if you prefer.
The vividly colored display also allows you to easily locate bait balls, structure, and vegetation, as well as read the bottom's contours, hardness, and consistency.
We really love the way the app utilizes your phone's GPS to create maps, on which you can mark out your favorite fishing and camping spots.
You can also log your catches with photos and leave yourself fishing notes for the future, so you remember what bait and tackle you used.
The final feature we wanted to highlight is the fantastic two-year limited warranty that comes with the device.
Fishing can be quite an expensive hobby, and while this fish finder is fairly inexpensive against other models, you still want to make sure it will last.
The two-year warranty proves that the device is constructed well with quality materials built to last.
You'll feel safe in the knowledge that you're protected from any manufacturer defects in the first two years.
Deeper also offers a 30-day money-back guarantee, so if you don't like the way the fish finder works for some valid reason, you can send it back.
How to Use the Device
The Deeper Smart Sonar PRO is straightforward to use once you've mastered how to read sonar.
Start by downloading the Deeper app and sync your devices by switching on the fish finder and connecting to it via your smartphone's Wi-Fi settings.
Then, once you've created an account in the Deeper app, you're ready to start fishing.
Once the fish finder is in the water, you can turn it on and off via the app to help you save battery when you don't need it.
If you struggle to read sonar, you can use the FishID feature so that the sonar shows a fish icon where it thinks a fish might be.
See what depth it's hanging out at, and then drop your hook and bait right next to it.
Alternative
In order to make this Deeper PRO Smart review more balanced, we decided to compare the unit featured to an alternative product on the market.
The JOYLOG Portable Sonar Fish Finder is fairly similar to the Deeper PRO, but it's better suited for anglers on a budget since it's available at almost half the price.
Like the Deeper PRO, the JOYLOG is also a portable and castable device that connects to your phone directly via Wi-Fi using an app.
However, when you dive a little deeper into the product features, several differences between the two devices become apparent.
On a positive note, the JOYLOG fish finder features four green lights that could help attract fish, but its capabilities are limited.
The sonar only works up to 130 feet deep and has a lower range of 160 feet.
On top of its limited range, the app interface isn't as user-friendly as the one provided by Deeper.
It also doesn't offer you the ability to save your maps or other fishing data.
Deeper Pro Smart Review: The Conclusion
There's no doubt that the JOYLOG fish finder is a great device for the occasional fisher. For a castable device, it comes at a great price too.
That said, if you're more serious about the sport or fish in deeper waters from time to time, the Deeper Smart Sonar PRO will be the better model for you.
We prefer the freedom of being able to cast the Deeper PRO out further in order to explore larger areas.
The Deeper Fish Finder app is also better presented and easier to use.
The JOYLOG device automatically switches on when it hits the water, but we prefer switching the Deeper fish finder on via the app.
This way, it saves battery when you're not ready to read and use the information.
The final point that swayed us on this Deeper PRO Smart review is the two-year warranty that comes with the device.
The device does require a larger investment upfront, but we feel that the extra features and warranty more than justify the extra money.