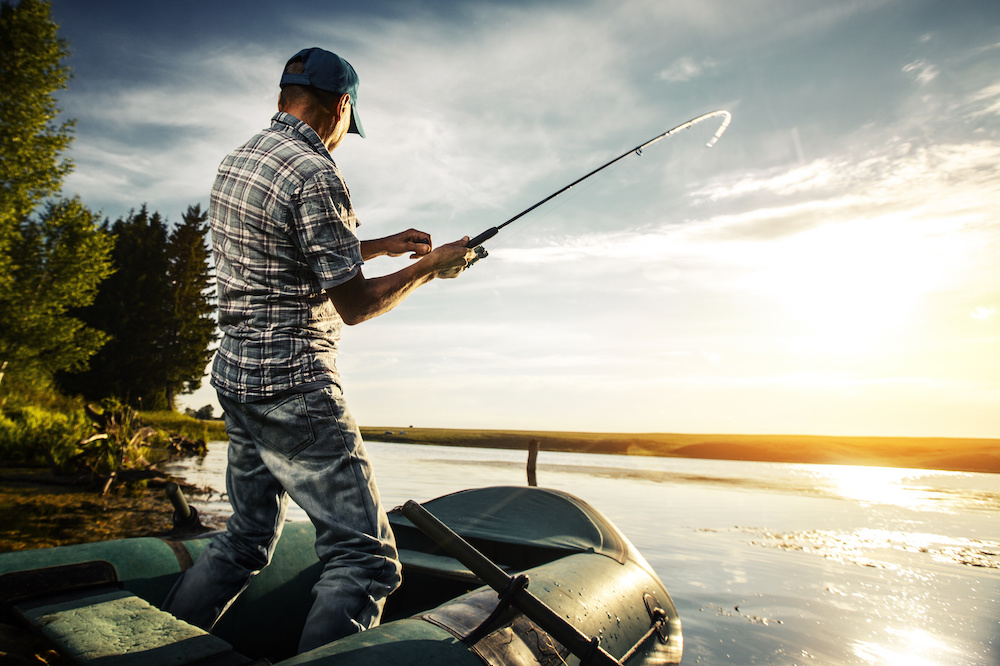 Deeper Start Smart Review
---
<!–googleoff: index–>We may earn a commission for purchases using our links. As an Amazon Associate, we earn from qualifying purchases.<!–googleon: index–>
---
If you love fishing and want to start catching more fish, investing in a fish finder is one way you can be sure of increasing your daily catch.
However, with so many choices on the market, it can be difficult to know which device will be best for you unless you have a lot of experience with fish finders.
We decided to take a closer look at the Deeper Start Smart Fish Finder to see what it had to offer.
Hopefully, this Deeper Start Smart review will help you work out if this model is suitable for your needs.
Deeper Start Smart Fish Finder
Deeper has specialized in producing castable, portable fish finders since 2013, and their small product line features four devices to suit most budgets and fishing levels.
The Start Smart Fish Finder packs many desirable fish finding features and benefits from being the most affordable device in their range.
Who Is This Product For?
The Start Smart Fish Finder is best suited to the casual or occasional fisher, whether you fish with friends and family or by yourself.
If you don't fish that often, you probably won't want to spend too much on a fish finder since you won't get that much use.
If you do fish more regularly, once a month or more, you may find that the Smart PRO model is more suitable for your needs.
The Start Smart is also an ideal fish finder for anglers who don't own a boat because it's a portable model that doesn't need hardwiring.
Whether you fish from a kayak, out on the ice, or stick to shorelines and fishing docks, this fish finder will work well for you.
What's Included?
When you receive your package, you'll find your new Deeper Start Fish Finder device, as well as a USB cable for charging it.
You'll also receive a barrel swivel that will attach to both the device and your fishing pole when you want to cast it out into the water.
Overview of Features
While conducting this Deeper Start Smart review, we were surprised by how many great features were packed into it.
That is especially considering that this model is Deeper's entry-level and most budget-friendly device.
One of the most surprising features of the Deeper Start Smart Fish Finder is just how small and lightweight it is.
Measuring just 4.33 x 3.15 x 4.33 inches, it can fit easily into most tackle bags and boxes so that you always have it with you when you need it.
Also, weighing just 2.3 ounces, you're unlikely even to notice the extra weight in your bag.
Its portability is particularly great for ice fishing since it's really quick and easy to hole jump and check out what's underneath each new hole you make.
The device's low weight also means that it casts that easier, and we love the fact that you can cast it out into the water with your fishing pole since it allows you to explore different spots from shore.
Even if you're on a boat or kayak, the castable nature of this device can help you check out different parts of the river or lake that are difficult to get to in your vessel.
You can cast the device up to 165 feet away, but any more than that will be too far for your smartphone to pick up the device's Wi-Fi.
But we found that it was plenty far enough for us, and we enjoyed slowly reeling the device back in to find out where all the fish were.
Another feature that makes this fish finder great for casual and beginner fisher is how easy it is to set up.
Its portable nature means you don't have to install it before using it since you simply pop the device in the water, and it will float on the top.
Once you've found the fish finder in your Wi-Fi settings and connected the two devices, then you just need to download the app, and you're ready to go.
The app is compatible with the vast majority of smartphones, whether you have an android phone or iPhone.
Plus, you can buy an additional smartphone holder from Deeper that securely attaches your phone to your fishing pole.
While we're on the subject of the Deeper Fish Finder app, it's up there with some of the best user interfaces we've seen.
It's well laid out so that you can navigate your way around the app easily, finding all of the information you need quickly.
Check the water temperature and depth, find underwater vegetation and structure, plus learn what kind of bottom contours you're fishing.
All of this information offers clues as to what fish might be there, so when you see a fish arch or icon, you may even be able to guess what it is.
One of our favorite features of the Deeper Fish Finder app is the ability to log your catches, save photos and keep notes about all your favorite fishing spots.
Even if you upgrade the fish finder to another Deeper model, the same app will still work, so you can continue to record your fishing story.
Logging your catches, as well as your quiet days, will allow you to see your progress clearly over time and figure out what's working for you and what isn't.
When completing this Deeper Smart Sonar review, we were also keen to consider the product's battery life.
It is rechargeable which is great since it means never having to replace batteries.
Once plugged in, the Start Smart device will fully charge in approximately two hours and 30 minutes, but that will reward you with a full six-hour charge for the day.
How to Get the Most Out of It
The easiest way to ensure you get the most out of this device is to take advantage of its portability.
Charge the device after every use, and then be sure to place it back with your fishing tackle so you have it with you on your next trip.
We also think you'll have a lot more fun if you make proper use of the Deeper Fish Finder app.
Use the app to log and store pictures and notes to remember how to fish each location you visit and then eventually master it.
Alternative
If you don't want to have to take your smartphone out with you when you're ice or shore fishing, then you'll need a portable fish finder that also has a designated receiver.
The LUCKY Portable Fish Finder fits the description and is in the same price range as the Deeper Start Smart.
So, in order to make this Deeper Start Smart review fairer, we thought we'd take a closer look to see how they matched up.
Both devices are similar because they provide roughly the same amount of information, which is certainly enough for casual and occasional fishers.
The sonar unit on this LUCKY device is also castable, and the receiver is easy to use and navigate.
There is obviously more to store with the LUCKY model since you have two units to take care of.
Plus, we also noticed some difference in battery life, with the LUCKY sonar transducer holding a massive 10 hours charge.
Unfortunately, the handheld receiver can only hold around four hours of charge.
Thus, it won't last a whole day and will need charging more regularly.
Deeper Start Smart Review: The Conclusion
The idea of leaving your phone at home while fishing sounded great, but we could just switch our smartphone onto "Airplane Mode" instead.
Since most people have smartphones these days and pretty much always carry them in their person, we think a smartphone app is more convenient overall.
Although the two fish finders accomplish almost identical tasks, a few features stood out on the Deeper Start Smart model that made it our favorite.
First, the device looks nicer, and the portability is second to none, making it easier to store and travel with.
The Deeper Fish Finder app also offers the user a bit more in terms of logging and storing information for the future.
This feature would be especially useful for a casual fisher because it will often be weeks or months between fishing trips.
In that time, you might forget what rig, tackle, or bait you were using the last time to catch the biggest fish.
The longer battery life will also be a blessing to those who don't get out on the water as much as they'd like. The Start Smart will last for 50% longer than the LUCKY.
Finally, the two-year warranty on the Deeper model makes the financial investment a safer bet.
We really think this device is an excellent addition to your fishing gear and represents good value for money too.