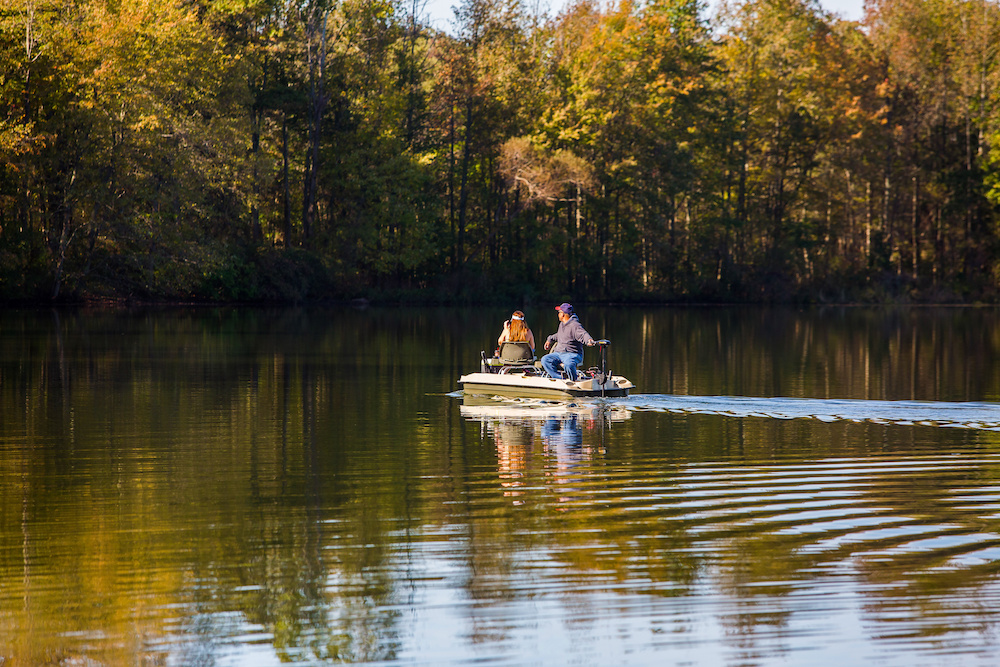 How to Read a Garmin Fish Finder: A Guide for Beginner Garmin Users
---
<!–googleoff: index–>We may earn a commission for purchases using our links. As an Amazon Associate, we earn from qualifying purchases.<!–googleon: index–>
---
Garmin is among the leading manufacturers of fish finders today, so it makes sense that a lot of anglers want to know how to read a Garmin fish finder.
Like most popular fish finders, Garmin models use sonar techniques and sound navigation to detect fish and underwater structures.
​If you're ​interested in detailed reviews regarding Garmin fish finders, take a look at our posts covering ​Garmin ECHOMAP​, Garmin Striker Plus and Garmin Striker Vivid​.

That said, their displays are usually personalized, so even if you're used to using a fish finder, you might still have trouble operating the Garmin model.
Nevertheless, figuring out a Garmin fish finder isn't rocket science.
How Do I Read My Garmin Fish Finder?
Here's a step-by-step guide on reading a fish finder manufactured by Garmin:
Step #1: Power the Device On
Press the power button to turn on your Garmin fish finder. In case you're having trouble figuring out what that is, it's the red circular button.
Step #2: Find the Water Depth and Temperature
At the screen's upper-left corner is a number indicating the water depth. Note that the Garmin brand uses the imperial measurement system, so the water depth measurement is always in feet.
Right beside the water depth on the upper-left corner is a number indicating water temperature. Staying true to its system of measurement, it is in Fahrenheit and not Celsius.
Step #3: Find Out the Bottom Line
The line across the bottom of the fish finder's screen is what you need to look for; it basically indicates the water surface bed.
The line will indicate "steady" if your vessel is not moving, though this won't matter all that much.
Look closely at the line from one side to the other. See if there's an upward slope, as that would show that your boat is moving towards shallow water.
If it's a downward slope you're seeing, that would mean the opposite: your vessel is heading toward deeper depths.
Then, there's the line's thickness, which tells you how coarse the underwater surface is. The thicker the line gets, the rougher the surface is.
Take note that this part might vary with a side-imaging fish finder. Depending on the side-imaging system used, you could find it hard to determine the underwater surface structure.
Step #4: Pay Attention to the Underwater Geography
It's important to learn about the lines or signs that extend beyond the surface-indicating line.
It shows the surface's geography, from natural and unnatural underwater structures to fast-moving and barely-moving animals.
If you see a small, dark-colored hump on the screen, that's likely a rock. If the sound waves reflect longer lines, then you're being shown underwater vegetation.
Lines or streaks indicating trees should be a little bit darker than the plant-indicating ones.
That means it requires a closer inspection for an accurate reading.
Step #5: Understanding Fish Finder Images
When reading a fish finder by Garmin, the screen situated above the surface-indicating lines is just as important to pay attention to.
It depicts water that lies between the water surface and the surface below the water. Here is where you'll find the things you're meant to catch: the fish.
All over this space will be hook signs, indicating the presence of all sorts of fish. If you spot a large hook, then you're likely being shown a large individual fish.
You want to identify the area where most of these hook signs are because that's also where you should start fishing.
The screen should tell you how far below or how close to the surface that is. Though make sure to look carefully because determining the exact position of these schools of fish requires accuracy.
Get your estimate wrong, and you could end up with zero catches for the day.
At this point, you're probably closer to understanding fish finder images than before.
Let's take your learning even further by helping you determine what your targets look like on a Garmin fish finder screen.
What Do Fish Look Like on a Garmin Fish Finder?
When used in conjunction with a transducer, the Garmin fish finder lets you discover the fish's locations accurately.
Fish appears as hooks in the Garmin screen by default, but you may also adjust a fish symbol to look like a fish or an arch.
A Garmin fish finder lets you choose from four fish symbols that you can turn on and off, depending on the information surrounding your targets you want access to.
You basically have four fish symbols to choose from; one symbol would simply be of a suspended fish.
When activated, another symbol will show you the suspended target's location; specifically the depth it's swimming at.
Then, there's the third symbol, which shows you the target's position along with its background sonar info.
Lastly, the fourth symbol shows both the depth and the background sonar info of the suspended targets.
Thus, how the fish will look like on a Garmin screen will depend on the fish symbol you choose.
They could appear as hooks, arches, or fish symbols with different kinds of information attached to them.
What Happens When You Turn the Fish Symbols Off?
When you deactivate the fish symbol of a Garmin unit, it'll show you an exact representation of the sonar echo.
This convex-wave-looking sonar pulse is what's emitted from a transducer.
A fish entering these wave-shaped symbols on the screen will result in an arch or half-moon formation.
Of course, the fish has to enter and move across the cone and through the back for an arch to register.
When this happens, echos move close to the center, resulting in an arch formation. If a fish goes through the side of a cone, what's formed is either a barely-there arch or a black spot.
Either the boat or fish speed determines the shape and size of the fish arch. Also, it's important to note that arch size isn't always an accurate reflection of fish size.
Aim for a +2 gain if you're looking to turn off fish symbols. You also want to opt for the split-screen zoom mode with this particular setting, as it makes it easier to identify fish.
Nevertheless, a perfect arch might still not be achieved. Though should you opt for another fish finder unit, it might display any type of cone breakage or disruption as a perfect arch.
As for Garmin devices, the best fish finder you'll get is a true echo.
The Garmin Fish Finder for Your Needs
There's quite a number of fish finders saturating the market, with Garmin models accounting for a considerable amount of that.
If you're using a small boat, kayak, or canoe to fish, there's a good chance a conventional fish finder sans mapping is all you need.
Here are four non-mapping models by Garmin worthy of your consideration:
Echo 551dv
This top-of-the-line model comes in a VGA color screen and has a Garmin down-imaging sonar.
It also comes with an all-around transducer, which helps you set apart fish cover and structure more accurately than conventional sonar.
Echo 551c
This one is pretty much the Echo 551dv without the down-imaging system. However, that shouldn't be something to worry about, as it still provides high-reso images on its color screen.
It's also super user-friendly, even by Garmin's standards.
Echo 201dv
If your budget is tight, Garmin has you covered with the Echo 201dv. This grayscale unit's 16-level grayscale screen may deliver lower resolutions, but it's still very much up there in terms of down-imaging technology.
Echo 201
This one is closely similar to the 201dv, but it lacks the down imaging-technology of its slightly more advanced counterpart.
Grayscale fish finders aren't all that bad when you get the hang of them. Plus, they don't use up the same kind of wattage as color units, so you're usually able to use them longer.
That said, lower wattage also means slower reading displays, which might annoy you if you're looking to get things going quickly.
If deep-water fishing is your thing, we recommend getting the Echo 551 units, as they offer higher resolutions. The images you get with these models are also super-detailed.
In a nutshell, colored units have the grayscale ones beat in terms of resolution and power output, which leads to quicker, more accurate readings.
Most color models also incorporate down-imaging technology, which is a huge advantage for catching fish.
How to Read a Garmin Fish Finder Correctly
Knowing how to read a Garmin fish finder correctly means acquainting yourself with its many other variations.
Other versions of a Garmin fish finder might require you to follow different steps, so it's best to read the instruction's manual or do your research before trying out unfamiliar models.
Garmin is on par with brands like Humminbird in terms of popularity, so if you haven't already, there'll eventually come a time when you'll consider including them in your arsenal.
The brand has all sorts of fish finders to suit your fishing needs, so you won't likely need to look elsewhere when you commit to them.
You can also rely on the steps mentioned above for operating your new Garmin side-imaging fish finder.
If you opt for one with a down-imaging system, there's a chance the steps above won't exactly apply.