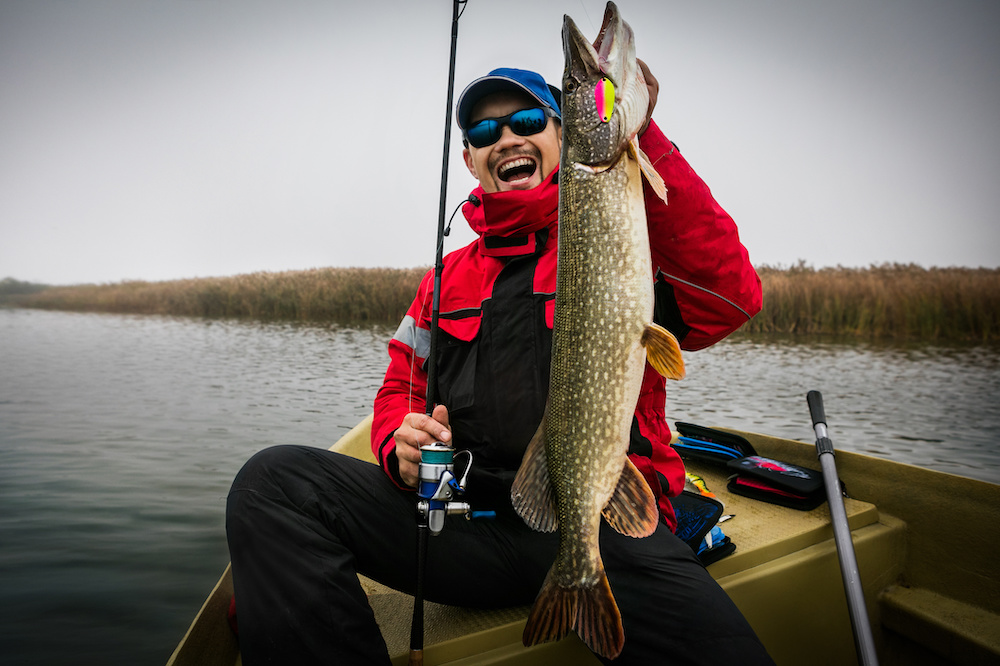 Lowrance Elite FS Review
---
<!–googleoff: index–>We may earn a commission for purchases using our links. As an Amazon Associate, we earn from qualifying purchases.<!–googleon: index–>
---
Whether your fishing is high stakes, a hobby, or a way to bond with your friends, specific tools can revolutionize how you fish.
One such tool is a fish finder, and many anglers haven't seen anything as powerful as the Lowrance Elite line.
Today's Lowrance Elite FS review highlights unique properties, high-resolution imaging, and other features found on the devices included in the line.
With multiple sizes available, anglers choose what dimensions suit them best from this famous line.
Does Lowrance offer what you need for fish finding in the Elite FS line? Let's find out by looking into its features.
Lowrance Elite FS Review
The Lowrance FS is the latest from Lowrance in the Elite series of fish finders and chart plotters.
Released in late 2020, the FS model goes above and beyond as compared to what has been found in other mid-range Elite models.
Lowrance started producing fishing gear in 1957, and they've continued to make better things as the years go by.
The Elite FS models introduce LiveSonar to the line, a useful feature for checking how your casting and bait presentation affects fish, so this technology works for anglers everywhere.
Few other fish finders at this price point can compare to what the Elite FS offers in features.
Lowrance released this fishing tool in hopes of filling a specific niche for anglers, and the model truly performs.
Who Is This Product For?
The Lowrance Elite FS fish finder matches well with anglers of any experience level. From beginners to seasoned pros, it provides the tools necessary to find fish and make the most of your time on the water.
The easy-to-use unit makes it quick and easy to set up, and tech support is readily available for anyone who needs it.
Additionally, anglers with a focus on accuracy should appreciate the advanced sonar technology shown by Lowrance.
The balance of sonar tech in the FS ensures live sonar readings that are fast, accurate, and easy to interpret.
Professional anglers who need sonar technology to reach depths of more than 200 meters may need something else.
Besides that category, though, most anglers find satisfaction with what is seen in the Elite FS model.
What's Included?
What's in the box when you pick up one of the Lowrance Elite FS models?
Whether choosing the seven-inch or nine-inch model, the package will include the following:
Elite FS unit
Elite FS sun cover
Mounting bracket
Power cable
Three fuses
Transducer
Pre-loaded CMAP Contour Maps
The exact transducer included is dependant on the model that you choose. For instance, the Elite FS 7 comes with the Active Imaging 3-in-1 Transducer.
While the Elite FS is compatible with a number of other maps and sonar products from Lowrance, you can buy those things separately.
Overview of Features
Now that you know more about who might enjoy this fish finder most, get into the heavy details with the Lowrance Elite FS review.
The features of the Lowrance Elite FS line vary slightly from model to model. Today's review primarily features the Lowrance Elite FS7 with the 3-in-1 imaging transducer.
However, learning details about how the Elite 9 and other transducers adjust things is covered for a complete understanding.
High-Quality Lowrance Sonar Technology
The technology from Lowrance in this fish finder uses 3-in-1 sonar imaging to ensure you get the best look underwater.
CHIRP, SideScan, and DownScan imaging will each show a different set of data that will help you find fish.
The sonar data is autotuned as you float or troll to make using this tool as easy as possible.
If you need to make adjustments, simply pressing a few buttons adjusts your scanning scope in no time at all.
One of the coolest things about Lowrance is their FishReveal technology that combines the information gathered by CHIRP sonar and DownScan imaging to show you what's under your boat.
Recognizing what fish, a structure, and a cover is would be easy with how Lowrance presents the data.
Fishing gets easier as you have FishReveal on your side to track exactly what you are trying to catch.
Pre-loaded C-MAP Contour+ Maps
C-MAP Contour+ provides both inland and coastal charting, and this info is all pre-loaded into the Elite FS display module.
The provided information leads anglers to key fishing areas, including ledges, through contour mapping.
C-MAP also shows high-resolution contours for nearly 9,000 lakes in the United States.
Lowrance also provides pre-loaded maps in other regional service areas; just contact their support team for more detailed information.
The high-resolution touchscreen allows easy customization to see the views that matter most.
Whether you want to see the SideScan imaging while trolling or something else, you can easily set it up to your taste.
There are only a few subscreens that you need to learn how to use.
From there, the touchscreen makes it easy to jump between different view options.
This simplicity makes your fishing more enjoyable, and it keeps you from having to fiddle with the device too much.
Multiple Size Screen Options
As mentioned, the Elite FS is available as a seven-inch screen and a nine-inch screen model.
Both modules contain the same technology, and they each pair with different transducers to customize your experience.
The resolution and capabilities of the screens are the same for both size screens. Choose the size that best fits your eyes and your boat size for the best results!
ActiveTarget Live Sonar Ready
Another feature anglers enjoy on the Elite FS is that it is ActiveTarget Live Sonar ready.
As the fish moves in and out of cover, the movements show up on the fish finder.
Additionally, tracking how the fish responds to specific types of bait presentations is possible with the imaging views.
Essentially, the fish finder provides an up-close view of what the fish is actually doing as you cast out your line.
To completely use this feature, though, you will need a compatible ActiveTarget sonar transducer.
This specific model of the Elite FS fish finder comes with an Active Imaging 3-in-1 transducer.
While the Elite FS line runs best alongside the Active Imaging 3-in-1 transducer, there are other options as well.
If you already own a compatible transducer, the unit pairs up nicely. Transducers that can provide the right data will allow the Elite FS to show DownScan, SideScan, and FishReveal imagery.
For those who want to see even deeper below the boat, choose the HDI transducer instead.
This may slightly limit the 3-in-1 imaging, but you will still have excellent DownScan imaging and FishReveal results.
Getting to Know Your Fish Finder
If you've never used a fish finder before, confusion may sink in as you set it up and try to understand the screens. Don't worry; this is a common occurrence for anglers!
Take some time to decipher your fish finder, and don't expect to understand it fully on your first trip.
Every fish finder is different, but you likely need to learn to read a few specific types of screens.
First, figure out how the fish finder identifies fish. Some fish finders use sonar technology and then interpret the data to create images of fish.
Fish shapes of various sizes appear on the screen, and the technology differentiates between fish, rocks, and other objects.
Other fish finders represent everything seen by the sonar as an arch rather than as a fish shape. The bigger the arch is, the bigger the fish is; we'll talk more about this later.
However, not all arches will be fish; some will be other things like vegetation, rocks, and structures.
As you gain more experience with your specific fish finder, separating which arches are fish and which are not becomes easier.
Look into your fish finder guidebook to see what to look for and what screen will show fish imaging.
Many Lowrance models display fish arches, which many anglers consider to be the most accurate images to use.
Many anglers want to fish for a specific size. Sometimes they want to go as big as possible; other times, they seek certain fish that fall in a particular size range.
That is why knowing how to estimate fish size on your fish finder is very important.
Every fish finder will have some type of scale to follow. Still, there is definitely a learning curve when associating fish size to imaging.
Transducers that use fish-shaped imaging estimate this for you, and the fish shapes are different sizes on the screen.
Fish finders with arches, on the other hand, require some interpretation on your part.
The length of the width is not very important because the length depends on size, speed, and a number of other factors.
The width of the arch, however, shows you the size of the fish. Thick arches represent bigger fish on nearly all types of fish finders, so this is a safe assumption to carry with you.
Putting together all of this knowledge helps anglers to choose where and how to cast.
Long, wide arches are good fish to go after with fast casting presentations; the fish move quickly and are worth your effort.
Slower casts are best for short arches, which may be sleepier, slow-moving fish.
Anglers who want to find or avoid baitfish must learn how they appear on the screen. Most fish finders show baitfish in a different color and as lines or dots.
Baitfish appear as clouds or clusters of arches on some screen interpretations as well.
The size, shape, and speed of the baitfish play a factor in how the sonar imaging picks them up. Take time to scan and pay attention to what you see to begin to identify these differences better.
Learn how to see different types of underwater landscapes on a fish finder, as well.
Vegetation shows up as vertical, sometimes tall, lines, while depressions appear as a v-shape near the ground.
Fish finders can help you parse out things like dropoffs and underwater wreckage.
Trolling with your sonar settings around a medium-size gives you the best chance of finding specific structures.
If you enjoy fishing certain landscapes, learn what they show up and head out on the water, trolling until you find it!
All fish finders have different features, use cases, and buttons. Learning your specific fish finder allows you to make the most of the technology that you have.
These tools share some commonalities, but the specifics provide different things for you to explore, so review the guide that comes with your fish finder.
Finally, consider watching some tutorials like this one about one of the Elite FS models to learn more:
Alternatives
Lowrance created great fish finders with their Elite FS line, but that doesn't mean all anglers are satisfied by them.
Other great options found on the market might be a better fit for your needs.
One example is Garmin's Striker Vivid models that combine down and side imaging with easy-to-read color palettes that make fishing any landscape easy.
Humminbird's Helix line has dual-beam sonar that is autotuned for crisp, clear images both below and beside your boat or kayak.
An Elite Tool for Your Fishing
There's no doubt that the Lowrance Elite FS line of fish finders from Lowrance is a high-quality one.
The key is to determine if they have the suitable properties for your needs; today's Lowrance Elite FS review helped with that.
Elite FS models feature 3-in-1 imaging that blends the best of sonar technology to help you find hot fishing spots.
Beyond that, the GPS capabilities connect you with the best tools to improve your time on the water.
Lowrance makes fish finders that help make every angler feel elite, and that's what you deserve!
So, get your hands on one of the best available angling tools on the market today.