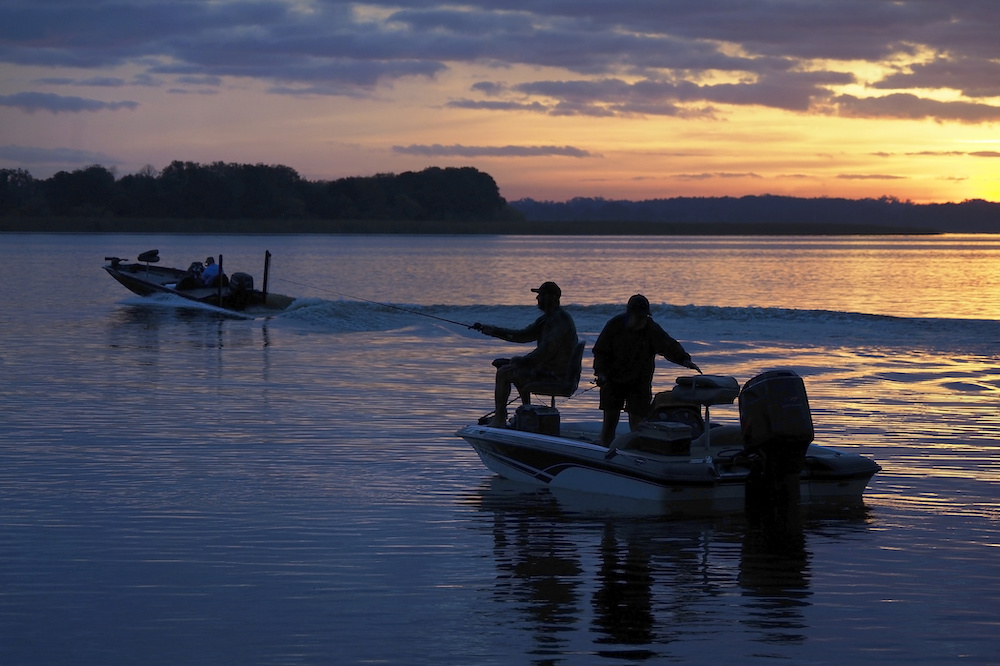 Moocor Fish Finder Review: High-Tech Underwater Camera For Fishing
---
<!–googleoff: index–>We may earn a commission for purchases using our links. As an Amazon Associate, we earn from qualifying purchases.<!–googleon: index–>
---
Gone are the days when anglers used to hold on to lines as they wait for their catch. Back then, they could only imagine the underwater environment.
Today, not only can you use hi-tech gadgets to help you out, but you can also view real-time footage of the sea life underneath.
The problem is, the long list of fish finders available is enough to confuse first-time buyers looking for a reliable option.
If you're planning to purchase an electronic fish finder for your next trip, this Moocor Fish Finder review will surely help you out.
Moocor Fish Finder Review
This fish finder is a hi-tech option from the wide range of underwater fishing gadgets by the brand Moocor.
However, its affordable price and cutting-edge technology make it stand out from its counterparts.
You can get everything you need in a portable fish finder from this model, including:
Infra-red underwater vision
Long-term battery life
High-quality hardware
Large screen
Vibrant underwater display
Do you think these features are enough to accommodate all your fishing requirements?
Who Is This Product For?
This durable fish finder is designed not only for ice-fishing but also for deepwater fishing.
It will help you level up your catch percentage as you enjoy the serene beauty of the underwater world.
Using radio waves to locate your target, you can trust that catching fish becomes easier than ever.
Whether you're a serious fisherman or a sea-life enthusiast, this gadget can help you complete all your tasks.
The best part is, unlike other fishing devices, this Moocor fish finder is beginner-friendly. This means operating it is pretty easy compared to other models.
What's more, the device is portable and comes equipped with a long-lasting battery.
If you're a beginner looking to step out into the sea for the first time, this Moocor fish finder can help you enjoy your day without any hassle.
What's Included?
If you have already searched the internet for high-quality electronic fish finders, you must've come across many options under $100.
The question is: Can you rely on those models to give you the data you need?
This Moocor fish finder is priced a little bit more than that, but it has all the necessary parts and equipment to ensure flawless operation.
In addition to the professional underwater camera with infra-red bulbs for precise vision and the clear LED display monitor, the gadget comes with a 15-meter-long cable.
With this cable, you can use the camera to scrounge deep into the underwater environment and determine which fishing spot will bring you the most success.
To keep the device going, you will get a 4000mAH battery paired with a portable, easy-to-use charger.
To ensure smooth operation, use the long camera fin, a productive floating ball to spot your catch, and a wrist strap to keep track of the movement.
Finally, the package includes a durable case to store all the equipment when you head out for your trip.
For beginners, there's a comprehensive user manual where they can get answers to all their queries regarding the device.
Everything combined makes the entire package worth the price you're paying for it.
Overview of the Features
If you still haven't decided, here's a list of the salient features of the device with their respective details to give you further insight.
Efficient Underwater Camera
The underwater camera has advanced fish-finding support that can locate the catch you're looking for in no time.
The best part? You can conduct underwater photography and videography using this camera.
Along with streaming real-time footage to help you hook your fish, the camera also lets you record these exceptional moments.
Yes, you can share them with your friends and family.
Similarly, you can use the device to save, browse, and delete the video and image files you create during your underwater exploration.
Later, you can transfer these files using a USB data cable to any device you like.
Sufficient Underwater Lighting
Many underwater fish finders sport high-tech cameras to locate and record fish under ice and the sea.
However, not all of them come with enough lighting like this Moocor fish finder.
If you're into fishing, you may already know that some fish live in deep waters. Unfortunately, that spot doesn't get decent sunlight, so it's hard to get a good view.
This is why proper lighting is an integral element in electronic fish finders that sport cameras.
The Moocor fish finder has an assortment of both infra-red and white LED lights.
These lights help produce clear, realistic underwater footage for you to view from above.
Besides that, the lights are highly customizable.
You can control the brightness according to the environment and the time of the day you're using the device.
You can set the lights according to three different levels of intensity.
The highest level works well for night-time fishing, while the lowest setting is enough for fishing on a bright sunny day.
Among the most attractive features of this Moocor fish finder is its 800 x 480 high-res screen.
As the camera captures a clear image of the underwater environment using cutting-edge technology, the image is then displayed on the five-inch HD screen.
Most cheap fish-finding devices will give you blurry images, making it hard to differentiate one fish from another.
However, this product comes with a screen that gives you a realistic full-color view.
This way, apart from presenting your bait to the fish of your choice, you can enjoy the underwater view and observe the topography for research purposes.
The screen also displays other essential information.
For example, you will know the depth, water temperature, and direction so that it's easier for you to hook your catch.
Can you imagine how unfortunate it is to plan a fishing trip only to have your fish finder run out of battery an hour two in?
Fishing is a game that requires patience. If your device can't wait as long as you would for the perfect catch, it won't work well for you.
Luckily, the Moocor fish finder sports a long-lasting, durable battery. With this, your device can keep running for up to eight hours at a stretch.
As such, you can spend the day on your boat with your electronic fish finder without any battery issues.
For those who are planning longer trips and need battery backup, you'll appreciate that the device comes with a 5V USB cable.
Use the cable to plug your device into a portable power bank and recharge it in no time.
How To Use This Moocor Fish Finder
Operating this Moocor fish finder is pretty easy and straightforward.
All the essential options regarding the screen settings are located on the base of the monitor.
To get started, you simply have to long-press the Start button to turn the device on.
After that, using the buttons provided, adjust your camera lighting settings and convert the screen to video-viewing mode.
At the back of the monitor, you will find a long wire entwined onto the fishing clamp. Take the edge of the wire and attach it to the fin of your camera.
Then, simply release your camera into the seawater or the ice-hole, and spot the fish you want to catch.
Let your fishing line down and use the camera footage to see if your target is taking your bait or not.
Move your line accordingly until you capture your prey.
Of course, you can also use the camera to record underwater videos and take photographs of marine life.
Alternative
This Moocor fish finder is a reliable option for beginners, but it may seem like an expensive investment for some.
In this case, check out the Eyoyo HD 1000TVL Camera Fish Finder.
This affordable alternative boasts a similar set of features that the Moocor fish finder offers.
You'll find that the colored monitor displays clear real-time underwater images.
Similarly, the camera has multiple infrared lights to optimize your underwater footage.
The Eyoyo HD 1000TVL has a long-lasting battery, too. It lets you explore the sea for up to eight hours, just like the Moocor fish finder.
The unit is constructed with durable and waterproof materials, which means it resists water and works well in cold temperatures.
It even has a free sun visor that you can remove if and when you don't need it yet.
Aside from fishing, you can also use this device for snorkeling, swimming, and diving.
Conclusion
To conclude this Moocor fish finder review, allow us to say that this is undoubtedly one of the best options available for beginners and experienced anglers alike.
It is made with water-resistant and temperature-controlled materials, making it ideal for sea fishing and ice fishing in any weather you like.
Additionally, the wide-angle camera with good lighting equipment lets you take breathtaking photos of the life activity underneath and around your boat.