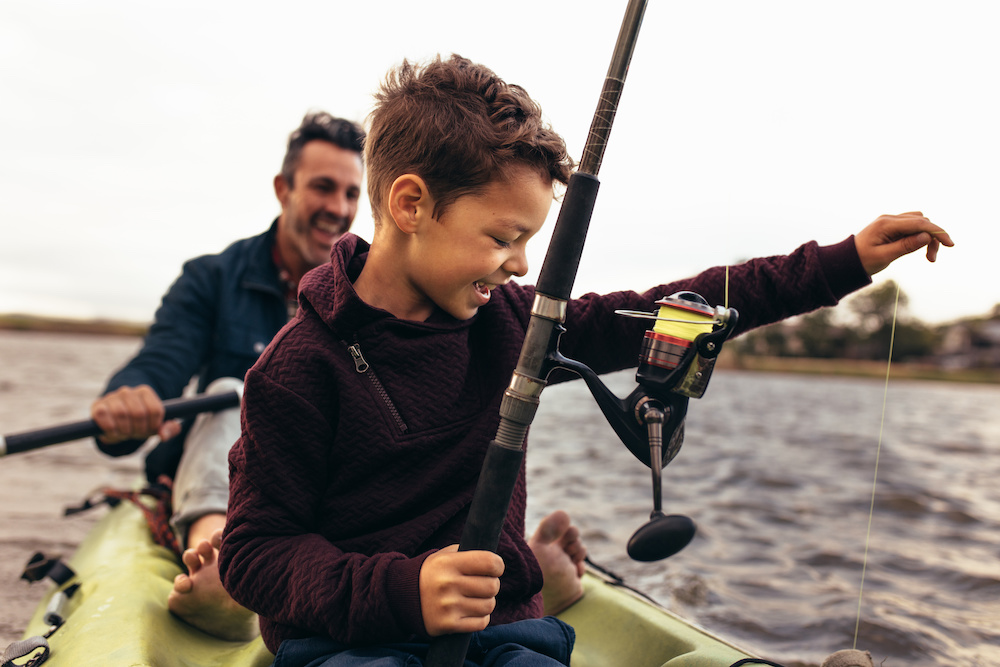 Raymarine Axiom 12 Review: Is It Worth All the Hype?
---
<!–googleoff: index–>We may earn a commission for purchases using our links. As an Amazon Associate, we earn from qualifying purchases.<!–googleon: index–>
---
Having trouble catching fish?
Whether you fish in fresh or saltwater, you'll benefit from making a long-term investment in a high-performing fish finder.
A fish finder lets you identify prime fishing spots and explore new locations to catch fish.
To help you out, we've prepared this Raymarine Axiom 12 review.
With its advanced features, you can guarantee high performance and fast response without any glitches or freezes.
Raymarine Axiom 12 Review
Raymarine is one of the world's leading brands in designing high-quality marine equipment to elevate your fishing and boating experience.
The Axiom 12 Fish Finder serves as professional-grade marine equipment to find fish using the latest sonar and CHIRP technology.
This multi-functional device helps anglers plot graphs on its 12-inch touchscreen interface.
Moreover, it gathers data from more than one source to present a clear and precise image of the environment underwater.
With this, you can track the movement of fish and your boat in real-time.
Who Is This Product For?
This high-end fish finder is for professional anglers who want to catch fish in freshwater and saltwater fishing spots.
It's an expandable piece of marine equipment, which means it supports other Raymarine accessories.
You can pair it with Quantum radar, FLIR thermal cameras, audio integration, and CHIRP sonars.
It's essentially a standalone unit, making a perfect choice for small boats with limited space to mount additional marine equipment.
What's Included?
This all-rounder fish finder comes with the required accessories so that you don't have to spend extra money on buying them. These include:
Display unit
Two Trunnion knobs
Trunnion bracket
Trunnion mount sun cover
Panel mount gasket
Rear mounting brackets
Instruction manual
Four M5 x 58 threaded studs
Four thumb nuts
120mm DeviceNet to SeaTalkNG adapter cable
NMEA 2000 power cable
Overview of the Features
Got no idea if the Raymarine Axiom 12 will be a good fit for you?
Let's take a close look at the features so that you can decide for yourself:
The RealVision 3D comprises a four-channel transom-mounted transducer to create an accurate sonar image of more than 200 feet underwater.
It allows you to see everything below, behind, and to the boat's sides in a three-dimensional display.
You can also tile, zoom, and pan the 3D image to analyze it from any viewing angle.
Furthermore, the gyroscopic technology maintains its balance and automatically offsets the boat's movement.
The RealVision 3D works with a high-frequency CHIRP technology comprising DownVision and SideVision sonar to generate HD life-like marine graphs.
The wide-spectrum CHIRP sonar transmits 60 different frequencies to create a life-like image, successfully identifying your target fish.
CHIRP DownVision ensures a photographic underwater view underneath the boat. This way, you can analyze the bottom structures and fish accordingly.
On the other hand, the CHIRP SideVision gives you a bigger underwater image with a bank-to-bank display of bait, fish, and other objects.
Consequently, you can see a precise and clear image to detect more fish than the standard side sonars.
You can take full advantage of multi-functional navigation displays, which you can select based on your preferences.
The all-glass display comes with super-bright LED technology coupled with optical bonding.
With this combination, you get exceptional visibility regardless if you fish during the day or at night. You can use any of three color themes, which are light, dark, and night mode.
It's a 12-inch, all-weather display that offers 25 percent more brightness up to 1,800 nits.
What's more, the impact-resistant glass comes with HydroTouch Nano-coating to repel oil, water, and smudges to enhance visibility.
It offers wider viewing angles and sharp contrast with twice the resolution than the standard displays.
Furthermore, the display is optimized for surface- or flush-mounting.
The latest IPS display technology lets you create charts, sonar, video, and radar in stunning colors.
The Axiom 12 is known for how fast and smooth it operates to enhance user experience.
The intuitive keypad control allows you to mark the fishing spots.
You can customize the home page to access your favorite settings and pages with a single click of a button.
The LightHouse 3 OS offers a touchscreen similar to a smartphone with an uncluttered interface.
The quad-core processor exhibits exceptional performance to deliver chart redraw and seamless 3D imaging.
Best of all, the LightHouse app allows you to download entertainment apps, such as Spotify or Netflix.
You can conveniently install the transducer to support RealVision 3D, CHIRP, DownVision, and SideVision.
It depends on you to convert the transducer for mounting on the transom or trolling motor.
Moreover, the transducer offers clear and detailed bottom images, allowing you to access fish-holding habitats.
The built-in GPS technology lets you mark your boat's accurate position on both the customizable charts and contour maps.
The Axiom 12 fish finder comes equipped with coastal coverage of the US and Canada.
Not only that, but it comes pre-filled with more than 20,000 rivers, lakes, and inland ponds.
You can consult the LightHouse charts library to use map maker products, such as Standard Mapping or CMOR.
Furthermore, you can use the LightHouse NC2 North American nautical chart, a combination of premium-quality maps and fishing intelligence.
You also get the C-MAP nautical chart products, such as C-MAP Essentials and 4D-Max+ marine charts.
This way, you can enjoy a 3D view with satellite overlay and raster chart support.
Do you want to create your customized maps?
The SonarChart Live will help you with that. Afterward, you can synchronize them with your waypoints and routes.
Raymarine has successfully developed Evolution autopilot technology to keep the boat on the course with steady control.
Another advantage of this feature is that it doesn't require calibration or a complicated setup procedure.
The Axiom 12 is a premier MFD based on networking and functionality, making it compatible with other marine systems.
One of the main advantages of using the Axiom 12 is its compatibility with other technologies.
It works with Quantum radar, audio integration, and thermal imaging to generate a clear underwater image.
You can even connect the Axiom 12 with your smartphone via Bluetooth or Wi-Fi to enjoy the latest updates and features of Raymarine apps.
The built-in attitude and heading reference system (AHRS) serve as a stabilizer to compensate for the boat's movement in rough water conditions.
How To Get the Most Out of the Raymarine Axiom 12
Operating the Axiom 12 is like using a smartphone or tablet; yes, it's that simple.
With this, you will have an intuitive display and direct access to a variety of settings.
You can go through all the information, such as water temperature, depth changes, and other structural objects, and plot them on a 3D or 2D map.
Moreover, you can switch between different screens and zoom in and out within seconds.
Another good thing about this is that you can use up to four applications on a single screen.
This means you can create individual customized pages for Sonar, SideVision, DownVision, and RealVision 3D.
Alternative
If you think the Axiom 12 does not fit your requirements, check out the Humminbird Helix 7 Fish Finder.
It has a seven-inch display screen that offers 800 x 480 resolution to provide a crystal-clear underwater view.
Additionally, the TFT display comes with 256 colors, allowing you to distinguish different fish and structures.
The LED backlighting ensures clear and bright images, visible even in direct sunlight.
You can also view the photos on the split-screen to easily identify fish habitats.
The enhanced memory lets you create maps and refresh screens faster. In this way, you can view the maps with real-time data without any lag or freeze.
Moreover, the doubled RAM makes it possible for you to capture as many data points as possible.
You can track your location, depth, speed, and overall waterbody with precise GPS technology.
The Humminbird Helix 7 fish finder also enables you to program 45 routes and 4,500 waypoints.
In addition, the Switch Fire 2D imaging displays multi-colored views of different areas and structures.
You can switch between the Clear and Max option to get a favorable view. The Max option offers a clear display of thermoclines, currents, and fish presentation.
On the other hand, the Clear option removes all the noise from non-living objects to provide you with a detailed and peaceful view.
Lastly, the Side imaging feature offers a 180-degree, side-to-side aspect ratio so that you have a clear view of what's underneath your boat.
Conclusion
This Raymarine Axiom 12 review shows just how this reliable fish finder can help you get a better view of the environment below your boat.
As such, you can focus on catching the fish after locating them instead of relying on the hit-and-trial method.
The highly advanced sonar technology enables even smaller boats to map out their vessel's exact location.
This way, identifying both stationary objects and fish becomes easy.
Boasting advanced underwater imaging technology, the Axiom 12 lets you go deeper into the water.
As a result, you can plot accurate maps and analyze them side-by-side on a split-screen.