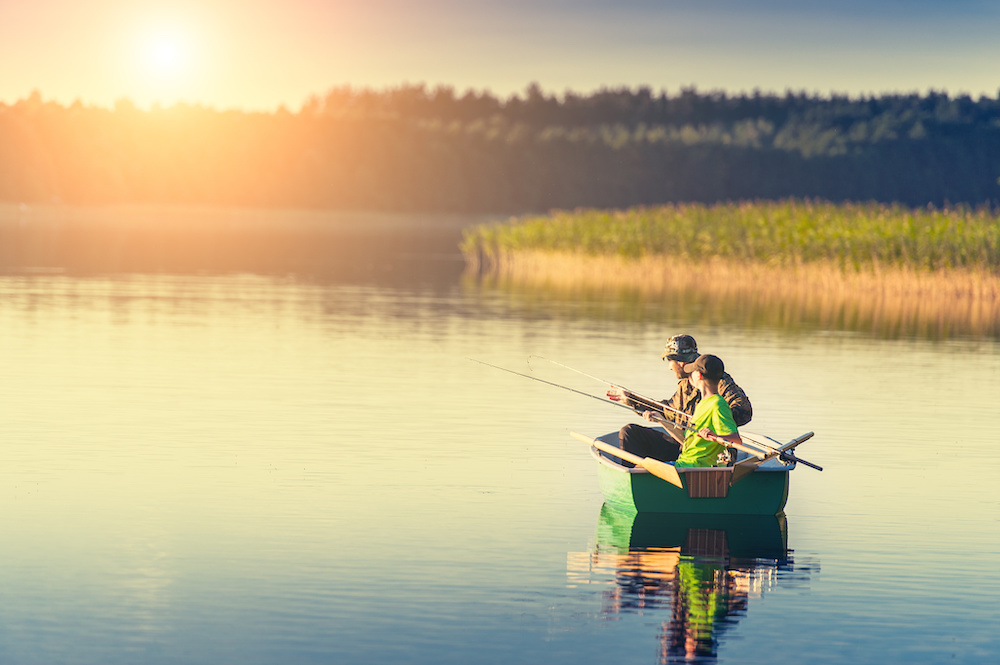 Raymarine Axiom 7 Review
---
<!–googleoff: index–>We may earn a commission for purchases using our links. As an Amazon Associate, we earn from qualifying purchases.<!–googleon: index–>
---
Humans have been fishing for millennia, but with advances in technology and the introduction of fish finders, it's never been easier to find fish.
Investing in a decent fish finder and learning how to read it will ensure that you catch more fish every fishing trip. Just make sure you don't go over your bag limit.
Our Raymarine Axiom 7 review will discuss the features, pros, and cons of the cutting-edge fish finder and chart plotter to help you decide if it's the best for you.
Raymarine Axiom 7 Fish Finder
With over 80 years of experience, Raymarine is a world leader and specialist in marine electronics.
Their products are well-known for their ease of use, rugged design, and reliability.
Their Axiom range combines high-speed chart plotting abilities with the latest in sonar technology to offer unrivaled navigation and targeting above and below the water.
Who Is This Product For?
The Raymarine Axiom 7 Fish Finder would ideally suit someone with a small to medium-sized boat.
It's also perfect for those looking for a powerful device enough for navigating, as well as fish finding.
It comes with Navionics and chart plotting abilities and can image extreme depths, so we feel it would be most useful to someone who enjoys sea fishing.
Though that's not to say it wouldn't make a great fish finder for the inland lakes too.
Just that perhaps you wouldn't need or use everything this device has to offer if you were mainly fishing inland.
If you have a larger boat or if your boat has a large console, you may wish to go for a larger screen size because the company also has nine and 12 inches screens available.
The Axiom series has a slightly higher price point than many fish finders, so this wouldn't suit someone on a tight budget.
What's Included?
When you receive your Raymarine Axiom 7 package, you'll get your multifunction display, transducer, and power cables.
You'll also get everything you need to mount your device, including a surface mounting kit, a trunnion mounting kit, and all the necessary mounting hardware.
You should also find your installation instructions and a Navionics+ chart card.
Finally, included with every Raymarine electronics purchase is a two-year warranty.
That said, if you register your device online, then this two-year warranty is extended to three years, free of charge.
Overview of Features
We've highlighted some of the standout features of the Raymarine Axiom 7 Fish Finder.
The things that impressed us the most were the ease of use, screen quality, and cutting-edge technology.
The first thing we noticed about the Axiom 7 was that it was effortless to use, even without looking at the instruction manual.
The powerful Lighthouse 3 operating system is smart and intuitive, and its menus are somewhat reminiscent of a cell phone menu screen. That makes it extremely easy to navigate and find your way around the main features.
Plus it's touchscreen operated, so there are no buttons to learn, apart from one sliding button that you use to power the device.
When you see what you want, you just click on it, and it takes you to exactly where you want to go.
However, there are times when touchscreens can be difficult when fishing, especially when your fingers get covered with fish gore.
We imagine that if the console got splashed on a particularly rough day out at sea, this might also interfere with the operation.
Another feature that adds to this device's ease of use is the built-in Wi-Fi which pairs with multiple Raymarine apps, all of which are free.
These apps allow you to view and control your Axiom 7 unit from your smartphone, whether it be iOS or Android.
The display's quality on the Raymarine Axiom 7 Fish Finder is also second to none, and the brightness and visibility really impressed us.
You can easily read the information on the screen, even when you're not right in front of it.
With its all-glass optically bonded display, you can view the screen clearly whether you're on an angle or if you have sunglasses on.
It also has day and night vision with different color palettes to further enhance viewing depending on the light conditions you're in while fishing.
The Axiom 7 also excels when it comes to its sonar abilities, boasting CHIRP sonar and ultra-wide DownVision and SideVision.
Axiom's CHIRP sonar offers fishers highly advanced sonar capabilities from the top of the water all the way down to around 900 feet.
CHIRP injects a lot more power into the water over traditional sonar and sends out longer sound pulses at varying frequencies.
That is why it can penetrate greater depths with more accuracy, giving you crisper, clearer images of the water below you.
DownVision delivers an image of the water below you, up to 600 feet deep, that looks a bit like a photograph, allowing you to bottom image and target fish easily.
While SideVision provides bank-to-bank displays up to around 300 feet deep.
The mapping features on the Axiom 7 are provided by Navionics+, and your device will include many useful charts for your boating adventures.
You'll receive charts that cover the coastal USA and Canada, as well as over 20,000 inland rivers, lakes, and ponds.
The high-performance 10Hz GPS offers you four times increased sensitivity for more accurate positioning.
Once you've found a favorite fishing spot, you'll be able to get back to the exact spot, time and time again.
With a quad-core processor, the Raymarine Axiom 7 Fish Finder offers lightning speed operation with no detectable lags, even when you're switching screens.
It updates your charts and maps in real-time as you are trolling and will share any new-found data with Navionics+ when you update your card.
This is also a great device that you can use as a building block to expand your navigation and fish-finding system.
You can also network the Raymarine Axiom 7 with multiple Axiom displays, so you can have them at various locations around your boat. That is especially handy if you have a larger boat.
As it means you'll be able to see your bathymetric maps from the front, middle, or back of the boat, depending on where you're fishing.
You can also attach radars and extra sonars to suit your needs and expand its already decent 4GB internal memory with an external micro SD card.
How to Get the Most Out of Raymarine Axiom 7 Fish Finder
The best way to get the most out of the Raymarine Axiom 7 is to customize it to your exact fishing and boating needs.
If you have a small boat and just take it out on the occasional fishing trip, then you'll most likely have everything you need with this one device.
But if you have a slightly larger boat, you would definitely benefit from adding at least one more display screen.
Either way, make sure you take good care of the device well while keeping it clean, especially during storage.
Alternative
We've been impressed by the device this far, but to make our Raymarine Axiom 7 review more objective, we decided to compare it to another similarly priced product.
We know that Humminbird is also a reputable brand in the market, so we took a closer look at the Helix 7 CHIRP Mega to see how it matched up.
At first glance, both devices have a lot in common, and when you receive the Humminbird device, you'll also get everything you need for installation.
The Humminbird model also utilizes Navionics+ for chart plotting services and features state-of-the-art CHIRP sonar, Side Imaging, and Down Imaging.
The device also has a top-quality seven-inch LCD, but unfortunately, the Helix 7 isn't a touchscreen, so it isn't quite as easy to navigate or use.
Further to this, the Humminbird is only good for mapping bodies of water up to 480 feet deep.
When using the MEGA Down Imaging or MEGA Side Imaging, the depth is even more limited to just 125 feet.
The Helix 7 actually won ICAST's "best in electronics" back in 2015, but the Axiom 7 is newer (2017) and faster with its quad-core processor.
Finally, the Humminbird Helix 7 CHIRP Mega device comes with just a one-year limited warranty.
Raymarine Axiom 7 Review: The Conclusion
We don't think many fish finders can better the Humminbird Helix 7 since it's an incredibly powerful and reliable device.
To wrap up this Raymarine Axiom 7 review, we declare the Axiom as the clear winner between the two.
The Humminbird model is very slightly cheaper, and if you never go sea fishing and hate touchscreens, then the Humminbird may be more suitable for you.
Still, the Raymarine Axiom 7 outshines this and most other fish finders and chart plotters when it comes to sea fishing.
Plus, if you spend a little bit more money upfront, you can enjoy limited warranty coverage for an entire year longer or two years if you register it.