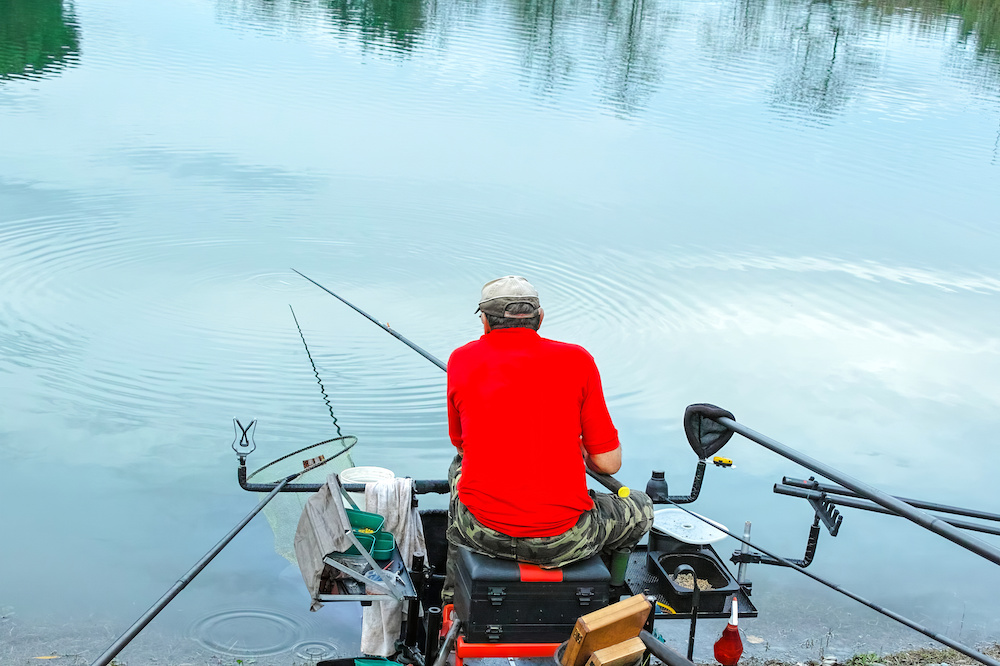 Raymarine Axiom 9 Review: What It Can and Cannot Do
---
<!–googleoff: index–>We may earn a commission for purchases using our links. As an Amazon Associate, we earn from qualifying purchases.<!–googleon: index–>
---
Buying a high-performing fish finder that can do all that is needed to be done isn't a piece of cake.
For one, there are hundreds of options you'd have to comb through.
To help you out, we have prepared this Raymarine Axiom 9 review to introduce to you a device that offers a complete package at an affordable price.
A sonar-based fish finder, it uses sound waves to detect where the fish and structures are underneath and around your boat.
Raymarine Axiom 9 Review
Raymarine offers state-of-the-art navigational devices that feature the best advancements in marine equipment and electronics.
As such, it would be hard to go wrong with any of their fish finders.
The Raymarine Axiom 9, for example, is a useful device you would want with you on your next fishing trip.
It is a multi-functional navigation system with incorporated RealVision 3D Sonar.
It also comes with the latest LightHouse 3 Operating System with a quad-core processor to locate fish and identify structure within no time.
Raymarine is one of the oldest brands designing innovative fishing equipment with dual-channel CHIRP sensors.
Who Is This Product For?
The Axiom 9 is a perfect choice for fishing enthusiasts in the US and Canada.
You can also use it with raster and electronic vector charts from LightHouse and C-MAP.
This multi-functional fish finder is compatible with radar, IP video, night-vision cameras, engine gauges, autopilot, audio systems, and CHIRP block-box.
However, you need an additional keypad if you wish to use it on smaller boats in rough conditions.
Since it is a touch-only unit, it becomes difficult to manipulate if your hands are covered in fish gore.
What's Included?
The Axiom 9 comes with surface and trunnion mounting kits, power-data cables, mounting hardware, and an installation instruction manual.
It also boasts Navionics+ charts to cover the entire USA and Canada coastal area. It covers roughly 20,000 lakes, rivers, and inland ponds.
The SonarChart Live allows you to generate a customized one-foot HD bathymetry map.
However, the Raymarine Axiom 9 doesn't include a RealVision 3D transducer responsible for combining CHIRP Down and Side Vision with RealVision 3D.
Overview of the Features
This advanced fish finder offers a long list of functionalities and operations. Here's a detailed input of its remarkable features:
Bright, Easy-to-Read Display
As the name suggests, the Axiom 9 comes with a nine-inch screen, which is bright and visible.
It is an all-glass optically bonded display that allows you to see the screen even from strong angles, such as 60 and 70 degrees from the bottom, left, right, and top.
In fact, you can even analyze the data on the screen while wearing polarized sunglasses.
This easy-to-read fish finder comes with a display resolution of 800 x 480.
One of the most significant advantages of using the Axiom 9 is its intuitive interface, which boasts a menu system similar to standard smartphones.
For this reason, those familiar with using smartphones will find no problems operating this device.
You can either flush-mount or binnacle-mount the Axiom 9 depending on your preference and ease of use.
With an IPX7 waterproof rating, you won't have to worry about using this fish finder in harsh weather conditions.
LightHouse 3 Operating System
This powerful operating system is what's responsible for the easy-to-use interface.
It lets you pin your most-used applications on the start page for convenient access.
This means you can personalize the navigation format depending on your requirements and convenience.
You can also generate a split-screen to run multiple applications simultaneously.
In line with this, the quad-core processor ensures a quick response to the commands.
3D Sonar and CHIRP Technology
This all-rounder combines 3D RealVision and CHIRP technology to present a three-dimensional view of the underwater environment.
For more chances at success, you have enough flexibility to move or rotate it.
As such, you will find it easier to recognize different structural shapes and target fish positions.
The RealVision 3D Sonar system lets you see at a depth of up to 91 meters. That's why it is an apt choice to use in freshwater or shallow offshore waters.
A CHIRP Sonar uses both low and high frequencies in a single transmission and then interprets them to display on the screen.
You'll find that the dual-channel, high-resolution CHIRP technology offers high-resolution images.
What's even more impressive is that you can use both the 3D Sonar system and CHIRP technology simultaneously.
Other sonar functions include Scroll Back, White Line, A-Scope, Bottom Lock, and more.
The Navionics+ chart bundles for the US and Canada offer numerous benefits.
You can get all the information regarding tide and correction, deep water color, SonarChart Live, depth shading, and fishing range.
Additionally, you can take full advantage of more than 20,000 lakes, inland ponds, and rivers throughout the US and Canada.
These maps present all the depth contours and other marina entrances, harbors, and surrounding topography.
In addition to the Navionics+ charts, the Axiom 9 uses the Lighthouse Coastal Vector charts with future updates of C-MAP essentials and C-MAP 4D MAX+ compatibility.
You can create sonar logs and update charts accordingly. Moreover, you can benefit from its Dock-to-Dock Auto routing.
The fast and precise GPS module, operating at 10 Hz, allows you to update your location 10 times every second.
This means you can see the location of your boat on the map in real-time without any freezes or jumps.
The 72-channel GPS lets you reduce power consumption and enhance satellite acquisition. In this way, it increases the sensitivity in case of unfavorable terrain.
Moreover, the GPS lets you calculate your boat's speed.
The Axiom 9 fish finder boasts gyro-stabilization to compensate the boat's movement against the tides and ensures accurate data provisioning.
You can integrate the autopilot unit with the Evolution autopilot system to act as a controller.
Additionally, the application ensures compatibility with different radar and AIS equipment.
The Axiom 9 records up to 10,000 waypoints so that you can use different icons to make your points of interest.
Furthermore, you can group the waypoints with 200 points per group.
You can also utilize the routes and tracks functions to create 150 possible routes with 250 waypoints per route.
It's even possible to record 16 tracks with a maximum of 10,000 track points per track.
The built-in Wi-Fi allows you to connect to the updated Raymarine apps on tablets and smartphones.
This multi-port fish finder also comes with an Ethernet port and an NMEA 2000 port.
You can use an additional DeviceNet female adapter cable for SeaTalkNG networking.
How To Use This Fish Finder
To use this device, you first need to swipe the MFD button to turn on the display.
After this, the startup wizard will show, allowing you to configure the settings.
There, you will find different settings such as Depth, Heading, GPS, GPS Datum, Time and Date, Wind, and Speed.
You can also display the engine's data by accessing the boat details under the Settings heading.
Next, tap on the Identify engines option.
This easy-to-use fish finder comes with shortcuts such as Take Screenshot, Stop Radar Transmitting, Activate Touch Lock, Power Off, and Adjust Brightness.
It is essential to keep the software updated to enjoy the latest features. Fortunately, you can easily update the software via Wi-Fi or SD card.
Alternative
If you are looking for a sleeker and more compact fish finder, you can opt for the Garmin Chartplotter instead.
This fish finder boasts a keyed-assist touchscreen, a perfect choice for both inland and coastal fishers.
This device is equipped with the advanced CHIRP Sonar system combined with CHIRP ClearVu scanning sonar.
It also has a bright screen that lets you analyze the chart even in direct sunlight.
The CHIRP technology uses a continuous array of high and low frequencies instead of sending a single frequency at one time.
You'll also find that this unit comes with a support system for precise, ultra-HD scanning sonar and Panoptix LiveScope.
You can create custom fishing maps with one-inch contours using the QuickDraw Contours mapping.
There are also four quick-access shortcut keys for the active screen when held. These let you add custom screens and settings without any hassle.
It's easy to change the background image and rearrange items on the home screen according to your preferences, too.
Set up a custom split screen with a standard view on one side and ClearVu on the other side for even more personalization.
Finally, the 5 Hz incorporated GPS allows you to check your exact location.
Conclusion
It's an interconnected world where prior and real-time information matters, especially when finding fish in lakes, seas, or oceans.
This Raymarine Axiom 9 review shows just how a good-quality fish finder can help you gather and view reliable data.
You can easily plot a readable chart or graph in less time compared to its counterparts.
If you want to make a long-term investment in a sturdy fish finder with a multi-functional display, the Raymarine Axiom 9 is an apt choice for you.