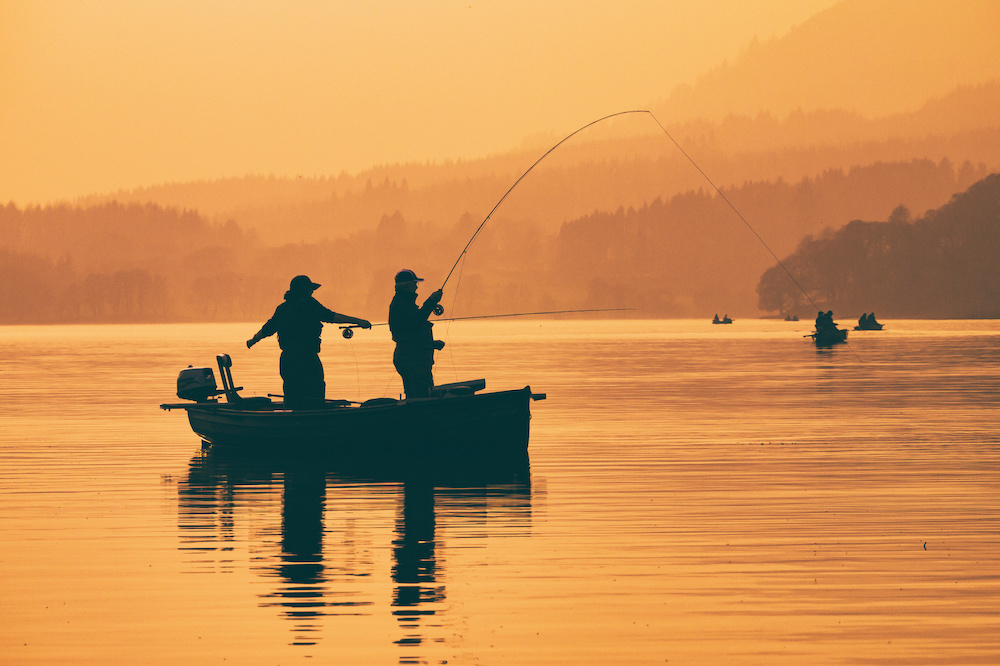 SIMRAD Go9 Review: What Makes It Stand Out?
---
<!–googleoff: index–>We may earn a commission for purchases using our links. As an Amazon Associate, we earn from qualifying purchases.<!–googleon: index–>
---
With all the large-screen navigation and fish-finding equipment available in the market, any angler or experienced mariner would argue that bigger is better.
Having a large display with all-in-one functionality would even enforce the argument.
Sonar, chart plotting, navigation, radar, and autopilot functions can work simultaneously, but having multiple functions working together makes a bigger screen necessary.
Here is where you'll find this SIMRAD Go9 review helpful.
We'll take a look at an in-depth analysis of the Go9 SXE with Active Imaging 3-in-1 Transducer and preloaded C-MAP Pro chart set.
About Simrad Yachting
Simrad Yachting has been in the marine technology market for over 60 years.
It belongs under the Navico family of brands, producing navigation systems, fish finders, chart plotters, GPS equipment, radar systems, autopilots, and many other marine techs.
The company supplies such products for powerboats, sailboats, yachts, and cabin cruisers.
Its products cater to both professional mariners and recreational boaters.
Today, Simrad Yachting remains a high-ranking brand for inland and open water sonar, GPS, radar, and mapping technology.
SIMRAD Go9 Review
Paired with the Active Imaging 3-in-1 Transducer, the SIMRAD Go9 XSE is a professional-grade GPS navigation and sonar device.
With this, you can add many functions to your boat and increase your efficiency out in the water.
It is an excellent addition for center consoles, sports boats, powerboats, small cruisers, and fishing boats.
It can do anything from chart plotting and navigating to fish finding, situational monitoring, and even weather tracking.
The SIMRAD Go9 XSE has been in circulation since November of 2016, and it remains one of the best nine-inch-display all-in-one devices for boats.
Who Is This Product For?
The professional-grade functions of the Go9 XSE make it an excellent device for professional mariners.
Still, you'll find that this device is easy to operate, too, making it an exceptional choice even for first-time users and entry-level boaters.
Anybody looking for a combo device with a large display will find that the Go9 XSE has all of the functions they need for a remarkable boating experience.
It is also the perfect choice for anyone looking for full touchscreen functionality on a large display.
Any person accustomed to using a smartphone or a tablet will find that no transition is necessary when using the Go9 XSE.
Finally, its wireless connectivity and compatibility with the NMEA 2000 network make it an efficient device for updating charts and controlling your vessel.
If you want to maximize autopilot capabilities, remote audio, and wireless communications controls, the SIMRAD Go9 XSE will be a perfect fit.
What's Included?
As you open the box, you will find the SIMRAD Go9 XSE, a gimbal mounting bracket, bracket knobs, a four-pin power cable, and the Active Imaging 3-in-1 Transducer.
Also included is a dash mount kit so that you can flush-mount or panel-mount the device on a center console.
A plastic sun cover plate also comes with the package, which comes in handy if you choose to use the gimbal mounting bracket or a panel mounting installation.
Lastly, the purchase also includes extra replacement bezels for the display.
Overview of the Features
The Go9 XSE is an efficient all-in-one device when you pair it with the Active Imaging 3-in-1 Transducer.
It packs all the functions of SIMRAD Go Series devices and could even have more capabilities if paired with a radar and weather tracking module.
These functions include intuitive touchscreen control, wireless mirroring, navigation, and sonar.
The Go9 XSE measures 9.56 by 6.71 by 3.26 inches, and it weighs 2.9 pounds. The display screen is remarkable at nine inches.
More than its larger-than-life display, here are its other amazing features:
Ultra-Bright LED Backlight
Any brightness rating above 500 nits makes for an exceptional open-air display screen.
SIMRAD designed Go9 XSE to work in bright daylight.
With a screen brightness of 1,200 nits, you won't have to worry about difficulty reading charts and analyzing underwater scans in broad daylight.
This high level of brightness ensures daylight reflections are zero to minimal.
Customizable Multi-Touch Operation
The SIMRAD Go9 XSE boasts full-screen multi-touch controls for all built-in functions and applications.
The power-on function requires pressing a button at the lower left front portion of the device, just below the corner of the touchscreen display.
While the Power On button doubles as a power-off controller, a shutdown is also possible through the on-screen system controls dialog.
Everything else is accessible through on-screen touch, and full operation can be as easy as using a tablet or a smartphone.
Highly intuitive touch controls make the Go9 XSE an excellent choice even for first-time users and entry-level recreational boaters.
It offers functional customizability through the Favorites panel of the home screen.
With this, you can combine applications at will and choose the most efficient programs for any water excursion.
Thanks to the customized combinations, you can enjoy a full view of everything you need using the adjustable split screens.
This model includes the C-MAP Pro chart set, which is C-MAP's refined charting solution for navigation software.
The set contains fully-featured vector charts, water level and direction of tides and currents, photorealistic 3D views of the seabed and land elevation, and satellite imagery.
Additionally, the included Active Imaging 3-in-1 allows the use of C-MAP Discover charts.
C-MAP Discover charts include high-resolution bathymetry, detailed marina port plans, integrated Genesis layer, and custom depth shading in addition to the C-MAP Pro contents.
Other map sets supported include Insight, Navionics Gold, Navionics NAV+, and Navionics Platinum.
The Active Imaging 3-in-1 Transducer gives you everything you need to find fish. It brings the target separation and high-class clarity of CHIRP sonar.
Moreover, it shows incredible detail of wrecks, reefs, drop-offs, and any underwater structure using SideScan and DownScan.
The Active Imaging 3-in-1 Transducer is very easy to install, and it transforms the Go9 XSE into a very powerful fish finder.
It can deliver a wide-angle view of fish and structure under and to the sides of your boat.
Use DownScan imaging to find structure faster and FishReveal to identify the fish from the permanent formations.
Remote Control Capabilities
With the Go9 XSE, you can take your display beyond the bridge using its high-functioning wireless capabilities.
What's more, you can take your charts and sonar views with you anywhere onboard with wireless mirroring.
For even more convenience, you can pair the device with any compatible smartphone or tablet and view what's on display through your mobile device.
Additionally, wireless connectivity allows effortless online software updates.
Use your mobile device to share an internet hotspot for the Go9 XSE, and get all your downloads every time you need them.
The Go9 XSE is also compatible with the NMEA 2000 network, enabling it to access a wide range of integration and expansion options.
With this network at your fingertips, you can monitor your engine's status and how efficiently it consumes fuel.
Moreover, the NMEA 2000 network allows you to use a SIMRAD autopilot to steer your boat and control built-in entertainment and communications sound systems.
Autopilot steering modes include auto, NAV, no drift, follow up, non-follow up, turn patterns, standby, wind, and wind NAV.
With the C-MAP Pro charts and Active Imaging 3-in-1 Transducer, this device is compatible with a 4G Broadband or HALO20+ dome radars.
Stay aware of every situation by taking advantage of the close-range, 360-degree sweeps offered by these radars.
With any of these radars, you will have a better chance of avoiding collision with fixed and quick-moving objects in the water.
These dome radars offer impressive-quality short-, medium-, and long-range detection using dome antennas even in tough environmental situations.
HALO20 radar systems are excellent for smaller powerboats. With one, you can view channel markers that are more than 20 nautical miles away.
It is fairly uncomplicated to install, requires a low power supply, works instantly, and knows exactly where and when it should give you radar coverage.
The Go9 XSE also works with the WM-3 SiriusXM satellite weather module, which is a very compact above-deck antenna receiver.
It has an ultra-compact design and offers effortless pole-mount or deck installation.
With the WM-3 SiriusXM satellite weather module, you can bring the power of an entire weather agency to the Go9 XSE.
The SIMRAD Go9 XSE has an IPX7 water resistance rating. This means it can withstand incidental water exposure.
It can tolerate submersion in freshwaters up to a depth of one meter and a duration of no longer than 30 minutes.
How to Get the Most Out of the SIMRAD Go9 XSE

The Go9 XSE is a standalone chart plotter. Paired with the Active Imaging 3-in-1 Transducer, it can provide all the functions of a complete fish finder.
To get the most out of the Go9 XSE, take further advantage of its radar and weather module compatibilities.
Keep a watchful eye on possible collision situations by adding a dome radar and monitoring harsh weather conditions using an additional satellite weather module.
On another note, you might think that radar and a satellite weather module are too much for you as a beginner.
In this case, learn how to use the fish finder functions included to get the most use out of your device.
Take advantage of the included installation and operator manuals, and give the quick-start guide ample reading time before using your Go9 XSE.
The quick-start guide will explain details regarding the home screen, application controls, customization, and basic operations.
It will also give concise instructions for using charts, navigating, using the device as a fish finder, connecting wireless devices, and using autopilot options.
The home screen will display three different panels.
The left-side panel contains all the tools available for carrying out multiple tasks and viewing and browsing any stored data.
The central panel displays all applications available to the user. It is typically larger than the left and right panels.
You will find a favorites panel with icons you can edit and customize based on application and command preferences on the right side.
The home screen also holds a Close button for reverting to a previously opened application and a Man-Overboard touch key for marking a waypoint to the vessel's current location.
If you have been using a smartphone or tablet for some time, you won't have any difficulties navigating through the applications and charts available to you.
Finally, take advantage of the available autopilot options, but be sure to understand how the NMEA 2000 network works first.
Alternatives
The best fish finders would not be available in the market without stiff competition from other brands.
If you would like to scout for a different brand with a model having almost similar features, check out the Garmin GPSMAP 942xs Plus.
It has the same full nine-inch touchscreen functionality, and it offers the chart plotting and fish-finding capabilities available to the Go9 XSE.
The GPSMAP 942xs Plus also has engine connectivity for easy integration. And like the Go9 XSE, it can also connect to the NMEA 2000 network.
Another nine-inch display Garmin device is the ECHOMAP UHD 94sv.
Both these Garmin devices come pre-installed with maps, and they have sonar support for compatible transducers.
The Garmin and ECHOMAP devices also have highly-intuitive touchscreen capabilities, making both an excellent option for beginners.
Still, complete sets that include transducers and radars could make them cost slightly higher than a Go9 XSE bundle with transducer and radar.
Is the SIMRAD Go9 XSE Worth It?
If you are looking for a nine-inch model, in particular, one that has a chart plotter and a fish finder, you have come to the right place.
It doesn't matter if you are new to the world of boating or if you have been in the practice of navigating waters for a very long time.
This SIMRAD Go9 review shows just how this top-of-the-line, multi-touch device is perfect for all tech-savvy professional and recreational boaters.
The Go9 XSE bundled with the Active Imaging 3-in-1 Transducer is an exceptional choice for a replacement or entry-level navigation and fish finder device.