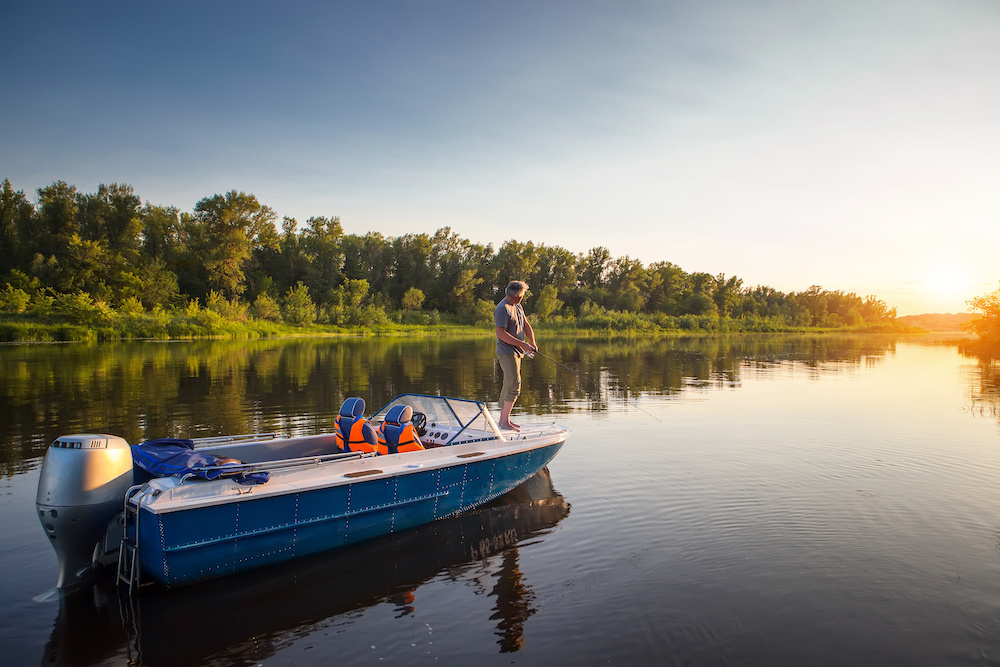 Deeper Pro+ Smart Review: Is It Worth Buying?
---
<!–googleoff: index–>We may earn a commission for purchases using our links. As an Amazon Associate, we earn from qualifying purchases.<!–googleon: index–>
---
For a very long time, fishing has always required a lot of patience.
You had to sit or stand for extended periods just to wait for fish to bite and get caught in your hook.
During these long hours, you probably have been soaked up in the rain or accumulated sunburns under the scorching heat.
Did you know that you can save plenty of time if you went out fishing with a castable fish finder?
This Deeper Pro+ Smart review will discuss how the Sonar PRO+ with GPS can make this happen for you.
As one of the best castable sonar devices in the market, it offers so much more than traditional fish finders.
About Deeper
Deeper UAB started as a small company in 2012.
Two angler-innovators studied large, hard-wired sonar devices in order to come up with small, wireless castable replacements.
With a successful crowdfunding campaign, a small group of people worked nonstop to make several prototypes.
They tested and developed these prototypes until the very first Deeper sonar device became available in 2013.
To this day, Deeper UAB continues to produce castable sonar models, one pairing app for Android and iOS devices, many fishing accessories, and a bathymetry platform.
Deeper UAB products are now available in at least 50 countries, with around 60 specialists improving their present models to develop better alternatives.
Deeper Pro+ Smart Review
The Deeper Smart Sonar PRO+ is a castable, GPS-enabled, Wi-Fi-ready fish finder.
Compared to other castable sonar devices with built-in transducers, this model offers more features, more power, better scanning depths, and a superb casting range.
It is a highly portable device that provides incredible mapping and scanning from a boat, a kayak, the shore, and on ice.
Deeper UAB started marketing the Deeper PRO+ portable sonar in 2017.
Since then, they have succeeded in developing the Deeper PRO+ with a built-in GPS receiver.
Who Is This Product For?
Anyone looking to find and catch fish like a pro should consider adding the Deeper Smart Sonar PRO+ to their fishing arsenal.
With this, you can level up your angling techniques and spend more time catching as opposed to just looking.
If you want a fish finder with a built-in GPS and onshore mapping capabilities, the Deeper PRO+ might be the right device for you.
Additionally, its maximum portability feature makes it an excellent choice for anyone who would like to detect fish at a distance.
Anglers fishing from the shores or on riverbanks can cast the Deeper PRO+ in different directions and detect targets even without moving from their location.
If you don't like the fixed placement of a transducer at the transom of your boat, this castable device could be a perfect fit for you.
What's in the Box?
The Deeper Smart Sonar PRO+ set comes with some attachment bolts, a USB wire for charging, and a neoprene pouch for storage.
It would be helpful if you had other accessories you can use with the Deeper PRO+.
These accessories include the Deeper Night Fishing Cover and the 5-volt 450mA power adapter.
The power adapter makes charging faster, and the night fishing cover is a translucent cover replacement that lets you locate the device when fishing in the dark.
Keep in mind that these accessories are bought separately.
Overview of the Features
The Deeper PRO+ is a popular choice among avid and first-time anglers.
It offers maximum versatility for a portable fish finder, and it sets the bar for advancements in casting depths and connectivity range.
The Deeper PRO+ is a sphere with a diameter of 2.55 inches.
It is one of the first tiny fish finders to incorporate GPS, and its creators always make it a point that the app always has the latest specs.
Here are other features you'd enjoy with this device:
Built-in GPS With Onshore Mapping
Using the built-in GPS, you can easily cast out the Deeper PRO+, reel it back in, and formulate detailed maps on your tablet or smartphone display.
It offers the only bathymetric mapping feature that anyone can use from the shore.
Incredible Depth and Connection Range
Using the Deeper PRO+, an angler can catch fish or create bathymetric maps from an incredible surface distance of up to 330 feet.
With this much coverage, this device boasts a better effective range than other castable fish finders.
Compared to others, you'll find that it uses a wide scanning beam of 55 degrees at 90kHz to cover broad areas.
Alternatively, it can switch to scanning with a narrower 15-degree beam for detailed scanning at 290kHz.
In addition to the exceptional casting range, the Deeper PRO+ can scan depths up to 260 feet, another unrivaled feature you won't find in other wireless fish finders.
Accurate and Powerful Scanning
The dual-beam transducer of the Deeper PRO+ is capable of providing 15 scans per second to the connected device.
This scanning rate allows target separation of as little as one inch for very accurate readings.
The Deeper PRO+ uses a Wi-Fi connection to strengthen this power and accuracy.
Since Wi-Fi is up to 10 times faster than Bluetooth, the receiving device can get real-time data even during smooth trolling speeds.
The Fish Deeper App pairs excellently with any of the Deeper portable fish finders.
It is available for download on smartphones and tablets and as an internet platform.
With any Deeper fish finder, the app turns your smart device into a high-quality sonar display.
Use the Fish Deeper App to view amazingly accurate sonar scans, create maps, modify viewing settings, and add markers to your favorite fishing spots.
You can also use the app to log catches, search for preferred fishing areas, and learn about weather conditions.
The downside to connecting the Deeper PRO+ with a third-party device is that the user experience and clarity may depend on the quality of the device.
The good thing about it is that any user will have the opportunity to switch displays at their own discretion.
Since the Fish Deeper App receives constant maintenance and upgrades, you can expect the user experience to improve from time to time.
The best feature of the Deeper PRO+ is that any user, regardless of fishing experience level, can use it year-round.
Use it for shoreline fishing, kayak fishing, small boat fishing, or ice fishing any day of the year.
The Deeper PRO+ is the most advanced fish finder for every shore angler.
It doesn't require drilling and wires if used on kayaks and small boats. All you need to do is hang it from any existing slot on any edge of your vessel.
To fish in the ice, the Deeper PRO+ offers an ice flasher, and the Fish Deeper App has a scope and zoom-in function for ice fishing.
How to Use Your Deeper PRO+ Fish Finder
The Deeper PRO+ only requires pairing with a compatible Android or iOS smartphone or tablet.
To use, attach the Deeper PRO+ to the end of your fishing line somewhere near the sinker, and then pair it with the device of your choice.
It should successfully pair within just a few seconds.
Next, cast out your fishing rig up to a maximum distance of 330 feet to scan for fish or create maps.
Alternatively, you can hang the Deeper PRO+ from a small boat or kayak or suspend it down an ice fishing hole.
Finally, view all sonar scans and formulated maps on the connected device.
Alternatives
You might think that the Deeper PRO+ is a tad too expensive for you and would like to try out cheaper alternatives first.
In that case, we recommend the Vexilar SP100 SonarPhone T-POD Sonar With a Built-in Transducer.
Like the Deeper PRO+, the Vexilar SonarPhone T-POD has an ultra-portable Wi-Fi transmitter system with a battery.
You can troll your boat with it attached to the rear or cast or throw it out from the shore.
The Vexilar SonarPhone T-POD turns your Android or iOS smartphone or tablet into a highly-functional fish finder at a fraction of the cost of the Deeper PRO+.
However, it has a very limited battery life, and it doesn't keep a log as the Deeper PRO+ does.
If you are still not content with what the Deeper Smart Sonar PRO+ can do for you, you probably need something standalone with more sonar scanning capabilities.
The Garmin Striker Vivid 5cv is a standalone five-inch display color fish finder with traditional CHIRP sonar and ClearVu sonar.
It comes with a GT20-TM transducer, which scans up to depths of 1,900 feet with traditional CHIRP and 750 feet with ClearVu.
It is only a little bit more expensive than the Deeper PRO+, and it can scan depths seven times deeper than the range of the latter.
The downside to the Garmin Striker Vivid 5cv is that it takes away portability from the equation.
Instead, you will have to mount the included GT20-TM transducer down by the edge of your boat's transom.
Is the Deeper Smart Sonar PRO+ With GPS Worth It?
The castable sonar device featured in this Deeper Pro+ Smart review sets the bar for portable fish-finding equipment.
With it, you don't even have to be on a boat to locate fish habitats. It is an excellent fish finder even for shoreline fishing and ice fishing.
What's more, it doesn't matter if the rain is pouring, the sun is right above you, or the biting winter cold surrounds you.
With the castable Deeper Smart Sonar PRO+ With GPS, you'll be catching fish in far less time than without one.
You don't have to equip your small boat with bulky and expensive fish-finding devices when all you need is a tiny ball to point you in the right direction.