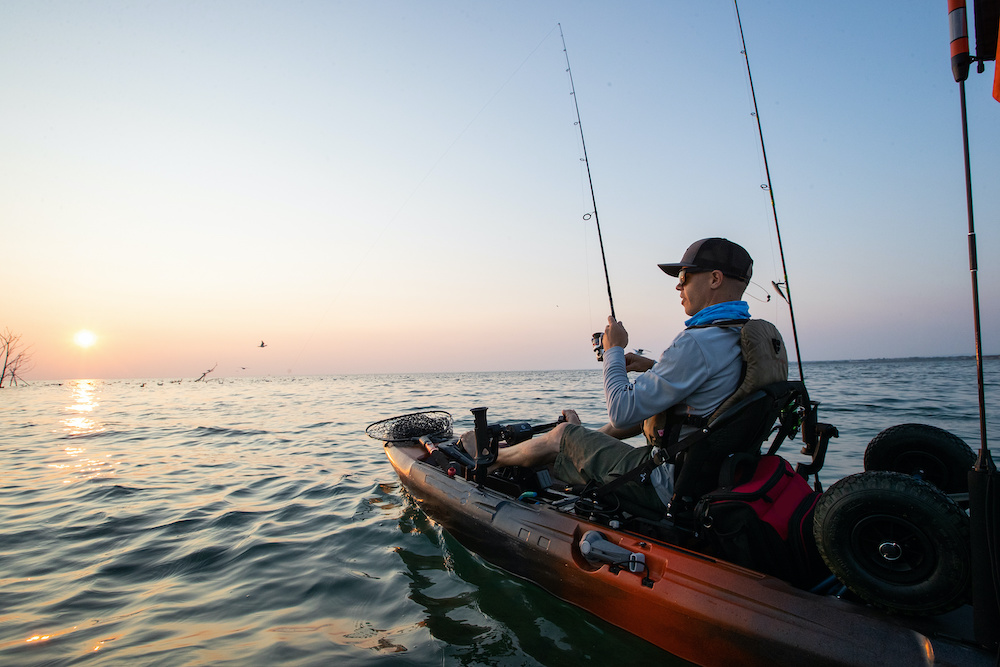 Best Kayak Fish Finder in 2021: Complete Reviews With Comparisons
---
<!–googleoff: index–>We may earn a commission for purchases using our links. As an Amazon Associate, we earn from qualifying purchases.<!–googleon: index–>
---
Kayak fishing is quickly becoming a popular new sport, turning recreational kayakers into fishers and vice versa.
Fishing from a kayak offers you additional benefits including exercise, affordability, and going into shallow bodies of water you may not be able to navigate to with larger boats.
Of course, you would need to have the right pieces of gear or equipment. With so many items to consider, the best kayak fish finders are one of those that will help make your experience more exciting and fulfilling.
We've scoured the market and found five units that you can consider including in your kayak fishing arsenal.
Comparison Chart
Garmin 010-01550-00 Striker 4 with Transducer
Garmin Striker Plus 4 with Dual-Beam Transducer
Venterior Portable Rechargeable Fish Finder
Garmin Striker 7SV with Transducer
HawkEye Fishtrax 1C Fish Finder
Best Kayak Fish Finder Reviews
1. HawkEye Fishtrax 1C Fish Finder
This fish finder includes many desirable features from the quality brand, HawkEye, which isn't surprising.
The company manufactures its product in the USA and overseas, but ensures they focus on American ingenuity in terms of design and development.
Product Highlights
The HawkEye Fishtrax 1C Fish Finder is a standout option with its HD color display. Its LED backlight allows for excellent, glare-free viewing.
The sonar is also powerful enough to help you find fish up to 240 feet below the surface.
Weighing in at around 10 ounces, the HawkEye Fishtrax 1C Fish Finder is incredibly portable.
You have the option to mount it to your kayak or float it out into the water.
Having it mounted on the kayak, you don't have to hold it the whole time you're out on the water. Thus, you can focus on everything else going on in the boat.
The Good
We love that the HawkEye Fishtrax 1C Fish Finder is lightweight and wireless, which makes using it out on the boat a breeze.
It's a great beginner fish finder, especially since it has an audible fish alarm.
Each time a fish comes near, you'll hear a chirp on your fish finder, letting you know to check the display and see what is nearby.
The HawkEye Fishtrax 1C Fish Finder has a five-level sensitivity adjustment.
That way, you can choose the mode that works just right for your current situation.
The Bad
While the transponder can be mounted on the kayak, the display does not have that functionality.
Another shortcoming is the size of the numbers on the HawkEye Fishtrax 1C Fish Finder's display.
They are a little small, and the fish finder would be better if the numbers were slightly larger.
It would make it easier to get the readings and know what is going on under the surface.
The HawkEye Fishtrax 1C Fish Finder also uses four AAA batteries.
It isn't necessarily a bad thing unless you're going on an extended trip wherein you'll need to take along several spare batteries.
2. Garmin Striker 7SV Fish Finder
The Striker 7SV Fish Finder is a high-end product from the well-known and trusted brand, Garmin.
It has almost all the features you're looking for in the best fish finder for kayaks.
Product Highlights
The Striker 7SV Fish Finder has a transducer and built-in Garmin CHIRP function.
It also uses state-of-the-art mapping software to give you a clear view of what's under the boat.
The Garmin Striker 7SV Fish Finder allows you to store maps with one-foot contours for up to a whopping two million acres.
You can also create your maps using waypoints and imaging, letting you store maps of all your favorite locations.
As such, you can go back with confidence as you navigate through all the obstacles hidden in the water.
Along with all this, the Garmin Striker 7SV Fish Finder has built-in WiFi.
Hence, you can pair it with the Active Captain App, giving you access to tons of notifications and features.
It also lets you connect to the WiFi on your phone, so you can stay connected with anyone while you're out fishing.
The Good
The built-in WIFI and GPS capabilities of this device are two of its great features.
The ability to create and save maps, mark waypoints, and create routes is also a huge benefit.
That's especially when you're exploring new territory or even heading out to your favorite spot.
This Garmin model also has a bright display, measuring at seven inches, and easy to see even on the sunniest of days.
Anything bigger may be too big for your boat, but the size of the Garmin Striker 7SV Fish Finder is just right and fits nicely.
The Bad
While there are primitive GPS capabilities, this device does not allow you to upload your maps or use GPS maps already loaded onto the device.
You can still mark waypoints and navigate back to them, though.
There is also no user manual available, which means you have to search for the one you can download online.
You'll want to spend some time with the manual at home before you go out on your fishing trip.
That way, you don't have to waste time while you're out on the water figuring out how to use your Striker 7SV Fish Finder.
3. Venterior Fish Finder
Known for their great customer service, Venterior became one of the most popular choices.
This particular fish finder is a well-made and affordable option for your kayak.
Product Highlights
The Venterior Fish Finder is wireless and rechargeable, making it an optimal option for fishers looking for something to take on a long fishing trip.
It also comes with charging cables, so you can recharge it anytime and anywhere, as and when needed.
It has a maximum wireless distance of 262 feet, 10-level backlit brightness, and 20-level sensitivity.
The powerful Venterior Fish Finder's sensor can be tethered to your finishing line.
That means no more worries about having to drill holes into your kayak to mount the sensor.
It detects water depth, temperature, fish size, fish depth, and the contour of the bottom of the body of water, letting you know what to expect.
The display on the Venterior Fish Finder is easy to read, even on the sunniest days.
This is really important when sunny days make up most of your time out on the water.
The Good
The Venterior Fish Finder is a great value for the price! The wireless sensor is a game-changer, showing you what is directly below your line.
We also love that you don't have to carry extra batteries that can otherwise take up space where you could be storing other fishing equipment. They also are just extra weight to be paddling around.
It's also great that there are two screen color options, black or white, allowing you to choose what lets you see the best.
The Bad
The battery life does not last very long, which is a bit of a downfall for this model.
The device is also not very tolerant of water, meaning you need to make sure you keep it dry and away from the possibility of splashing water.
4. Garmin Striker Plus 4 Fish Finder
We have another stand-out product from the well-known brand, Garmin, at an affordable price.
Product Highlights
This model from Garmin is a more affordable fish finder with some of the same great benefits.
This includes a two-beam transducer and mapping software that allows you to create and store maps with one-foot contours for up to two million acres.
It has a durable design, making it perfect for all your adventures.
The Garmin Striker Plus 4 Fish Finder also lets you create your maps like some of the other models.
You can chart your waypoints and your favorite routes so you can come back to them again!
You can also view your boat's speed, which can help you stay safe while in the water.
The Good
At an affordable price, having the map-making feature is awesome because you can make sure you always have access to your favorite fishing spots.
This fish finder has an easy, user-friendly display. Having a great display makes it easy to interpret the data and information being shown, so you can stay on top of the most active fishing spots at all times.
The Bad
This unit does not allow you to upload your own Garmin maps, which is a bit of a bummer if you've already spent time mapping those out on another device.
Another issue is that the sensor picks up on other large debris, making it hard to distinguish objects from fish.
This could be problematic especially if you are depending on the Garmin for navigation.
It's important to know if that object ahead of you is a rock or a school of fish.
5. Garmin 010-01550-00 Striker 4 Fish Finder
With a few added features, this Garmin fish finder is great if you have a slightly higher budget.
This model is ideal for both freshwater and saltwater fishing, as well as vertical jigging and ice water fishing.
Product Highlights
This product has more features than the previous model. The Clear Vu scanning sonar offers a near-photographic representation of what is around your kayak.
It has an IPX7 waterproof rating, maximum depth of 1,600 feet for freshwater or 750 feet for saltwater.
The unit also has a simple keypad interface and buttons, so you don't get confused about which one to press when needed.
Most fish finders are only available in one size, but with this unit, you can choose from multiple display sizes, namely 3.5, five, and seven inches.
The Good
Some of the best features of this model include a convenient waypoint map so you can easily mark obstacles in the water or your favorite spots to come back to later on.
Being able to choose your display size is also great since it offers customization that many other models don't.
It's also great that you can submerge the unit for up to 30 minutes in a meter-deep body of water.
The Bad
This model is a little hard to transport since it needs a 12-volt battery to operate.
A 12-volt battery could be a bit heavy and take up space that you need for the rest of your fishing gear.
It's also difficult to mount on the kayak without purchasing additional mounting brackets.
You'll want to make sure you get the proper mounting brackets that will fit your kayak and your fish finder.
Buyer's Guide
Although we've provided you with a list of options, in order to choose what's right for you, you must know what you're looking for.
There are several things you must take into consideration when choosing the best fish finder for your kayak and fishing experience.
Convenient Display
When you're looking to buy one of the best kayak fish finders, the display or screen itself is one of the most important elements.
Some of the things to consider when it comes to fish finder screen or display are:
Character Size and Visibility
You're looking for something with characters big enough for you to easily read.
You also want something highly visible even on the brightest sunny days.
Being able to easily see and read your fish finder display will ensure that you're staying on top of what's under the water so you never miss a thing.
The display's resolution is also one of the important things to look for when choosing a fish finder. The higher the pixels, the clearer and sharper the image appears.
Generally, fish finder screens have a resolution of 640 x 640 pixels. You can find models with lower resolutions, which are more affordable.
Just ensure you don't get any unit with a resolution lower than 240 x 160 since it will be useless.
You can find a fish finder with either a black-and-white or colored display.
Apparently, black-and-white displays are more affordable but multi-chrome units are better for improved experience and clearer images.
Ease of Use
Fish finders with multiple useful features are great but won't be beneficial if you can't use them all or have difficulties in using any of them.
A unit with easy-to-identify and -find buttons and simple keypads would be ideal.
This way, you don't have to spend a lot of time looking for the button you need to press at a moment's notice.
Screen Size
Definitely, the bigger the screen size, the better since you can see what's being displayed.
However, you should take your kayak's space into consideration. For a larger kayak, a fish finder with a screen size ranging from four to five inches is acceptable.
For a smaller kayak, a fish finder with a three-inch screen would be perfect.
Kayak Fish Finder FAQs
1. Can you put a fish finder on a kayak?
Yes! Many fish finders can be mounted into a kayak. You'll want to spend some time reading the reviews to figure out which is the best fish finder for kayaks like yours.
Some models require you to mount the fish finder onto your kayak with brackets, meaning you'll have to drill holes into the side of your boat to affix the brackets.
Other models come with a suction cup, allowing you to easily pop the fish finder right onto the side of your kayak.
Again, the type of mount you get is really up to your personal preference and what you're most comfortable with.
No matter which type of mount you choose, make sure you read the mounting instructions carefully to make sure you install it properly and don't cause any damage to your boat or your fish finder in the process.
2. Is a fish finder worth it on a kayak?
A fish finder is definitely worth having on your kayak, especially if you're an avid fisher who enjoys fishing from your kayak.
A kayak opens up your fishing options, allowing you to stream through shallow water into places that many others cannot reach with a traditional boat.
A kayak is quiet and stealthy, giving you an edge.
Finding the best kayak fish finder will allow you to see what's below you and mark your favorite spots.
It's a definite upgrade from fishing from your kayak without a fish finder.
Another benefit of a fish finder is using it as a depth gauge. Any time you're in a boat, it's important to know how deep the water is, especially if you're in a kayak.
Buying a small fish finder gives you both benefits for the price of one, putting you a little more at ease and helping you find the best fishing holes all at once.
3. How do you power a fishfinder on a kayak?
How you power your fish finder depends on the brand and model you choose and is completely up to your preference.
Some of the fish finders require batteries, and even the battery sizes can vary.
Some finders require a 12-volt battery, which could be a challenge if you're looking for a lightweight option. Other options require AAA or AA batteries to operate.
This is important to keep in mind since you need to bring extra batteries with you if you're going out on an extended kayak fishing trip.
Another power option is a rechargeable battery that is already installed in the fish finder.
This can be a good option if you have a way to charge the battery periodically in between fishing trips.
4. Are portable fish finders any good?
Portable fish finders are the next big thing when it comes to the sport of kayak fishing.
Having a lightweight device that you can mount to your kayak is super convenient and worth the investment.
You'll find that your catch rate grows exponentially once you can finally see where the fish are with a device that fits in the palm of your hand.
5. Can a fish finder get wet?
It's important to do thorough research on the fish finder you're interested in to make sure it is waterproof, and what the specifications are.
First, decide what type of water rating you're looking for. Likely the better the water rating, the more expensive the device will be.
A water rating will tell you what depth and length of time your kayak fish finder can be submerged underwater without damaging the device.
There are definitely water-resistant models that will work well for what you're looking for.
What Is the Best Fish Finder for a Kayak?
All of the options above are fantastic fish finders and will serve you well while you're out on the water in your favorite fishing spots.
However, if we have to recommend one, it would be the Garmin Striker 7SV Fish Finder.
It's easy to use, has the right size, and equipped with GPS and WiFi, as well as provides a clear view of what's underneath.
You won't be able to upload existing maps to this model, but it does allow you to create your maps using the waypoint and course creating features.
Affordability-wise, the Venterior Fish Finder would be a top choice. It is a wireless and rechargeable unit with a great transducer or sensor.
It also has a display that shows multiple pieces of information to help you throughout your fishing adventure.
The next time you head out onto the water in your kayak to go fishing, you'll be prepared with the best kayak fish finder.
Kayak fishing has never been easier, or more fun! We wish you the best of luck out there.