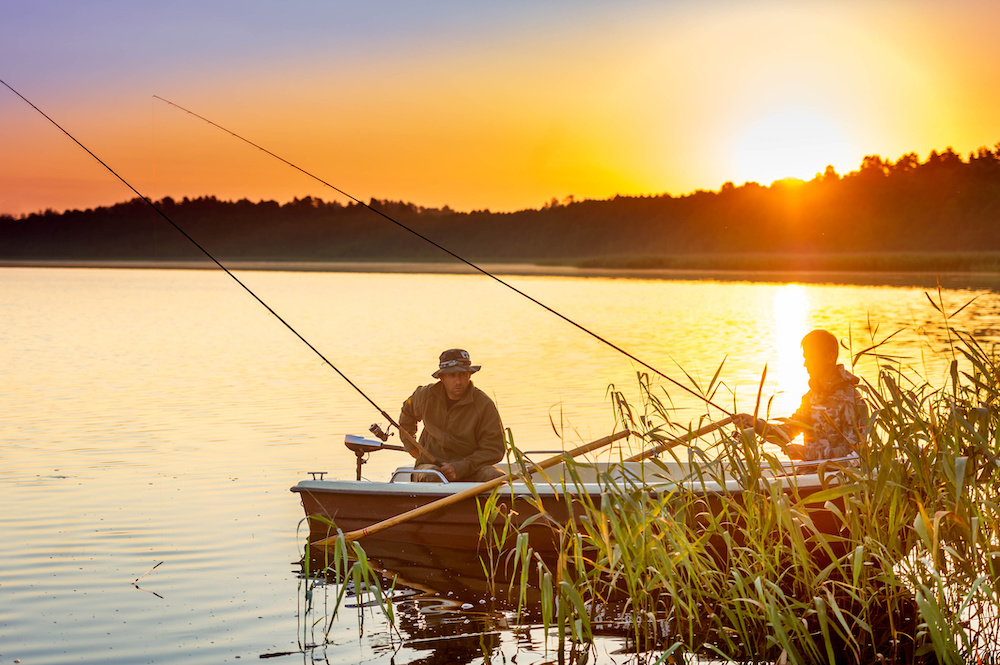 Best Budget Fish Finders of 2021: Complete Reviews With Comparisons
---
<!–googleoff: index–>We may earn a commission for purchases using our links. As an Amazon Associate, we earn from qualifying purchases.<!–googleon: index–>
---
Looking for the best budget fish finder is a challenging task for both new anglers and experienced boaters.
It's one of the most useful tools to find the fish accurately since it reveals what is underneath their boat.
Different manufacturers constantly release new fish finder models, making it hard for anglers to choose the one that will suit their needs at an affordable price.
For this reason, we have searched the market and found five budget-friendly fish locators that might fit your preferences.
If you haven't tried using one of these fish finders, you might be interested in checking out what these devices have to offer.
We checked out the features, pros, and cons of five fish finders you can choose from.
Comparison Chart
LUCKY Portable Handheld Depth Finder
RICANK Portable Fish Finder
Venterior Portable Fish Finder
LUCKY Wireless Fish Finder Sonar 
Garmin Striker 4cv with Transducer
Best Budget Fish Finder Reviews
1. LUCKY Portable FF818 Fish Finder
Enjoy ultimate fun in fishing with this FF818 portable fish finder from LUCKY, and let it change your fishing life for the better.
Review
The LUCKY FF818 is one of the newest portable mini fish finders with a two-inch LCD and an ergonomic design that naturally fits a human hand.
You can find your targets more accurately, whether in clear or murky waters, with its offering of five sensitivity options.
This handheld tool provides functions essential to a fish finder. It has a real-time display for the fish, rock, or weed locations, along with the water depth.
The screen will display different icons, namely:
Sensitivity
Battery save
Fish alarm
Backlight
Battery indicator
Water depth
Fish location
Fish depth
Bottom contour
Seaweed
You can turn on the green LED background light while night fishing, making it easy to see the readout even in dark surroundings.
The LUCKY FF818 Fish Finder also comes with a fish detector alarm that you can turn off if you don't want to create a noise that might disturb the fish.
It needs four AAA batteries to turn on and function for four straight hours. Using new cells provides up to six hours of usage under the power save mode.
It has a wide detection range of 45 degrees beam angle that can reach 328 feet or 100 meters deep, operating at 200kHz sonar transducer frequency.
The LUCKY FF818 can work and adapt perfectly in different fishing temperature conditions, from 14 to 122 degrees Fahrenheit, whether on a turbid fish probe, ice, or night fishing.
It is made of an ABS material or the combined amorphous polymer and opaque thermoplastic, providing resistance to corrosive chemicals and strong impacts.
This LUCKY FF818 fish finder weighs 0.1400 kilos and measures 5.12 x 3.53 x 1.38 inches. The complete package includes the fish finder, cable transducer, bracket, and strap.
2. RICANK Portable RKTL88EC Fish Finder
If you are on the hunt for the best fishing partner with many features, check out this portable fish finder from RICANK.
Review
Anglers can use this portable fish finder for different fishing adventures and scenarios like ice, sea, or offshore fishing.
Its convenient portability allows you to bring and use the device in lakes, rivers, or oceans and expect its excellent performance.
This fishing accessory can detect and display the water depth, the fish size not smaller than ten centimeters, the fish's approximate locations, rocks, and weeds underwater.
It operates at a 200kHz stable sonar beam signal without any disturbance. It also has a 45-degree cone detection range that can reach as deep as 328 feet.
The fish alarm feature is a great addition to the display since it notifies you even when you're not looking at the screen.
The RICANK Portable RKTL88EC Fish Finder has five sensitivity modes, allowing you to choose the appropriate option according to your preference and water condition.
The transducer and handheld scanner uses four AAA batteries that can last up to five hours but can last longer when you turn on the battery-saving mode.
Its sonar sensor has a 25-foot long cable, while the removable transducer yellow float comes with a rubber stopper.
It's okay for the transmitter to get wet but not the receiver or the device with the screen since it is not waterproof.
Plus, moving boats with an attached fish finder should not move faster than five miles per hour for better results.
In addition to the receiver, transmitter, and removable transducer float, the box contains the operation manual, transducer side-scan adapter, stainless steel bolt, and wing nut.
The RICANK Portable RKTL88EC Fish Finder also comes with a convenient neck strap and mounting hardware, so your hands are free to do other things.
The fish finder performs well in temperatures between -20 and 70 degrees Celsius. Anything lower than that will greatly affect its performance.
3. Venterior VT-FF001E Portable Fish Finder
This portable fish finding device from Venterior is popular among fishing enthusiasts because of its design and valuable features.
Review
This small fish finder has a single-beam transducer with a 45-degree width angle. It can detect fish from as shallow as three feet to as deep as 328 feet.
There's a 25-foot cable that efficiently connects the display unit to the transducer for multiple applications to function.
It's a straightforward device that you can cast from the pier, attached to the boat, or connected to a handle before lowering into the sea or freshwater.
It also comes with a detachable transducer float with a rubber stopper. It can spot moving objects but not other things or structures underwater.
The Venterior VT-FF001E Portable Fish Finder flawlessly detects a fish larger than ten centimeters in length.
You can even adjust the fish size detection using the sensitivity settings.
The display is a black-and-white anti-UV LCD that delivers readable information even under direct sunlight.
It has an LED backlight that you can turn on or off, allowing you to use it even during night fishing.
The screen displays essential information like the fish's position and how deep it is in the water.
You can set the depth reading of the Venterior VT-FF001E in either meter or feet, whichever way you prefer.
The Venterior Portable Fish Finder also comes with four straightforward control buttons, making it easier to manage and setup.
You can easily turn on the battery-saving mode, adjust the sensitivity, choose the preferred measurement unit, or turn the device on and off.
All pieces of this Venterior model come in a hard travel case. Along with the items mentioned above, other parts include a neck strap, side-scan adapter, and stainless bolt wing nut.
If the device is attached to a moving boat, ensure that the speed does not exceed five miles per hour or the fish finder will not perform properly.
This fish-finding tool needs four AAA batteries to function that can last for five hours with continuous use.
Once it's turned on, just choose the preferred sensitivity setting, and it's ready to display the moving target.
4. LUCKY Wireless FFW718 Fish Finder
If you are looking for a suitable device for both amateur and professional anglers, this wireless fish finder from LUCKY is the right pick for you.
Review
Most fish finders require installation onto the boat to function properly, but not this LUCKY wireless model.
The complete package consists of the following items:
Wireless professional dot matrix fish finder
The wireless remote sonar sensor
External antenna
Neck strap
3V button cell CR2032 battery
Quick manual reference guide
The yellow wireless transmitter has two small holes for fastening to your fishing line before casting it into the water. It's powered with a long-lasting button cell.
It can operate and send a signal at a maximum range of 120 meters from the portable handheld sonar device.
Additionally, it can provide a signal as deep as 45 meters and a detection width of up to a 90-degree angle.
The transmitter can send a 125kHz high-pitched sonar frequency indicating an accurate fish detection without disturbance.
The LUCKY Wireless FFW718 Fish Finder is the perfect fishing accessory for lakes, open oceans, ponds, or rivers. It's also suitable for ice fishing.
Its 2.2-inch LCD displays the battery strength, bottom contour, fish icon and depth, water depth and temperature, sensitivity, and zoom range.
The fish finder operates using four AAA batteries which can last up to six to eight hours. It also comes with an LED backlight, allowing you to see the display when fishing at night.
It also comes with a built-in memory that can save the sonar setting even after turning off the fish locator.
The LUCKY Wireless FFW718 Fish Finder will perform well when used under a temperature ranging from 14 to 122 degrees Fahrenheit.
5. Garmin Striker Plus 4CV
Garmin is a popular brand known for its GPS technology provision in various industries and products, just like the Striker Plus 4CV.
Review
The Garmin Striker Plus 4CV comes with a GT20-TM 4.5-inch transducer, a 20-foot cable, and a console with a display screen of 4.3 inches.
It has the perfect size for canoe and kayak but might be smaller for anglers with a bigger boat.
It also comes with the hardware, a base that you can tilt and swivel for easier mounting, and the papers to prove your purchase.
You will also receive a protective cover for your fish finder together with the one-year warranty coverage.
The Garmin Striker Plus 4CV has the highest price point among the five fish finder choices on this list, although still considered affordable in the upgraded category.
It has an average size and weight, making it convenient to use anywhere. Its portability makes it versatile with durability that allows you to mount it on your watercraft.
This Garmin fish finder falls under the average-size category with its 4.3-inch screen. It would comfortably fit a standard-sized boat or canoe.
The Striker Plus 4CV offers the same screen resolution, similar to its predecessor. It offers 480 x 320 pixels resulting in more detailed images.
Additionally, this upgraded model has split-screen technology. It allows you to monitor what's underneath the water while taking note of your location.
Unlike basic fish finders, the Striker Plus 4CV display console has the second-highest IPX 7 rating. It means that it can resist water for up to three feet for 30 minutes.
You can get accurate readings from the transducer up to 1750 feet and 830 feet for freshwater and saltwater, respectively.
The Garmin Striker Plus 4CV uses the ClearVu technology, which provides a three-dimensional underwater view for 250 feet in all directions.
The additional CHIRP traditional sonar feature allows the transducer to read low and high frequencies depending on your preference.
Low frequencies can cover large areas of water effectively. When you are in shallow conditions, it is best to opt for high frequencies.
The Striker Plus 4CV also comes with built-in GPS and QuickDraw contour features, allowing you to mark waypoints, create routes, and store detailed maps.
Your boat speed readout will appear on your display console for easier and quicker monitoring of your progress.
Additional useful benefits for the Garmin Striker Plus 4CV include the protective cover and the one-year warranty coverage.
What Is the Best Budget Fish Finder?
As the name implies, this fishing accessory will help you find that elusive target and be able to bring home a catch with each fishing adventure.
Since fish finders became popular among anglers, there was a noticeable increase in their production, from non-portable to portable dev​​ices.
Among the five best budget fish finders we reviewed, we highly recommend the Wireless FFW718 model from LUCKY.
Its easy-to-use design is perfect for first-time users but also offers essential features for professional anglers.
The device belongs to the average-sized fishing equipment that delivers results available at a reasonable price.