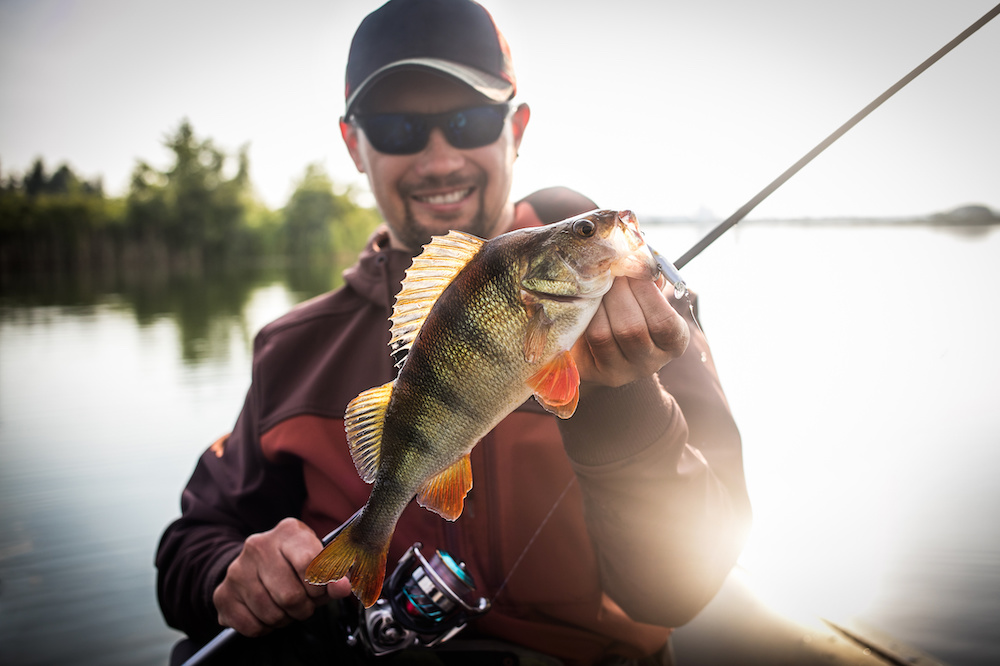 Lowrance HOOK Reveal Review
---
<!–googleoff: index–>We may earn a commission for purchases using our links. As an Amazon Associate, we earn from qualifying purchases.<!–googleon: index–>
---
For many anglers, the key to more successful fishing trips is to use a fish finder to locate hot spots quickly. With many fish finders on the market, though, choosing one can be difficult.
Thus, this Lowrance HOOK Reveal review will highlight one popular line of fish finders.
Available in five-inch, seven-inch, and nine-inch models, you can find the features that you want most in the HOOK Reveal line from Lowrance.
From high-quality CHIRP sonar to easy-to-use mapping features, learning this system is not overly difficult.
Lowrance HOOK Reveal Review
The Lowrance HOOK Reveal line of fish finders has been around for many years, and the company first began in 1957.
Every interaction of the HOOK Reveal line features FishReveal, a technology specific to Lowrance that combines sonar with imaging to show you fish under your boat.
Each size of the HOOK Reveal units has slight variations in features, and you can swap in different transducers for each version.
This variation allows anglers of any experience to customize the HOOK Reveal fish finder to fit their needs perfectly.
As an overall line, HOOK Reveal focuses on revealing more of what's under the water so that your fishing is successful.
Target the right areas with the DownScan and CHIRP sonar technology in a smart device that is easy to use from day one.
Who Is This Product For?
Lowrance HOOK Reveal fish finders provide perfect fish finding for beginner anglers, but they are also useful for experienced ones.
With easy to interpret data, these devices enhance the fishing experience for every skill level.
Anglers who want to customize the views on their fish finder screen will enjoy these devices.
Additionally, anglers seeking deep water scanning and GPS plotting will appreciate how Lowrance handles this tech.
Those who are brand new to using a fish finder and want only basic features may not enjoy a HOOK Reveal model, though.
While the technology is easy to learn, there is no doubt that Lowrance goes beyond "basic" with the HOOK Reveal line.
However, if you are a beginner, don't be put off by the idea that it provides too much information.
Even as a beginner, the data that Lowrance technology pulls together can help you learn to be a better angler.
It's not a requirement to use something simpler first; kickstart your fishing from day one!
What's Included?
The exact setup included with your HOOK Reveal will depend on the model and grade that you select.
For instance, the HOOK Reveal 5 includes the following necessary components:
Fish finder unit
Mounting bracket for the fish finder
SplitShot transducer
Transducer mounting bracket
Power cables
Extra fuses
Screws
Hear more about what's included with the help of this video:
On that note, each package usually covers everything needed to get the device up and running on your setup.
Overview of Features
This Lowrance HOOK Reveal review focuses on the primary features the HOOK Reveal line has to offer.
That said, there are various models, sizes, and aspects of these fish finders that will vary based on the exact model selected.
Keep this in mind throughout your shopping process!
The primary feature seen in this line of fish finders is the FishReveal technology.
This technology shows fish light up on the screen whenever it comes into the device's range.
Lowrance does this with a combination of CHIRP sonar and DownScan Imaging.
Together, these scan for complete views of both structure and baitfish to give you a better idea of what's underwater.
The HOOK Reveal line accesses C-MAP® Contour inland and coastal charts to show you land and coast contours for better fishing.
The card included gives you access to more than 14,000 lakes in the United States and 9,000 plus lakes in Canada.
Alternatively, you can save money and go with a GPS-only option rather than the complete C-MAP package.
Additionally, you can insert your memory card to create custom maps of your favorite lakes with Genesis Live.
This feature is handy in areas without charts or places you want to see live, detailed contours while fishing.
In addition to using Genesis Live for creating your own contour maps, all devices have simple GPS plotting.
Using the GPS, plotting up to 3,000 waypoints, 100 routes, and 100 trails is possible.
Waypoints, routes, and trails are useful for marking favorite paths, monitoring areas you frequent, and more. Having a device with GPS makes a huge difference in a fish finder.
CHIRP is one of the most commonly used types of sonar in fish finders. The specific technology in the HOOK Reveal line autotunes for peak output, giving extra coverage than other fish finders.
When fishing, this means you will see a wider area without needing to make as many adjustments along the way.
Various Levels of Performance
Depending on which transducer model you choose, you'll get deepwater coverage for your fish finder.
The following options are available for all screen sizes; see how much coverage you will get for each level below
SplitShot: Up to 50 meters
TripleShot: Up to 50 meters, including SideScan
83/200 HDI: Up to 200 meters
50/200 HDI: Up to 300 meters
Depending on where you want to fish, you can choose the appropriate transducer.
DownScan uses the information gathered by your transducer to create imaging of what's going on under the boat.
Detailed replication images of the floor type, baitfish, and structures of everything in the range are shown on the screen.
This high-resolution allows you to make fishing decisions with ease.
Combined with the SplitShot or 50/200 HDI transducer, HOOK Reveal optimizes data perfectly for imaging type.
Fish-holding structures are one of the things that many lake anglers, in particular, want to learn the location of; once you find these structures, you can cast your line out around them for a high-quality catch!
The HOOK Reveal fish finder screen has split-screen customizability. You can choose what views you want to see on your screen at any time and change it with just a few button pushes.
Setting up mapping, SideScan imaging, DownScan imaging, and other display options are simple to learn how to do.
Adjusting what views show on your screen makes your fishing experience fit your fishing style perfectly.
Many anglers desire this functionality on devices that don't have it, but it makes a great showing here.
Variations Between the Models
As mentioned, the HOOK Reveal fish finder from Lowrance is available in the following screen sizes:
Five inches
Seven inches
Nine inches
Additionally, each screen size is available as a few different model types.
Depending on what you select for transducer and scanning options, the exact model will vary. The technology options for each size are relatively similar.
The five-inch model has the fewest available options in terms of DownScan and SideScan, but all models pair with all possible transducers.
Only the seven- and nine-inch models have SideScan availability, but most who prefer the smaller model will not want this.
SideScan also depends on which of the transducers you choose, as only the TripleShot transducer brings enough data for SideScan.
Ultimately, the biggest thing that you are choosing from between the size options is just that: screen size.
You can customize your choice of the transducer and other options separately from choosing the screen size.
That allows you to select your preferences to a high degree, leading to a better overall fishing experience.
Even though there are multiple screen options, they all offer crisp, high visibility displays.
The HOOK Reveal features a SolarMAX display which allows for good clarity even in direct sunlight.
Many anglers are familiar with how hard it can be to look at screens on the water.
SolarMAX actively combats this problem so that you can easily use your fish finder, no matter how high the sun is during your fishing adventure.
Each of the displays has a resolution of 800 x 480 that is clear enough to check the maps and imaging scans easily.
What Are the Top Benefits of Using a Fish Finder?
If you're new to the world of fishing on the water, you might not be sure if a fish finder is right for you.
What are the benefits of using this type of tool to improve your fishing and make your adventures more exciting?
Anglers love fish finders for many reasons; these are just a few of them.
The first and most apparent of the benefits is finding fish faster.
Have you ever felt like you spend longer trying to find good spots than actually being able to cast your line?
Many anglers suffer this fate, but fish finders make things a bit easier.
The information given by fish finders about structures, ground type, and fish locations improves your experience.
You can spend less time searching and more time fishing once you get used to using a fish finder on your journey!
Some anglers are reluctant to try fish finders because they feel like they're cheating or taking the fun out of fishing.
This sentiment is widespread among those who have never used this type of technology before.
Is the fun of fishing searching without success for hours? Most people would not find this to be an enjoyable experience.
Think of a fish finder as a tool for improving your fishing skills. That's because it only gives you information, so it's still up to you to interpret that information.
For example, many fish finders show the locations of underwater structures. It's up to you to use the information to know where to cast near the structure to catch more fish.
Hone your skills using fish finders for better fishing adventures forever. Don't hold yourself back from bringing a whole new excitement to fishing!
Through features like GPS plotting and checking coastal or inland contour maps, learn the water's landscape.
Knowing more about currents, depths, and underwater landscapes can improve your understanding of where fish frequent.
These data can improve your fishing skills even when you don't use a fish finder, and it's simply fun to learn.
The data accessed by many fish finders provide insight that you may otherwise go a lifetime without.
While it can be studied independently, learning it alongside your fishing adventures is more productive and fun.
Fish finders primarily help you locate fish, but they can be helpful as boating or kayaking tools as well.
They often show speed as well as maps with currents, land outlines, and more helpful information.
While you still need your boating skills, fish finders can be an excellent tool to supplement what you typically need to do on the water.
Alternatives
Though the HOOK Reveal line is a fantastic device from Lowrance, it is far from the only option anglers have to choose from today.
Garmin, another famous fishing brand, released the Striker Plus 4, a smaller device that is particularly great for first-time users.
On the other end of the spectrum is the Humminbird Helix 7, a high-end fish finder equipped with clear down and side imaging for serious anglers.
Fish finders come at many price points, feature lineups, and sizes. Selecting the right ​fish finder for your ​kayak or ​boat requires you to think about your use case before making a final call.
It's Time to Find Fish!
Many add-ons found on different fish finders can improve your fishing experience. It's up to you to determine which of those features will make the most significant difference to you.
With different selling points on the five-inch, seven-inch, and nine-inch, Lowrance has done a great job of pulling together the best of the best.
Don't waste any more time looking for the best spots at your favorite fishing locations. Put some Lowrance gear in your boat, and speed things up today!