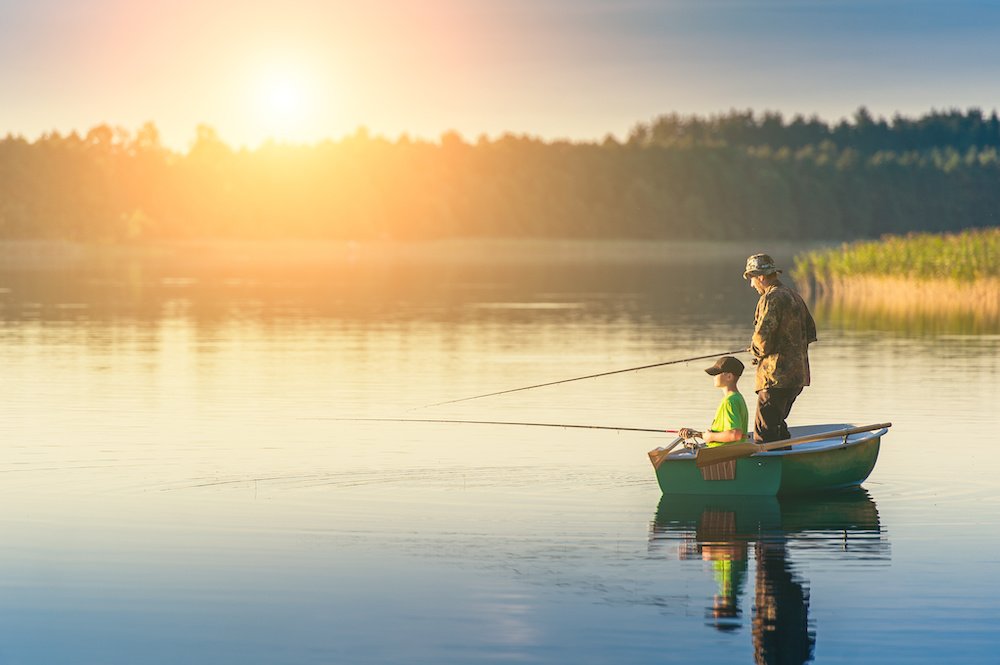 SIMRAD Go5 Review: Is It Worth the Hype?
---
<!–googleoff: index–>We may earn a commission for purchases using our links. As an Amazon Associate, we earn from qualifying purchases.<!–googleon: index–>
---
Contrary to popular belief, fishing doesn't have to be difficult.
With all the available tech you can use, finding the exact spot to fish becomes so much easier.
For the best chance at success, it pays to have a reliable all-in-one sonar and navigation device that can help you find your way around the water.
This is where this SIMRAD Go5 review becomes helpful.
Here, we'll take a look at SIMRAD Go Series fish finders and chart plotters, particularly the Go5, to help you decide which is the best pick.
About SIMRAD
Simrad Yachting manufactures marine electronics for both professional and leisure markets.
A member of the Navico family of brands, it develops, produces, and distributes high-quality fish finders, chart plotters, autopilots, navigation systems, and a vast range of marine tech.
SIMRAD has been a competitive marine technology brand for more than 60 years, focusing on both industrial and recreational applications.
Although its initial focus was on marine communications, the company combines multiple functionalities into every single product.
Navigation solutions from Simrad Yachting emphasize durability versus harsh and challenging weather conditions.
Aside from being durable, Simrad Yachting electronic devices are top-of-the-line, maintaining popularity among professional coastal mariners and leisure boaters.
SIMRAD Go5 Review
The SIMRAD Go5 is a five-inch screen, all-in-one fish finder, chart plotter, GPS receiver, and onboard controller for sonar navigation.
Although it has been in circulation since December of 2015, it remains a contender for the most popular five-inch display fish finders of today.
While other models have keyed button functionalities, the SIMRAD Go5 is different.
Coming from the Go Series models, you will find that this device is fully touch-operational.
Who Is This Product For?
The SIMRAD Go5 is an excellent marine electronic communication and navigation device.
It is not only for professional mariners but also for leisure boaters and yachters.
If you own a small fishing powerboat and are looking for a device to help you navigate the waters, the SIMRAD Go5 can do pretty much anything you need.
It operates at high speeds, and its affordable price makes it an excellent device for beginners.
While other boaters prefer keyed buttons to control their sonar device, some accustomed to smartphones may prefer the full touchscreen functionality of the Go5.
Additionally, you'd like that it can use either a wireless or wired connection to transfer data from other devices.
If you are tech-savvy and want your boat to appear high-tech, consider equipping it with a SIMRAD Go5 fish finder.
What's Included?
As you take out the SIMRAD Go5 from its packaging, you will find a quick-release mounting bracket, a plastic sun cover plate, a dash mount kit, a screen bezel, and an N2K power cable.
The mounting bracket comes with a tightening bolt and knob, so you can secure the SIMRAD Go5 while trolling rough waters.
The SIMRAD Go5 also comes with an instruction manual.
A user manual may be unnecessary for seasoned marine navigators shifting from other models, but it surely comes in handy for troubleshooting.
Overview of the Features
The SIMRAD Go5 measures 5.98 by 4.72 by 2.28 inches and weighs 1.18 pounds.
Its display has a diagonal measurement of five inches, making it the smallest model out of all the SIMRAD Go Series fish finders.
Here are its other features you're sure to enjoy:
Customizable Multi-Touch Display
Although it has a small screen, the SIMRAD Go5 features full touchscreen functionality, making it an excellent first fish finder for any newbie angler.
The multi-touch display provides intuitive, tablet-style control over all the functions of the device.
Anybody who uses a tablet or a smartphone will find its operation very familiar.
The SIMRAD Go5 has many pre-installed features.
You'd like that you can customize its home screen to show only the programs you always use.
Adjustable split-screen views also let you see everything necessary on screen.
With the multi-touch display, you can assign symbols and names to waypoints so that they can become easily accessible next time around.
Pre-installed C-Map Discover Charts
Every SIMRAD Go Series fish finder and chart plotter is pre-installed with a C-Map Discover chart set.
This chart set covers a vast area spanning the US and Canada waters.
Charts include very detailed Vector charts, Custom Depth Shading charts, Tides and Currents maps, and C-Map high-res bathymetric contours.
The C-Map high-resolution bathymetric contour maps also integrate Genesis data.
Upon purchase, you'll notice that the pre-installed C-Map Discover chart set comes with 12 months of free online updates.
Plan your next boat ride or fishing trip with the C-Map Easy Routing feature.
It makes planning any succeeding water expedition as easy as a spontaneous road trip.
If you don't like spending so much on Discover maps, you can still maximize the chart plotting and navigation capabilities of the SIMRAD Go5.
Download free charts from C-Map, Navionics, Florida Marine Tracks, and many similar online databases.
Wired and Wireless Controls
The SIMRAD Go5 applies industry-standard NMEA 2000 connectivity, which means you can use it to monitor your boat's engine performance and fuel efficiency.
NMEA 2000 also enables SIMRAD autopilot for compatible vessels.
It even allows remote control of onboard centralized entertainment and communication systems.
Additionally, with Wi-Fi connectivity, you can transfer and view whatever the SIMRAD Go5 displays into any compatible tablet or smartphone.
Wherever you are on your boat, you could have instant access to maps, radar, and other functions.
However, you cannot get the most out of these features when using a small powerboat or day boat since smaller vessels will not require you to move around.
Fish-Finding and Depth-Tracking Capabilities
The SIMRAD Go5 helps you find fish wherever they may be hiding.
Choose from different scanning and monitoring software allowed by the compatible transducer of your choice.
The device features compatibility with traditional CHIRP sonar and SIMRAD's Active Imaging 3-in-1 transducer.
This feature combines traditional CHIRP sonar, SideScan imaging, and DownScan imaging to distinguish fish targets from structures.
The SIMRAD Go5 is also compatible with the HDI Skimmer transducer, capable of finding fish for amateur anglers.
This transducer also provides powerboating enthusiasts with a tool for tracking bathymetric depths.
Wide Storage and Operating Temperature Ranges
The SIMRAD Go5 can operate at temperatures between five and 131 degrees Fahrenheit.
For storage, make sure you keep it somewhere dry and within a temperature range of four and 140 degrees.
These allowable temperature ranges make the SIMRAD Go5 a very durable fish finder for cold winter and hot summer excursions.
Removable and Built-in Storage
When it comes to memory, the SIMRAD Go5 has one slot for a removable MicroSD card with up to 32 GB capacity.
You can use a higher-capacity removable storage device as long as it is an NTFS-formatted MicroSD card.
Replacing the pre-installed maps with updated versions works only as fast as 10 Hz.
With the 32-GB MicroSD card, you can store up to 6,000 waypoints, 500 routes with a maximum of 100 route points each, and 50 tracks with a total of 12,000 track points.
Additionally, the SIMRAD Go5 has an internal 90-MB storage device for running the software and applications on display.
With an IPX7 rating, you'll find that the SIMRAD Go5 is water-resistant but not entirely waterproof.
The IPX7 rating means you can only submerge the device in water as deep as one meter for no more than 30 minutes.
Any level deeper than a meter causes higher water pressures to push the water into the device, damaging it permanently.
Likewise, prolonged submersion also causes water to seep through the gaskets protecting the circuitry inside the device.
If you can access boat engine controls using the NMEA connectivity, you can also use a compatible smartphone or tablet to maneuver your boat.
The SIMRAD Go5 provides automatic controls such as U-Turn, Spiral-Turn, Zig-zag, C-Turn, Lazy S-Turn, and Square Turn.
How To Use This Fish Finder
Learning to use a fish finder depends on all the available features a particular product has to offer.
The following items describe the physical attributes of the intuitive user interface of the SIMRAD Go5.
As stated earlier, anybody who uses a smartphone or a tablet may find it easy to navigate the touch controls on the SIMRAD Go5.
After purchasing the SIMRAD Go5, you will find a single keyed control on the touchscreen display's lower-left portion.
This key is the Power On/Off button. Press it once to turn the device on and display the system control dialog.
To turn the device off, press on the key and hold until the display blacks out.
In the system control dialog, you will also find a Power Off touch, a Settings key, a Standby key, a brightness controller, and a Night Mode function key.
The dialog box also has a Touch-Lock function, wireless connection settings, and an instrument bar.
This instrument bar is where you can control other compatible devices, such as onboard entertainment and autopilot controllers.
To use the SIMRAD Go5, select from any of the functions available on the homepage.
Available functions include a tools panel, pre-installed applications, a Close button for exiting the homepage, a Favorites panel, and a Man Over Board (MOB) button.
The tools panel contains buttons for accessing waypoint creation, route selection, tide monitoring, tracking, and alarm dispatching.
A setting key is also present on the tools panel.
The large center portion of the screen displays all of the available applications that can run on your SIMRAD Go5.
On the other hand, you can customize the favorites panel to your liking.
Add and subtract applications into your Favorites panel by pressing and holding any favorite button to enter edit mode.
The SIMRAD Go5 comes with several applications, including Charts, Echosounder, StructureScan, StructureMap, ForwardScan, Autopilot, and Audio.
With the pre-installed charts, you can add waypoints, create routes, and navigate the map's full coverage.
Echosounder, StructureScan, StructureMap, and ForwardScan are all sonar functionalities available to the SIMRAD Go5.
You can access these functions on the home screen, and they can be completely functional with the help of the correct transducer.
Alternatives
If you prefer something more affordable but want to keep the five-inch display, the Garmin Striker Plus 5cv Fish Finder is also an excellent choice.
It does not have all the functions and features available to the SIMRAD G05, but it has the same display size.
The Garmin Striker Plus 5cv comes with its own transducer. What's more, it has traditional CHIRP sonar and advanced ClearVu sonar scanning capabilities.
The problem is if you plan to go with this cheaper model, remember that it does not have any pre-installed maps.
You can only use it to make your own fishing maps from scratch, which means it is best suited for anglers who regularly go on familiar waters.
On the other hand, you might want to step it up and go for something that costs just slightly more.
The SIMRAD Go7 XSR could be your very first or your next fish finder and chart plotter.
It has all the features of the SIMRAD Go5, but visibility is so much better with its larger seven-inch display.
Is the SIMRAD Go5 Worth It?
All the features and functionalities presented in this SIMRAD Go5 Review are also available to larger format displays with the same Series.
These displays include the Go7, Go9, and the Go12. However, the Go9 and Go12 have added features that make them even better than the Go5 and Go7.
Still, all the features and functions available to the SIMRAD Go5 make it a contender for the best fish finders costing less than 500 dollars.
If you are about to embark on a yachting or fishing hobby, the SIMRAD Go5 can prove to be an excellent companion.
It packs a lot of navigation and connectivity features that make it better than any other starter pack.